Questions relating to every decade since the 60s on our next opponents.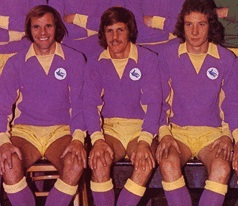 https://mauveandyellowarmy.net/
60s. This forward would not be the first footballer you would probably think of when hearing his name, but he had a perfectly respectable career himself and served Barnsley well through almost a decade. Starting off with a stripey team from his home town, he came south to Barnsley and managed over fifty goals for them in close to two hundred and thirty appearances before signing for a team who had someone who could come and fix your boiler in their ranks. Scoring ten more goals than he did for Barnsley from a few more matches, he was able to adjust to the higher level he was now playing at with few problems and even managed a Cup Final appearance before he returned to Barnsley for a short, unsuccessful, stay which, just about, stretched into this decade. He finished off playing non league football for a coastal club that shared it's name with a famous Bartholomew, but can you name him?
70s. This striker's career did not turn out to be as successful as his surname suggested it would as it turned into something of a country wide tour of lower league venues with Barnsley being the only side he made much of an impact with. Starting off with non league Londoners, he did well enough with them to earn a move into the Football League with a team which played in maroon during the time he was with them. A scoring rate of just under one in two looked impressive until it was realised that he only played eight times for this club before he was off to Barnsley where he stayed for four years with appearance and goals figures which fell into the not brilliant, but decent category. The same applied to his record during a loan spell with a team of northern Friends in white who later signed him on a permanent basis. Two unremarkable years later, he made a nearly four hundred mile move to another team with distinctive colours that had seen better days and he saw out his league career there with a record of three appearances and no goals – who is he?
80s. Rest ye on this and you could end up a one cap wonder (4,4)!
90s. Horse with a health club membership by the sound of it!
00s. Who was the City player who was only on the pitch for three minutes in a game with Barnsley during this decade before suffering an injury which saw him stretchered off the field wearing a neck brace after an eight minute delay to the match while he received treatment?
10s. He played for City against Barnsley during this decade, but was advised to retire a few years later after his heart rate rose to just under three hundred beats per minute during his final game, who am I describing?
20s. Which current Barnsley player, originally from a village in Gloucestershire, had a trial with Benfica at sixteen?
Answers
60s. Dunfermline born Jimmy Baxter played for Barnsley and Tom Finney's Preston (Finney was a plumber by trade).
70s. John Peachey, who played for Hillingdon Borough, York, Darlington and Plymouth Argyle besides Barnsley.
80s. Welsh international Tony Rees.
90s. Jim Dobbin (sorry!).
00s. Kevin McNaughton.
10s. Leon Barnett.
20s. Luke Thomas.