Seven Birmingham related questions going back to the sixties.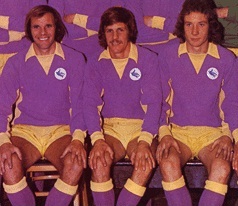 60s. Kind of goatfish wearing eleven for Birmingham? (5,4)
70s. Born in a place which might be considered a bit shirty, this industrious midfielder started off among friends and wore a different combination of black and white for his second club where he was regularly involved in games against City. Staying in the same colours, he was signed over a fried egg breakfast apparently, he played and scored more for his third team during a seven year stay than at any of his other clubs. When he left, it was not too long a journey for him and, although his stay at his fourth club was relatively short, it was certainly a successful one. Birmingham were his fifth club and his one encounter with City during his three year stay was, narrowly, won. Moving on to America, he had a season with Florida beverage drinkers and then came back to the UK for a brief stay with a former team mate at a venue with a Simpsons connection. His final club were also one of his former ones, but they had fallen on hard times now and he was to enjoy none of the success he had with them first time around. He retired in 1984 with the most memorable moment of his career probably coming in a city a long way away which shares its name with the fifth largest wine growing area in the world – who is he?
80s. Son of a full time leek seller, this midfielder was captain of an England Youth side coached by Brian Clough and Peter Taylor which reached the Final of the UEFA Under 19s Championship. He never played a game for his first, stripy, club who were in what was then called the Second division at the time, but made himself a regular choice at his second club which had been a real power in the land a long time earlier and were now also in the second tier in the very early stages of a climb that would eventually see them regain some of their former glories for a while. He had a brief loan spell with City during a time when we were really struggling with one of his games resulting in a defeat at St. Andrews. His next permanent move saw him staying in in Lancashire to play for lower league blues, before he stayed in blue with a team that had fierce Welsh rivals. His final move saw him returning to the region where he played most of his first team football to play a few matches for a team that was run by a Lord for a long time. After retiring, he stayed in the game and has twice had caretaker manager spells with another lower league set of blues, can you name him?
90s. According to Wikipedia, this one time Arsenal defender played for eighteen different clubs, Birmingham were the seventh of those and his sole appearance for them against us had him on the winning side. However, if I'm being honest, what I remember most about him now is something he had in common with a former Swansea midfielder and a one time wurzels goalkeeper – who am I talking about?
00s. He clears Ely leader of elders while playing against us for Birmingham?(3,7)
10s. These two England internationals had a combined age of thirty seven when they played against us for Birmingham at Cardiff City Stadium early in this decade, name them?
20s. He's played against us for Birmingham in this decade and turned down the chance to be part of Tunisia's World Cup squad in 2018, who?
Answers:
60s. Billy Rudd.
70s. Paisley born Archie Gemmill signed for Preston from St. Mirren in in 1967 and had played ninety nine league games for them when he moved to Derby in 1970 where he won two First Division title medals. In 1977 he joined up with Brian Clough again at Nottingham Forest, but moved on to Birmingham after being left out of the 1979 European Cup Final with his one appearance for them against City being a 2-1 win at St. Andrews in December 1979. In 1982, Gemmill signed for the Jacksonville Tea Men and returned to England a year later to join up former Forest team mate Larry Lloyd at Springfield Park, Wigan before a final spell with Derby. In the 1978 World Cup in Argentina, Gemmill scored a brilliant goal for Scotland in a 3-2 win over the Netherlands in Mendoza in a vain, but brave attempt to qualify from their group in what was a miserable tournament for the Scots.
80s. David Hamilton captained England to the Final of a European youth tournament while on the books of Sunderland, but had to move to Blackburn to get his first experience of senior football. He played ten games for a City side on their way to relegation in 84/85 with a defeat at Birmingham with three games to go all but consigning them to the drop. Hamilton signed for Wigan after leaving Blackburn, then moved on to Chester and, finally, Burnley – he had two spells as Rochdale's caretaker manager around the turn of the century.
90s. Chris Whyte played in one of only three City v Birmingham games in the nineties – a 1-0 win for his side at Ninian Park in December 1994.Whyte, like Jonjo Shelvey and former Bristol City goalkeeper John Shaw, suffered from the nervous condition alopecia which can cause hair loss.
00s. Lee Carsley.
10s. Jack Butland was nineteen when he started in goal for Birmingham in their 2-1 defeat in October 2012, while an eighteen year old Nathan Redmond came on as a sub for them that night.
20s. Kerim Mrabti had already played for Sweden in friendly internationals when he turned down Tunisia's invitation to be in their World Cup squad in 2018 – he started for Birmingham against us in the 1-1 draw in January.