After months without them, the matches are certainly coming along thick and fast now, here's a quiz based on our next opponents with questions going back to the sixties.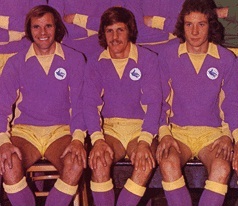 60s. Starting off in his homeland with a club that sounds like it was fighting a religious war, this forward made a successful transition to the Football League with an excellent strike rate at his first club managing comfortably more than a goal every other match for a team whose nickname at the time stemmed from the name of the, now defunct, ground they played at.
His goals were not enough to keep him in the team though in the face of the emergence of an icon of the game, but Blackburn still had to part with a big fee by the standards of the time to secure his services. He was never to reach the goalscoring rate shown at his first club again, but his figures for Blackburn were perfectly respectable over a couple of season before he signed for a club who have played in claret and blue for most of their existence, but wore white and blue while he was with them.
He moved some way away from his usual stomping ground next, spending four years in the capital with insects before returning to more familiar territory to end a Football League career which lasted almost two decades with spells at a couple of clubs to be found in non league football now – he played last for a team from Wales, the country he made his international debut against, but who is he?
70S. Blink and you might have missed this forward's short loan spell at Blackburn during a career which saw him start with his home city club for whom he scored a winning goal at Ninian Park in one of that teams many victories here during this decade. He scored twice for Rovers though in his five matches for them before signing permanently for a side based in a city which once hosted a Manchester United home match. His next permanent move took him to a club which is only just in England and then there was a spell which came to nothing at tennis types before he ended up finishing with the same Welsh club the player in the question above did, can you name him?
80s. This City manager's first game in charge was against Blackburn and the last away league game he took charge of before being sacked was against the same opponents – who?
90s. Is your hair lank Bethan, a friend once asked. It was certainly a mess! (6,5).
00s. A Blackburn opponent of ours in this decade, he has played against City post lockdown as well, name him.
10s. He was in a losing Blackburn side against us during this decade and then, just over a month later, we signed him, only for him to leave us three months later, who am I referring to?
20s. They all played in the last Blackburn team to play here and are still at the club, can you name them?
Answers.
60s. Belfast born Ian Lawther started off with Crusaders FC and his exploits for them attracted the attention of Sunderland (the Rokerites) for who he scored forty one times in just seventy five league appearances before losing his place to a young Brian Clough. Twenty one goals from fifty nine appearances for Blackburn followed and his strike rate was similar at Scunthorpe when he moved there. Lawther spent the mid sixties with Brentford and then went on to represent, firstly, Halifax and then Stockport for the best part of the next decade – Bangor City, from the country he won the first of his four Northern Ireland caps against, were his final club.
70s. Keith Fear scored Bristol City's goal in their 1-0 win at Ninian Park in 74/75. He spent some time on loan at Blackburn during 77/78 and then signed for Plymouth (Manchester United v St Ettiene was played at Home Park in 1977 as part of UEFA sanctions against United for crowd misbehaviuor). He played his last games in the Football League for Chester because he never got to represent his next club, Wimbledon, in a first team game before finishing his career with Bangor City.
80s. Jimmy Goodfellow was jointly in charge of first team matters at City towards the end of the 83/84 season, but he was given full managerial responsibility just before a 1-1 draw at Blackburn in May. Four months later he was sacked and his last away league game in charge was a 2-1 loss at Ewood Park.
90s. Nathan Blake.
00s. Paul Gallacher came on a sub for Blackburn in the FA Cup tie between the teams in 2005 and started in the replay, he also came on as a sub for Preston in our recent win at Deepdale.
10s. Tom Lawrence played for the Blackburn side beaten 1-0 at Cardiff City Stadium in January 2016 while on loan from Leicester and then, a few weeks later, he joined on a similar deal until the end of the season.
20s. Danny Graham, Sam Gallagher and Darragh Lenihan were all in the Blackburn squad beaten 2-1 here in August 2016.