It's always tough to come up with questions from the 60s and 70s with Brentford because we only played them once during these decades, but here's what Paul managed this time.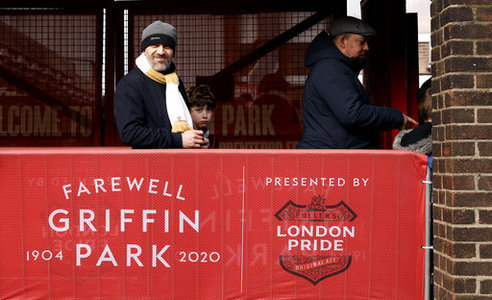 60s. Born in a town which I think of as being archetypically Yorkshire, this forward began at a team in a distinctive kit that were a power in the land at the time. Despite a good goals return when he got his chance, he had to accept that he must move on if he wanted regular first team football and travelled south and west to a coastal city where he made a scoring debut against Ipswich. With a scoring rate of a goal every two games, his three years at his second club could hardly be called a failure, but they decided to use him as part of a player swap deal, so he switched to what might be called a dated exhibition centre in an eastern steel town. He didn't do as well there or at an exotic sounding location near his birthplace, but he recaptured his scoring touch when he moved to club close to the one where he had enjoyed his best days. A scoring rate of better than a goal every other game persuaded Brentford to sign him, but he only stayed with them for a season before his final move saw him turning out for mischievous kids for two years. He called time towards the end of the decade on a career in which he managed just over one hundred and thirty goals from slightly more than three hundred appearances, but can you name him?
70s. Overseas players were nowhere near as common in the domestic game at the time this three times capped forward from a different continent but the same commonwealth made an impact. A so so introduction to first team football at Brentford was interrupted by the first of what turned out to be many injuries, but he enjoyed a prolific goalscoring phase on his return where he averaged nearly a goal a game over more than half a season. His form persuaded his former manager to pay £30,000 to bring him to a Fen land club on their way to their first promotion to the old Second Division. Two injury plagued years followed and it seemed he had left the British game for good when he returned home, but there was a second stay at Brentford which was short and not too sweet before he finished off in his native land playing in a city which had hosted the Commonwealth Games when he was playing in England – who is he?
80s. I help Bart to become five hundred game veteran.
90s. The club this defender began his career with may not have been as powerful then as they once were or would become, but it was still a notable feat to complete almost one hundred matches for them. After a loan spell with midlands song birds, he moved a long way south to a side which were on their way out of the First division and they did not return to it during his three years with them. Next up was a move four hundred and fifty miles north (but still not as far north as his birthplace) to a club often identified by something you'd buy from a cake shop where his most notable moment probably came when he suffered a broken nose following an altercation with a team mate who would go on to manage Scotland. He next played for midland thieves before ending his career with a season at Brentford as the decade was drawing to a close – who am I describing?
00s. Bird's bar bill perhaps?
10s. He returned to this country for the start of the season after a spell in the Netherlands and when he scored for his current, League One, club in August, it was his first goal since he scored for Brentford against us at Griffin Park, can you name him?
20s. He began his career with a club that play in pink and blue, moved to a team whose proposed new stadium will be made, almost entirely, of wood and then to the birthplace of, possibly, cricket's most famous umpire – he has also scored for Brentford in this decade, who is he?
Answers.
60s. Barnsley born Joe Bonson started off with Wolves, but made a name for himself at Cardiff where he scored thirty seven times in seventy two appearances. In 1960 he moved on to Scunthorpe United's Old Show Ground in a swap deal involving Peter Donnelly, before a brief spell at Doncaster Rovers' Belle Vue stadium. In 1962, he returned to south Wales and managed forty seven goals in just over eighty games with Newport County and subsequent spells at Brentford and Lincoln saw him scoring at a healthy rate until his retirement in 1967.
70s. Canadian international Gordon Sweetzer scored twenty three times in twenty eight matches during the 1977/78 season and, within a few months, he had reunited with former Brentford manager John Docherty at Cambridge United, but injury meant he played less than ten league matches for them. Brentford resigned him after a decent spell at Toronto Blizzard, but he only scored once and ended his career at Edmonton Drillers in 1982 at the age of twenty five.
80s. Phil Bater.
90s. Graham Hogg moved from his native Aberdeen to sign for Manchester United in the early eighties and made himself a fairly regular member of their defence until 1988 when he was signed by Portsmouth following a loan spell at West Brom. His next move took him over the border to Hearts where he found himself in a spat with team mate Craig Levein during a pre season friendly which saw him suffer a broken nose. In 1995 he signed for Notts County and three years later he moved to Brentford for a short time.
00s. Jay Tabb.
10s. Sullay Kaikai scored twice against us on Boxing Day 2016 to earn Brentford a 2-2 draw while on loan from Crystal Palace. After a short spell with NAC Breda, he signed for Blackpool at the start of this season and his goal against Gillingham for them on 20 August was his first one in over three and a half years.
20s. Ethan Pinnock played over one hundred and fifty times for Dulwich Hamlet before signing for Forest Green Rovers in 2016. Barnsley paid a reported £600,000 for him a year later and last summer he moved to Brentford for £3 million – he scored his first goal for his new club in a 1-1 draw at Birmingham a fortnight ago.