A Boxing Day visit from an in form Brentford side brings to an end what has been a very testing run of fixtures. Here's seven questions dating back to the sixties with a Brentford flavour.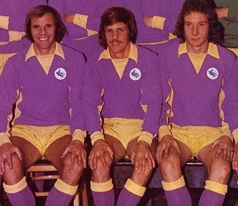 60s. This Yorkshire born forward played for seven different clubs and began his career with a side that were a real power in the land at the time as his early days at the club saw him pick up a winner's medal for a Cup Final victory over Manchester United. However, he found it hard to establish himself given the quality of the players he was contesting for a first team place with and he eventually moved south westwards to a part of the country which clearly agreed with him, because his scoring rate for his second club, and the one he signed for a few years later which was little more than ten miles away, was so much better than at his other sides. Brentford were his sixth club – he stayed there for a season during which he scored at a rate of a little better than one in every three league matches. He retired from the game in 1967 and died at the early age of fifty five in the city where he had began his career, can you name him?
70s. Getting on for ninety five per cent of this midfielder's career appearances were made for clubs within a twenty mile radius of his birthplace. He started off at a place which shares its name with a battle which took place centuries earlier at a venue nearly two hundred miles to the north. Having played a few games for his first club, he was part of a player plus transfer deal which saw him heading for a lily livered dwelling where he stayed for a decade during which time he had a non playing role in a drama in which twenty three of the twenty four involved were Englishmen. He stayed in the same colours at his next club, but his time there was, if anything, a load of bull. Brentford were his next club, but not for too long and, after a stay abroad in a place that was once informed of a famous problem, he retired before a management career which saw him gain a promotion, to go with the one he managed as a player, with a team close to water that he was in charge of for five years – who am I describing?
80s. Initially, all knowing armchairs seen at Ninian Park in early eighties? (5,6)
90s. Who or what links Cardiff City and Brentford during this decade and the Queens Park Rangers team of 1973?
00s. He played for Brentford at Ninian Park during this decade, won thirty caps for his country (one of his international team mates had appeared for Brentford when we entertained them a year earlier as well) and, while he was with the Bees, his surname was the title of the B side of a single released by a Britpop band formed in Hounslow – who?
10s. American branch of a royal house at Griffin Park?
20s. What makes Brentford's Shandon Baptiste unique among players who have appeared in club matches at Cardiff City Stadium this decade?
Answers:
60s. Barnsley born Joe Bonson began his career with Wolves and was in their team which beat Manchester United in the Final of the FA Youth Cup in 1954. City paid £7,000 for him in 1957 and, over the next three years, he scored thirty seven times in seventy two league matches for us before he moved to Scunthorpe in a swap deal with Peter Donnelly. In 1962, Bonson signed for Newport County from Brentford and managed to score an impressive forty seven league goals in eighty three appearances on his return to Wales which prompted Brentford to sign him for the 64/65 campaign. Lincoln were Bonson's final club as he returned to Wolverhampton following his retirement from the game.
70s. Barry Lloyd was born in Hillingdon and started off at Stamford Bridge with Cjelsea for whom he played ten league games. In 1968 he moved to Fulham as part of the deal which saw centre half John Dempsey leave Craven Cottage. Lloyd was part of the Fulham side which won promotion from the Third Division in 1972 and was an unused substitute in the 1975 FA Cup Final against West Ham in which his Irish team mate Jimmy Conway was the only player born outside of England among the twenty four involved. Lloyd left Fulham for Hereford United in 1978, before returning to London to play thirty odd times for Brentford – his final club as a player was Houston Hurricane. Nearly ten years after retiring, Lloyd was appointed Brighton manager in 1997 and stayed in the job until 1993.
80s. Chris Kamara was in the Brentford team beaten 3-1 at Ninian Park in May 1983.
90s. Anthony Philip David Terry Frank Donald Stanley Gerry Gordon Stephen James Oatway's mother said her son would look a "right Charlie" when people found out his full name, so the name Charlie stuck and the player named after the members Queens Park's Rangers' 1973 team went on to play for City and, later, Brentford a couple of decades later.
00s. Ívar Ingimarsson was in the Brentford side which drew 1-1 at Ninian Park in February 2000 – just over a year earlier, Hermann Hreiðarsson had played in the Bees side beaten 4-1 in a top of the table clash in the Fourth Division. A B side of one of the Bluetones singles was entitled Ingimarsson in honour of the Icelandic international.
10s. Stuart Dallas.
20s. Baptiste is the only sub to have been subbed later in the game – it happened in the 2-2 draw between the sides in February.