City attempt to improve on a pretty abysmal recent record in derby matches on Saturday when they go to Bristol City knowing that the only goal they've managed to score in their six matches against the wurzels and the jacks in the six matches played against those sides in the last two seasons was enough to give us all three points in 19/20s game at Ashton Gate. Here's seven questions on Bristol dating back to the sixties.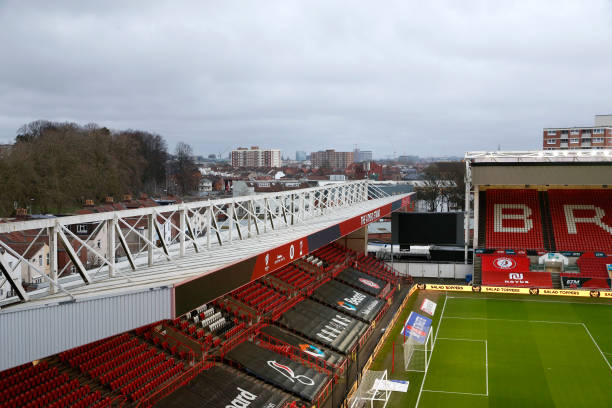 60s. His record in encounters with us when playing for Bristol City during this decade was not great with just a draw to show from three matches. When he moved to play in stripes, things improved with a hundred per cent winning record against Cardiff (it was only one game though!). He never played against us for his third club, nor his fourth (where he wore stripes again), but when he moved to play close to a fictional house named after someone who was in prison, it was wins all the way for him with four against us from four matches. Returning to one of his former haunts, he didn't do as well as first time around and saw out his career with a club that also played in stripes for a while during his time with them, who am I describing?
70s. Born in a place where the football team, who he signed for as a youngster, plays in a ground named after another sport (something he would also do for another team later in his career), this winger went on to teach science after he retired from the game. He never played first team football for his home town team, moving as a youngster to a club that was a power in the land at the time of his arrival and he could hardly be blamed for the decline which took place in his three years there given the very small number of matches he played for them. He moved on to Bristol City, but struggled for game time and it was when he moved again to a club who weren't where they were supposed to be that he finally established himself over the next six years during a time which saw his club rising to heights close to the ones they reached between the wars. Going solely on reputation, his next move would be seen as a step up, but the season he spent with his next club saw him mired in a gradual decline that would end with them playing at the lowest level they had done so in their Football League history. His career in league football ended at a club close to the one where he had his best days and he made it to close to one hundred appearances for them before he dropped into non league football with Scarborough – who is he?
80s. Spells with the jacks and the wurzels in the eighties for this cultured midfielder were hardly career highs given the reputations of the two teams in blue he played for earlier in his career. His travels also took him to Florida, to Cup Final opponents of ours and to the place where the man who was "searching in the sun for another overload" was from. Like virtually everyone who played for Bristol City against us at Ashton Gate during this time, his one meeting with us towards the end of the decade ended in a home win – who?
90s. There was a season during this decade where Bristol City had five different managers – name the season and who were the two men in charge that would go on to play for us?
00s. Before this goalkeeper let in twelve goals in a season at Cardiff City Stadium whilst playing against us was involved in an unusual occurrence in a game versus City during this decade while he was with the wurzels – who is the goalkeeper and what was the unusual occurrence?
10s. Sounds like this fuel just went off line. (4,5)
20s. Dizzy midfielder? (5,4)
Answers:
60s. Brian Clark started his career with Bristol City and scored in one of his three encounters with us while with them. A short lived move to Huddersfield saw him net in a 3-1 win for his team against us 66/67 before he signed for us in February 1968. Clark left City four and a half years later for Bournemouth in a big money move with Ian Gibson, before signing for Millwall (Nelson Mandela house in Peckham, the home of the Trotters in Only Fools and Horses was close by) and his new team were victorious in all of the games he played for them against us – he also scored in a 3-1 win at Ninian Park in Match 1974. Clark returned to City for a season to play a minor role in our promotion in 75/76 before ending his career at Newport, who were playing in sky blue and white stripes and sky blue shorts when he signed for them for the 76/77 season.
70s. Mike Brolly signed for Kilmarnock (Rugby Park) as a youngster, but his promise was spotted by Chelsea who signed him at the age of just sixteen. Three years at Stamford Bridge saw him play just eight league games and he next turned up at Bristol City who sold him to Grimsby (who play in nearby Cleethorpes) when they were promoted to Division One in 1976. Brolly played close to three hundred times for Grimsby during a period which saw them challenging for a place in the top flight before leaving for the Baseball Ground, Derby in 1982 – a year later he was transferred to Scunthorpe.
80s. Gary Stanley finished his full time career at Bristol City and was in their side which beat 2-0 in December 1988. Besides Bristol and Swansea, Stanley played for Chelsea, Fort Lauderdale Strikers, Everton, Portsmouth and the Wichita Wings.
90s. When manager Jimmy Lumsden left his job during the 91/92 season, three senior players (Mark Aizelwood, Russell Osman and Gary Shelton) were given the job jointly on a caretaker basis for a fortnight before Dennis Smith took over.
00s. Chris Weale came on as a substitute in Bristol City's 1-0 win over in December 2007 and then, while playing for Leicester, he was in their team which lost an FA Cup Fourth Round match 4-2 in January 2010, then played in our 2-1 win over the Foxes in the Championship a couple of months later and then, two months after that, he played in the Play Off Semi Final that we lost 3-2 before winning the penalty shoot out 4-3.
10s. Cole Skuse.
20s. Tommy Rowe – "Dizzy" was a hit for Tommy Roe in 1969.