https://mauveandyellowarmy.net/
60s. Born on an island in a town situated on a river that repeats itself, this wing half, to use the parlance of the time when he made his debut, never played for a team within a hundred miles of his birthplace in his professional career. He started off with Charlton and, after some time, earned a move to a foreign sounding stadium where he probably enjoyed the best days of his career. He then got his kicks stateside for a while before a first attempt as a manager as player/boss of white borderers. Moving on after a mid table season, he enjoyed more success when he masterminded a promotion for one of what could be called his alma mater I suppose and this earned him a job at a higher level. He responded by steering his new club to what is still their highest ever league finish. Internationally, his debut was memorable because of the scoreline and his only other cap came against Wales – who is he?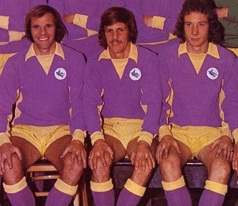 70s. With a surname which suggested a birthplace more exotic than London, this born on Christmas Day journeyman enjoyed a pretty ordinary, but very long, playing career. He started off on one side of an estuary and Charlton was no more than a short stopping off point before moving to the other side of it with a club whose ground sounds like it may be some sort of meeting or eating room. He played most games for this team before moving to another country to play at a ground named after purple wild flowers for a season. After that he dropped into non league football only to return to the Football League a few years later when a team in a holiday resort needed cover for their first choice – he never played a game for this side, but settled in an area a long way from his birthplace and played for a succession of non league sides, including a comeback at the age of fifty at one, when he deputised for his son, who was also on the books of local Football League club, for a few matches. Going back to his time at Charlton, he played less than twenty times for them, but one of those games was when there was a surprising result in a match against City in the seventies – can you name him?
80s. Kent met by Nice winger across the decades (6,7).
90s. Little ham barely seen at the Valley (4,5).
00s. Choosing to represent Wales at international level because of a Cardiff born grandfather, the best he managed was a single under 23 cap in a draw with Luxembourg, he did start for Charlton in a win over us during this decade though, can you name him?
10s. He scored his first international goal this season against Aruba and was unbeaten in a couple of encounters with City while playing for Charlton – he won't remember one of them with much affection though – who?
20s. Which member of Charlton's squad on Saturday scored a Premier League goal as a teenager just under three years ago for the club he grew up supporting?
Before I finish, if any of you are into crosswords, my brother (who helped me compile the recent one on City on here) has started a website which features puzzles he has compiled – have a look at his site here.
Charlton answers.
60s. Mike Bailey was born in Wisbech, a town situated on the river Nene in the Isle of Ely. He won his two caps for England (the first in a 10-0 win over the USA in 1964) during his eight years at Charlton, but he enjoyed more success with Wolves as he skippered them to promotion and then domestic and European Finals in the early seventies. After a short spell in America with the Minnesota Kicks, Bailey was appointed player manager of Hereford, but it was when he took Charlton back into the Second Division in 1981 that First Division Brighton decided to appoint him manager – their thirteenth place in the First Division in 81/82 under Bailey is their highest ever league finish.
70s. Derek Bellotti started his career with Gillingham in the late sixties before signing for Charlton. He only played fourteen times for them, but one of his games was when he kept goal in their 2-1 win over Cardiff at the Valley in November 1970 – Charlton were bottom of the Second Division at the time and City were recognised as one of the best sides in that league. He moved to Southend in 1972 and played almost one hundred times for them before signing for Swansea for the 74/75 season. Seven years later he signed for Torquay on a short term deal and settled in the west country – in 1997 he deputised for his son for Ilfracombe Town at the age of fifty.
80s. Mickey Bennett.
90s. Paul Bacon played thirty odd games for Charlton between 1989 and 1993 – as Charlton only returned to the Valley in December 1992 after seven years away, he would have played very little football there by the time he moved to Barnet.
00s. Grant Basey was a starter in the Charlton side which beat City 3-0 at the Valley in November 2007.
10s. Callum Harriott, now of Colchester, scored for Guyana against Aruba in November. He was in the Charlton side which drew at Cardiff City Stadium in the game which confirmed our promotion in 12/13 and he received a red card in the 1-1 draw between the sides at the Valley on Boxing Day 2014.
20s. Sam Field, on loan from West Brom, was introduced as a substitute for Charlton in the win over QPR on Saturday – he scored for the Baggies in a draw with Newcastle in November 2017 as a teenager.