I've just seen it posted on CCMB I use that a combination of five different results could see us go top of the league by Thursday morning. Off the top of my head, I'd say something like November 2017 was the last time we were able to sing "we are top of the league" and I think it's going to be weeks, months or years, rather than days, before we'll be able to again – still, you'll be able to read the answers to the seven questions below on Coventry on Thursday to make up for the disappointment!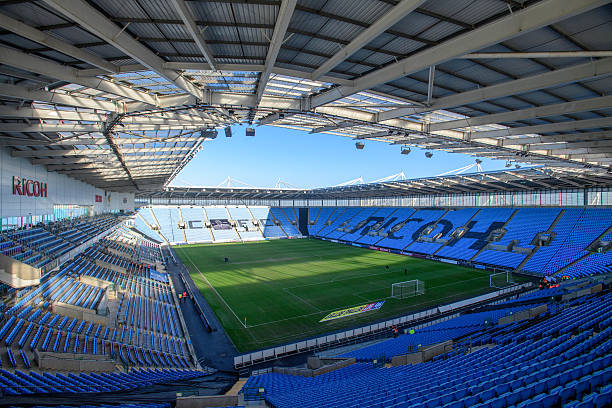 60s. This midfielder from an overseas location was a regular opponent of City's when they clashed with Coventry during this decade and was only on the losing side once. He started off with recent opponents of ours, but it needed his move to Highfield Road for him to become a regular first teamer and when he left after almost a decade and nearly three hundred league appearances, it was to go back to where he had come from in a manner of speaking – dropping into non league, he finished up at a Prime Minister's birthplace, but who is he?
70s. He never played many times for Coventry, who were his first club, but one of the less than ten matches he did play for them was a traumatic experience against continental giants nearly a thousand miles from the midlands. Leaving Highfield Road after three years, it seemed that he had a thing about playing for teams that wore stripes as his next four sides all did. He was a virtual ever present for current non leaguers, who were regular opponents of ours at that time, over six seasons from 1972 before a three year stay at a side with a ground named after royalty, or a bun, where he only played when a Fox wasn't fit. During his three years at this club, there was a loan move to a city whose team doesn't play in the colour named after it, before a spell with a team that played at a rugby league ground for some of his time with them. His stripe fetish ended with loan moves to a central town in the north and to one of Aden Flint's favourite teams before a season with a city's third club which is on the other side of the water. Dropping into non league football, he finished as a Pilgrim, who am I describing?
80s. Did this midfielder ever appear in the Archers?
90s. Diane driven to become Coventry player? (5,6)
00s. After Coventry, this scorer for them at Ninian Park in this decade played most games for Falkirk and he finished his career in his homeland playing for Cup Winners' Cup opponents of ours from a long time ago. On the international front, he scored against Finland on his debut and netted the only goal in a game against Jamaica played at the Valley. His debut in senior club football came when he was brought on as a sub for Thierry Henry, can you name him?
10s. What made a League Two game against Newport County last month a special occasion for someone who played twice for Coventry against us in 12/13?
20s.His first club was Herne Bay and he commanded a £3.5 million fee when he was sold by his first EFL club in January 2020. Last season, he played for Coventry in both matches against us in what was his third spell at the club – this season, he's on loan at another Championship team, who is he?
Answers:
60s. Guernsey born Ron Farmer scored twice for Coventry in four games against City during this decade. He had started off at Nottingham Forest, but moved on to Coventry after playing just nine league matches for them in 1958. Three seasons with Notts County and a year at Grantham Town just managed to send his playing career into a third decade.
70s. Northern Irish goalkeeper Eric McManus deputised for Bill Glazier in Coventry's UEFA Cup tie with Bayern Munich in Germany which was lost 6-1 in 1970. Signing for Notts County in 1972, he played over two hundred times for them before a move to Stoke as deputy to Peter Fox. While at Stoke, he was loaned to Middlesbrough and Peterborough and then ended his Football League career at Tranmere before moving on to Boston United.
80s. David Bowman.
90s. David Rennie.
00s. Dublin born Graham Barrett signed for Coventry in 2003 after being released by Arsenal and the following year he put them ahead in a game at Ninian Park that they eventually lost 2-1. Barrett moved to Scotland to play for Falkirk and St. Johnstone before returning home to finish his career at Shamrock Rovers – he played six time for the Republic of Ireland, scoring twice.
10s. Joe Murphy was in goals for Coventry against us for 1-1 and 2-2 draws in 12/13 and on 21 August he played for Tranmere in a 1-0 defeat by Newport on his fortieth birthday.
20s.Sam McCallum was sold by Coventry to Norwich in January 2020 and immediately loaned back to the Sky Blues. He was then loaned by Norwich to Coventry for the whole of last season and is playing for QPR in another loan deal this season.