https://mauveandyellowarmy.net/
Having lost their match on Friday evening, City fans spent the rest of the weekend waiting for one of our rivals for the last Play Off spot to move above us into sixth. However, when a last minute goal for Champions elect Leeds at the Liberty Stadium yesterday afternoon condemned Swansea to defeat, it meant we go into our forty fourth match of the campaign still with that lead of at least one point over the members of the chasing pack – I reckon six points out of nine will see us confirmed as the fourth of the clubs contesting the final promotion place.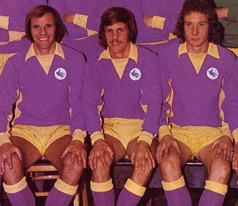 Anyway , here's something which, hopefully, will take minds off tomorrow's game for a while – seven questions on our next opponents dating back to the 60s
60s. Contradictory Derby player by the sound of it (3,5).
70s. English and Russian leaders in pleated Derby kit shocker (5,6)!
80s. Although the name of this opponent in City v Derby matches from this decade suggested an allegiance fifty miles or so away, Derby were the club he played most matches for in a league career which lasted fifteen years – two of his other three clubs had to pay club record fees to sign him. He only scored once for Derby (a thundering long shot in a First Division match with Coventry) in his eight years as a senior squad member – can you name him?
90s. An FA Cup winner at twenty four and one of only two players to be discarded for good by the full England team in their teens in modern times, this midfielder's best days were behind by the time he arrived at Derby and, when he left them early in this decade, it was for Darlington. Who is he?
00s. Derby was only a brief stopping point in a long and varied career for this first round loser in an episode of Celebrity Masterchef. He played less than ten times for the Rams, but one of those matches was a drawn game against City during this decade. He's probably best known now for his exploits with one side who have been promoted this season and another one who are all but up now. Some of the other sides he turned out for include a team we beat earlier this season who have turned to an old friend of ours in their hour of need, very northern reds, a side we beat 5-1 in our one and only meeting with sometime during this decade and a dark side someone on City's books has turned out for this season – who is he?
10s. When Mark Hudson scored his famous "wondergoal", who was the Derby player in front of him who made a forlorn, token effort to charge the nearly seventy yard shot down – this question isn't as hard as it would first seem because there is a City connection involved.
20s. What is the 2020 link between Derby players Max Lowe, Tom Lawrence, Martyn Waghorn and Louie Sibley?
Answers:
60s. Les Moore.
70s. Peter Daniel.
80s. Paul Blades also played for Wolves, Norwich and Rotherham with the latter two paying what were club record fees at the time to secure his services.
90s. Nick Pickering won a single cap for England and was voted both Player and young player of the year by Sunderland fans before he was out of his teens. He later signed for Coventry and was a starter in their FA Cup winning side in 1987 before moving on to Derby.
00s. Noel Whelan was in the Derby side which drew with City in February 2004. His first two clubs were Leeds and Coventry and, among others, he later played for Middlesbrough, Aberdeen, Boston and Livingston.
10s. Craig Bryson, who was on loan with us for the duration of the 17/18 season.
20s. They've all received red cards in 2020. Derby's seven red cards during 19/20 is more than any other club in the Championship, while only Charlton and Barnsley have received more yellow cards than them.