https://mauveandyellowarmy.net/
City will try to get over the Blackburn setback at in form Fulham tomorrow night, here are seven questions going back to the sixties about our next opponents.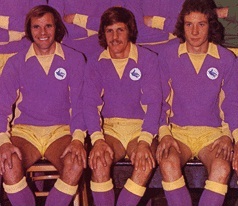 60s. The man being described here played against City for Fulham four times during this decade, who is he?
"A talented and creative player who played left-wing, left-midfield and left-back during his time at Fulham, ……… made 170 appearances in a white shirt – all but one in the top-flight. "I had a great time," he says. "No one had it better than us. It was the most enjoyable of places to be, and there were some great lads there. I think when I moved on to Crystal Palace it suffered in comparison."."
70s. Can you name the Welsh international who only played for City at Craven Cottage twice in a pair of matches where we conceded a total of eight goals?
80s. This scorer for Fulham at Ninian Park during this decade began his senior career as the heir apparent to an icon who later signed him for the club he managed at the time, name the two men being described.
90s. At one time transferred from a military town to a midlands club which sounds like a team of nomads but isn't for a record fee, Fulham was his final league club out of seven and he was in their team which suffered a heavy beating by City during this decade – he also played about fifty times for the above midland club's greatest rivals, can you name him?
00s. After an impressive loan spell with City earlier in this decade, this player joined Premier League Fulham a few years later when his loan move there became a permanent one, but within months he had been released and was back at City for an unsuccessful trial, who?
10s. Top earner is an ok soul in another existence? (4,5)
20s. Middle eastern weapon user? (6.6)
Answers.
60s. Brian "Pat" O'Connell" was in the Fulham team for both of their fixtures with City on the 60/61 and 61/62 seasons.
70s. Tony Villars made his debut in a 4-3 defeat at Fulham in November 1971, three years later, he was in the side beaten 4-0 there in August 1974.
80s. Kevin Lock scored for Fulham in their 2-0 win at Ninian Park in 1985. Lock was regarded as the replacement for Bobby Moore when he broke into the West Ham side in the seventies and was signed by Moore during the latter's stint as Southend manager.
90s. The £150,000 Wolves paid Aldershot in 1988 for goalkeeper Tony Lange was a club record fee for the latter. Lange also played for West Brom and signed for Fulham from them in 1995 – Lange was in the Fulham team beaten 4-1 at Craven Cottage in a televised game in February 1997.
00s. A lot of City were calling for Julian Gray to be signed permanently at the end of his loan spell in 03/04, but it never happened. Singed on a season long loan for Fulham for 08/09, the Londoners made the deal a permanent one in February, but he only made one substitute appearance for them and was released at the end of the campaign – he had a trial with City before the 09/10 season.
10s. Sone Aluko.
20s. Jordan Archer.