Cardiff City have a pretty good recent record at Craven Cottage, but, with the team in their worst run since the mid eighties and the manager, seemingly, having very few, if any, backers among the club support, it's hard to think of a match where we've been bigger underdogs in recent years – time to switch to 10-0-0 and seven centrebacks I wonder?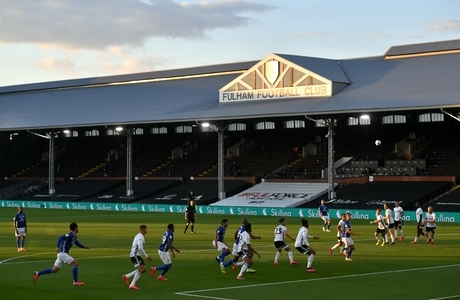 Anyway, here's the quiz and a spot of good news is that at least the Under 23s are playing tomorrow. I'll post the answers in Thursday.
60s. This wing half/midfielder, who was forced to retire from the game because of high blood pressure, was the second one at his first club, Aston Villa, the first one at his second and also at his third, Fulham. Who and what am I referring to? Also, what event from fifty three years was the reason why he and three others were honoured at a Premier League match this weekend?
70s. The winner of a single international cap, against Austria, this defender/midfielder played three times against City for Fulham during this decade and only avoided defeat once when the teams played out a draw. He played for sides in four countries and on three continents, making most appearances for south coast birds, but this was over two spells and he played most matches in a single stint for Fulham during a four year stay which saw him rack up close to a hundred and fifty league appearances. One of the clubs he played for towards the end of his career was called Green Gully who were based in the country where he now lives. Can you name him?
80s. Another one cap wonder, this full back was sent off in one of the domestic Cup Finals he played in, sent off in a London derby against Wimbledon for punching Dave Beasant and head butting Carlton Fairweather in the first ten minutes of the match and played in a winning Fulham side against City during this decade – he also won two European club trophies, do you know who he is?
90s. One tangly keeper (4,5).
00s. Smear North American river?
10s. He's played for both teams and, towards the end of this decade, did something in a Cardiff v Fulham match that no one else has – who and what?
20s. Another to have won just a single cap and, currently back with the Scapular club, his middle names are Erowoli Orisunmihare Oluwaseun and he played for Fulham last season, name him.
Answers:
60.s. Stan Horne was the Aston Villa's second ever black player and Manchester City and Fulham's first. On Saturday he was a guest of Manchester City for their game with Burnley and, along with three other members of the club's First Division title winning team of 1967/68 they were presented with winner's medals following a change in the rules which previously stated that someone had to play I believe it was eight matches in a season to qualify for a medal – that figure has now been reduced to five and so he and three others qualified for medals that had previously been denied to them.
70s. Jimmy Dunne won a single cap for the Republic of Ireland and made his first appearance in the Football League while at Torquay where he did well enough to earn a move to Fulham in 1970. Four years later, Dunne had a short spell at Durban City, before returning to Craven Cottage for a second spell in which he did not play a game. He then went to another former club as he spent four years at Torquay, before moving to Australia with Green Gully, Ireland with Limerick and then back down under with Brisbane City.
80s. Doug Rougvie became the first player ever to be sent off in a Scottish League Cup Final in 1979, but won seven trophies (including the Cup Winners Cup and Super Cup in 1983) while at Aberdeen. He was transferred to Chelsea in 1984 where he had his run in with Wimbledon. Rougvie signed for Fulham following spells with Brighton and Shrewsbury, in 1989 and was in their team which beat us 2-0 at Craven Cottage in March of that year.
90s. Tony Lange.
00s. Mark Hudson.
10s. Harry Arter is the only Fulham player ever to have been sent off in a match against City – it came in a 1-1 draw between the clubs in August 2019 when he had a mad five minutes and picked up a couple of bookings.
20s. Josh Maja of Bordeaux.