Paul Evans writes, Although I cling to a hope that there will be one more quiz to come, the truth is that it isn't going to happen is it. The marathon that is the 2019/20 season will end at Craven Cottage tomorrow night won't it, so here's another set of questions on Fulham that I'll post the answers on here sometime in the next twenty four hours and then the quiz will be be back in around five weeks time when the 20/21 season will, hopefully, be getting under way.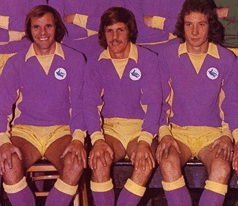 60s. Retry tameperer in mishap on the wing? (5,8)
70s. It only ever happened on 28 July 1969 and 24 September 1977 – what?
80s. Trees in small Scottish town with an 80s connection to Newport, Gillingham and Fulham by the sound of it. (5,5)
90s. Can you name this Fulham player from this decade with a very unusual CV.?
The son of a man who had been tennis champion of the country of his birth, his family moved abroad when he was seven, but his football career started in his native land where he ended up playing European Cup football for a club from its capital – he also had a former England international who had scored for Liverpool in a European Cup Final as a team mate for a while. He was loaned out by his club to a team that would be competing in the inaugural Premier League, but never featured for their first team and then another loan move saw him go to Fulham where the extent to which he was a fan's favourite could be measured by the fact he was nicknamed "The Messiah" by them and had a fanzine named after him. After another loan spell in North East England where he missed Fulham and Fulham fans missed him, he eventually returned to Craven Cottage on a permanent basis and then went on to play in Sweden before returning to his homeland to sign again for his first club – since retiring, he has, among other things, ran a Liverpool Academy and been Arsenal's south eastern European scout.
00s. Another former Fulham player to identify from a description of his career;-
This midfielder only played for two sides from his native land (one of them being based in the capital) and spent most of his career playing in Germany including a spell with a team that has the word "Tennis" in its name and has a support that identifies itself as "fiercely hard left" politically according to Wikipedia. He moved to neighbours of Fulham's first when he came to England, but a £650,000 fee led to a move to Craven Cottage where he made an ignominious start in a 1-0 home defeat by Grimsby before becoming a mainstay of a title winning side. He found it harder to maintain a regular place in the Premier League, but he did have spells where he became an important member of the team. He left Fulham after three years for one last spell in Germany before retiring having won twenty eight caps over a fourteen year period for his country – he missed out on their greatest moment though having not made it into their squad.
10s. A winner with Fulham against City during this decade, he was on the losing side twice against us in his first season for his current Championship club in 19/20, but it all ended up okay for him and his team in the end. He captained England in an Under 17 international at the age of fourteen, was in a side that beat City 4-3 early in this decade at the age of eighteen and was charged with drink driving a year later – he was also fined for insulting Patrick Bamford on Twitter in 2015, but who is he?
20s. He's got a medal for being part of a squad which reached the Semi Finals of a World Cup and has played around ten minutes league football in total for Fulham, can you name him?
Answers.
60s.Terry Parmenter.
70s. George Best played at Ninian Park. His first appearance there was for a rest of the UK team which beat Wales 1-0 in July 1969 in a game to commemorate the Investiture of Prince Charles and over eight years later, he was in the Fulham team beaten 3-1 in a Second Division match early in the 1977/78 season.
80s. Centre half Keith Oakes played for Newport County, Gillingham and Fulham, among others, during the eighties.
90s. Cyprus born Ara Bedrossian moved to England as a seven year old, but his first club was Apoel Nicosia where he had Terry McDermott as a team mate for a while. Bedrossian played for APOEL Nicosia against the likes of Gullit and Van Basten in the European Cup and won caps for his country before returning to England to England to sign for QPR, then Fulham and Middlesbrough in loan moves before signing for Fulham permanently. Called the Messiah by Fulham fans, such was their disappointment when he left the club before his Middlesbrough move that a fanzine called "Where's Ara" was started. Eventually, Fulham were able to arrange a permanent deal for the player who returned to APOEL to end his playing career – a big Liverpool fan, he has worked for the LFC international Academy in Nicosia after a spell where he was employed by Arsenal.
00s. Bjarne Goldbaek moved to Schalke from Danish side Næstved in 1987 and spent the next nine years playing in Germany with FC Kaiserslautern, Tennis Borussia Berlin and FC Cologne before going home to play for Copenhagen. Chelsea signed him in 1998 and two years later he moved on to Fulham where he helped them win the second tier title in 00/01. He left Fulham after two seasons in the top flight to sign for lower league side Rot Weiss Essen and retired when they were relegated to the third tier of the German game in 2005 at the age of thirty seven.
10s. Ryan Tunnicliffe captained England in a Victory Shield International at the age of fourteen and was in the Peterborough side that beat City 4-3 in the 11/12 season. Tunnicliffe was also on the winning side against us when Fulham beat City 2-1 in April 2016, but was in the Luton team we beat in both of our league games with them this season.
20s. Terence Kongolo signed for Fulham on loan from Huddersfield in January, but has only featured in the Championship for a matter of minutes for them following a season ending injury suffered after coming off the bench on eighty one minutes against Blackburn in February – in 2014 he was a member of the Netherlands squad which finished third in the World Cup held in Brazil and featured briefly in their win over Chile in that competition.