No matter what the outcome of any possible Play Off campaign by City, with the Daily Mail claiming that any loss of points penalties for Wigan Athletic and/or Sheffield Wednesday will be held over until next season, it looks pretty certain that we will not be playing Hull City in 20/21 because tomorrow's final game of the regular league season will be their last one at Championship level for at least one year.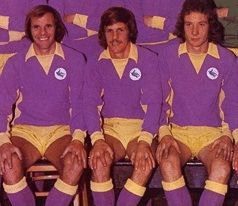 Barring the usually reliable, when it comes to football at least, Daily Mail being wrong and a remarkable sequence of results tomorrow, it looks like Hull are going to be relegated and it's hard not to sympathise with a set of fans who, from a distance anyway, seem to have been "shafted" by owners who view the club, first and foremost, as a money making operation. I'd like those supporters to be rewarded with a quickest possible return to the Championship if and when their relegation is confirmed.
Anyway, here's the normal set of seven questions going back to the sixties on our next opponents, with the answers to be posted on here tomorrow;-
60s. Apologies for this one – Combine tart and pie with Welsh house and you may end up with French sounding small Hull City man! (3,6)
70s. Shaven headed nobleman in winning Hull side at Ninian Park during this decade? (7,4)
80s. Can you recognise these two members of the only Hull team to face City in this decade from these former clubs of theirs? Player one – Liverpool, Leeds and Home Farm. Player two – Gillingham, Portsmouth and Walsall.
90s. Being the age I am, I tend to think of other family members with this defender's surname more than I do of him when I hear it. However, that's not quite fair when you consider that he made around two hundred and fifty league appearances for clubs in the lower divisions of the Football League during a long career in the game which has seen him manage a team in Denmark, be employed as a youth coach by Man City and as Academy manager by Coventry. Hull were the team he played most games for and he counted a home defeat by City during this decade among the one hundred plus times he played for the Tigers. There were also two spells at Shrewsbury for him and spells in blue in silk and when he was most definitely not a member of the hoi polloi, but what is his name?
00s. He can be heard working as a summariser on Sky most weekends and scored for his country in a win over Italy. He was also in a Hull side beaten at Ninian Park during this decade, who is he?
10s. Which member of the last Hull side to play at Cardiff City Stadium played in a Cup Final last August and won a cap for his country in Kosovo eight months ago?
20s. He played for Hull on Saturday and, after being rejected by Southampton as a teenager, joined a club nicknamed the Beach Boys who are based on an island. He's also been a male Cervus in his time and he picked the team he plays his international football for by using something called Jus sanguinis – can you name him?
Answers
60s. Ray Pettit.
70s. Malcolm Lord – the name Malcolm is derived from "Maol", a Gaelic word meaning shaven headed.
80s. Player one is Ken DeMange and player two is Ray Daniel, both of whom were in the Hull team which won a Third Round FA Cup 2-1 at Ninian Park in January 1989 and later went on to play for City.
90s. Gregor Rioch, son of Bruce and nephew of Neil who played together at Aston Villa in the late sixties and early seventies, was in the Hull side beaten 1-0 at home by City in March 1998. Besides Hull and Shrewsbury, Rioch also played league football for Macclesfield Town and Peterborough and had a spell managing Danish team Koge BK between 2004 and 2006.
00s. Keith Andrews scored for the Republic of Ireland in a 2-0 win over Italy in a friendly played, for some reason, in Belgium in 2011. He was also a starter in the Hull side beaten 1-0 at Ninian Park in February 2006.
10s. Fikayo Tomori played at right back in the Hull team beaten 1-0 in Cardiff in December 2017 while on loan from Chelsea and came on as a sub for them in the European Super Cup Final against Liverpool at the start of the season – he won a cap for England when he came on late in their 4-0 Euro qualifier win in Kosovo in November of last year.
20s. Ryan Tafazolli played at centreback for Hull against Luton on Saturday. He signed for Concord Rangers, who play their home games on Canvey Island, after being released by Southampton's Academy and found his way back into league football when Mansfield Town won the Conference in 2013. He later signed for Peterborough and followed manager Grant McCann to Hull last summer. Tafazolli was born in Slough, but chose to play his international football for Iran under the Jus sanguinis principles which, essentially, means citizenship is determined or acquired by the nationality or ethnicity of one or both parents.