Cardiff City travel to Luton tonight for a meeting of two of the nine sides between seventh and fifteenth positions who are covered by just three points in the barmy league which is the Championship. Here's seven questions on Luton going back to the sixties.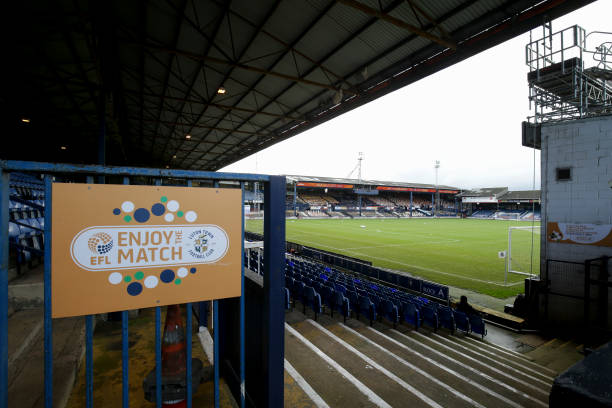 60s. This forward's early career was a bit of a disaster, his first team finished bottom of the Football League in successive seasons and he was eventually dropped and transfer listed by them. He regained his place and was eventually signed by a much higher placed club only to suffer a relegation during his short time with them. His next move was again in an easterly direction and, although not enjoying great success in terms of league position, his goalscoring rate was good enough to continue the upward trajectory of his career when he moved again. It was at his next club, following a move south, west to the coast where he prospered most. His next move was a short one which probably upset a few people at his former club and, by now, it looked like his career was on the slide as his scoring rate declined, but when he did up sticks again, it was to join the biggest club on his CV – a team he had terrorised one afternoon in 1969. Predictably, his waning powers meant that it was always likely to be a short stay and his last encounter with City came at a level I don't believe he had played at before while out on loan – his team were beaten 3-1 in London and he was unable to add to his impressive goalscoring record against us. When he died, at the age of 70, it was in the country he had finished his career in and it was in a city where City played a pre season friendly not too long ago – who am I describing?
70s. One of our home matches with Luton in this decade finished as a pretty miserable draw which attracted the lowest league crowd of that season. Yet, it was a day that made me very happy because of something that may have led to the low turn out – what was the game and why did I enjoy it more than the game deserved?
80s. Born in Clipstone, a mining village in Nottinghamshire, this defender's first club was close to his birthplace and he played a small part in their climb to the highest division they've ever played in. Signed by Luton at twenty two, he was a fairly regular choice in a side that was on its way to the First Division and he came up against City five times while at the Hatters with only a single draw to show for it. There were two loan spells in Lincolnshire during this time and he didn't get quite as far as Cardiff with his next club before ending with a team that were losing a relegation battle from the old Division Two a season after City had vacated it to begin a long absence. Name the player.
90s. Ran AA help for region leader? (4,6)
00s. With a striker brother who has had a similarly nomadic career, this Londoner played for twenty three years and represented twenty clubs as he almost seemed to alternate between Football League and non League teams. Luton were his first team and he played for them in a game at Ninian Park which ended the second Cardiff career of a Larkhall born centreback. Only at Boston United did he make more than the fifty five league appearances he managed for Luton and he was in the starting line up for a place with a church with a crooked spire (quite appropriate given his surname!) when they were beaten in Cardiff during this decade. Among the multitude of clubs he's been associated are single game spells for Bristol City and MK Dons and his last footballing job was a short spell in charge of blue non league Eagles, who play in a nest, last season, can you name him?
10s. Superb man of the cloth between the sticks?
20s. Which member of the current Luton squad became a fluent Italian speaker in school, played his first senior football when he came on as a sub for Daniel Pacheco against Northampton, once held transfer talks with Monaco and completed one successful pass in fifty seven minutes of a game with Wigan in June 2020?
Answers:
60s. Ron Davies began his career at Chester who were officially the worst team in the Football League for much of his time with them. However, his forty four league goals in ninety four games got him noticed and he signed for Luton who were in the Second Division at the time. Davies' twenty one goals in thirty one appearances (one of which came against City, one of seven he scored in ten career appearances against us, in a 3-2 home defeat for the Hatters in April 1963). Another goal filled spell followed at Norwich, fifty eight in one hundred and thirteen league games, but it was Southampton that Davies cemented a reputation which had him regarded as the best centre forward in the UK for many. His one hundred and thirty four league goals from two hundred and forty appearances included four scored at Old Trafford in a 4-1 defeat for Man United in August 1969. At the age of thirty two, Davies moved to bitter rivals Portsmouth where his scoring rate dropped to a respectable one in three and then he returned to Manchester to sign for United during their season out of the First Division in 74/75. Davies, never scored for United, nor for Millwall who he had a short loan spell with in 75/76 – one of his three appearances for them being in a Third Division match at the Den won 3-1 by City in December 75. Davies moved to America after that and died in Albuquerque in 2013.
70s. City and Luton played out a 0-0 draw at Ninian Park on 14 November 1973 in front of a crowd which I've seen reported as 5,999 and 5,839, but whichever one is correct, it was our smallest league crowd of that season. Perhaps the reason for the low turn out was that people were still in the pubs celebrating the wedding of Princess Anne and Captain Mark Phillips earlier in the day – I assume it was a national holiday because the seventeen year old me was certainly grateful for the day off school I got!
80s. Mike Saxby was a squad member of Mansfield's Second Division side in 77/78 and his form with them persuaded Luton to sign him in 1979. Saxby scored in one of his games against City for the Hatters, but, strangely, despite Luton being one of the better sides in the old Second Division and us one of the worst, City were able to win four out of the five times he was opposed to us. Saxby struggled to maintain a place in Luton's side following their promotion in 81/82 and was loaned out to Grimsby and Lincoln before he had a short spell at Newport County in 84/85. Saxby played for Middlesbrough in the following season, but he couldn't prevent their relegation to Division Three.
90s. Alan Harper.
00s. Nathan Abbey, brother of ex Norwich forward Zema Abbey, was in goal for the ;Luton team that ended Frank Burrows' second spell as City manager with a win at Ninian Park in January 2000. Abbey's next visit to Cardiff was in November 2001 when Chesterfield were beaten 2-1. Abbey has generally been a back up keeper since then for the league clubs he played for and was last seen in charge of Bedford Town (home ground, the Eyrie) during 19/20.
10s. Dean Brill.
20s. Tom Ince, currently on loan from Stoke, learned Italian while his father Paul when was playing in Milan. His first taste of senior football was a subs appearance for Liverpool in a home League Cup defeat by Northampton in 2010 and a few months ago he came in for heavy criticism from Stoke fans for only making one successful pass in a match with Wigan.