A quiz to try and take minds off what I thought was a particularly demoralising defeat by a relegation rival in midweek – we've done the double over Luton in the last two seasons, can't see it happening this time around though.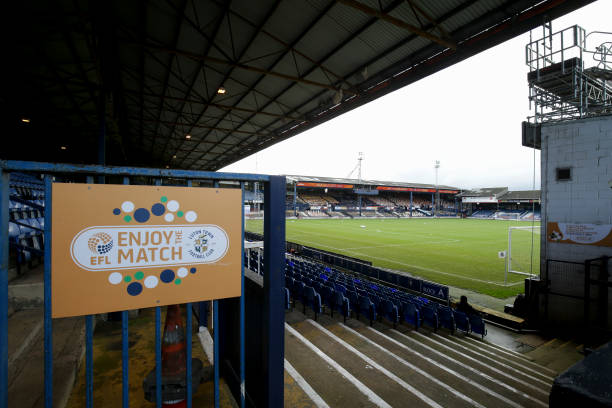 60s. Born not too far from Luton, this midfielder, who was also good enough to play Minor Counties cricket for Hertfordshire, started off with the Hatters in the early part of this decade. After just over a hundred league appearances for them, he moved on to south eastern blues and played more for them than anyone else in his career. Up until then, he'd played all of his football in the lower divisions, but his next transfer took him not too far away in miles, but into the Second Division for a season and he stayed there, wearing red both times, for another short move as the new decade began. His next transfer saw him back in the lower leagues wearing hoops (a design which has long since been discarded by the club concerned) before ending his career playing in stripes at a ground that has only recently been vacated. Injury should have ended his career in 1976 when his deal with the club was cancelled, but he agreed to return on non contract terms and played a further seventeen matches for them in all competitions before calling it a day – who is he?
70s. With a name which demanded attention, this striker made a decent career for himself ending up with a couple of caps for his country. Starting off at a steel town, he moved to the biggest city in the country after six years where he, and his club, won more than a fair share of honours. but he may well be best remembered now by supporters for a penalty miss in a Semi Final which proved to be very costly. He was thirty when he signed for Luton and there was soon confirmation that his career was on a downward path as he was loaned, first, to blues by a border and then to a club with an oblique connection to a hit record around that time called "Back of my Hand". He only played fourteen league matches for Luton, one of them against City, before moving to Australia where he claims to have met a reggae legend who asked him if he was the person who had played for the club he enjoyed most success with and when he replied he was, the musician said how much he envied him having played at their home ground – can you name who I'm describing?
80s. Roy and hag listen as a midfielder emerges. (4,8)
90s. This midfielder didn't score in his eighty odd league appearances for Luton and found himself loaned out to antlered animals towards the end of his time with them. Joining south coasters on a free, he again struggled to hold down a regular place and was loaned out once more, to western stripe wearers to whom he was to return on a permanent basis a year later. Much of the interim was spent in a seat of learning for a year and his last league club was in the place which housed a fictional hotel. Internationally, he played once for his country, against Austria, early in this decade, but can you name him?
00s. With thirteen different clubs (mostly in the lower leagues) in a sixteen year career, you might think this Londoner was one of those journeymen who did a job for a club without really establishing himself and then moved on once again, However, he was anything but a journeyman for one of his clubs where his scored at better than a goal every other game over more than one hundred league appearances. The team he played for so successfully was one that could just about claim to be local rivals of ours given that we have so few of them, but, in truth, they're more than seventy miles away. He never faced City while playing for this club, but was in a Luton side beaten at Ninian Park in this decade during an injury plagued three years there where he barely made it to fifty matches for them. Towards the end of his career, he played for three clubs in Scotland and when he had finished, he'd score over a hundred goals with close to two thirds of them having come at the one club, do you know who he is?
10s. Sounds like an instruction to look after a doorkeeper!
20s. Seafarer who scored against Somalia!
Answers:
60s. Gordon Riddick was at Luton for five years before he signed for Gillingham in 1967 and his form there attracted the attention of Charlton who signed him at the start of the 69/70 season. He didn't stay long though, moving on to Orient within a few months and then to Northampton for a season. His final club was Brentford, for whom he played on non contract terms after "retiring" through injury.
70s. Dixie Deans scored goals galore for Motherwell before being signed by Celtic. Deans netted nearly ninety goals in his one hundred and twenty six league appearance for the Glasgow team, but his miss in a penalty shoot out after Celtic and Inter Milan had played out two 0-0 draws meant that they missed out on a place in the 1972 European Cup Final. Deans left Glasgow for Luton in 1976 and one of just six goals he scored for them came against us in November of that year. Loaned out to Carlisle and then Partick Thistle (The Jags), Deans signed for Adelaide City for three years, during which time he says he was told by the man himself how much Bob Marley envied him for having played at Parkhead.
80s. Tony Grealish.
90s. Aberdare born Tony Rees played once for Wales having started out with Luton in 1988. Loaned to Mansfield towards the end of his time at Kenilworth Road, Rees signed for Portsmouth and played for them between 1994 and 1997 with a loan, this time to Exeter, coming just before he left for Cambridge United and then moving to Exeter on a permanent basis before finishing his career with Torquay.
00s. Sam Parkin started his career at Chelsea, but it was at Swindon where he made his reputation with a superb scoring record which earned him a big money move to Ipswich, but he suffered the first in a series of bad injuries which blighted his chances of repeating what he had done at Swindon. Parkin was in the Luton side beaten 4-1 at Ninian Park in October 2006 and suffered another serious injury shortly afterwards.
10s. Mark Tyler (a tiler is a doorkeeper for a Freemason's lodge).
20S. Admiral Muskwe has scored one goal (against Somalia) in his four appearances for Zimbabwe.