https://mauveandyellowarmy.net/
Some forty nine weeks after our first away Championship fixture of the 2019/20 season, we play our last one tomorrow while also hoping that there will be two more away trips for the team in the Play Offs. Here's seven Middlesbrough related questions dating back to the sixties with the answers to be posted on here on match day.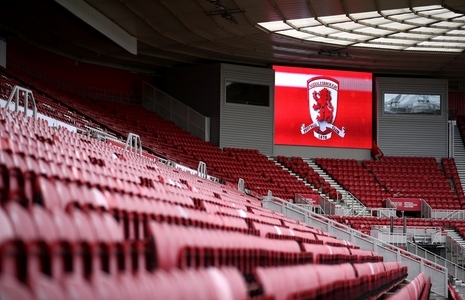 60s. City enjoyed a run of six consecutive victories over Boro during this decade, how many goals did they score in those matches and who were the two players who scored five times for us in them?
70s. Bit of an obscure one this, but this player's name has stuck with me through the decades for some reason;-
His dad played for Hartlepool, he made his debut for Middlesbrough during this decade, but suffered a bad injury which would eventually force him to retire from the professional game at just twenty four. He did manage to get plenty of games in for the close by club he signed for after leaving Boro before he had to pack up though and he won their Player of the Year award in his first season with them. Since retirement, he has worked as a quality control laboratory analyst among other things and is the person behind a website highlighting healthy walks on the north Yorkshire moors. One other thing, his surname ends in an x – who is he?
80s. Edward Elgar initially too thin, but he becomes someone beaten by City during this decade. (5,4)
90s. Ensure there's no room left on sticky backed paper by the sound of it. (4,5)
00s. Last seen towards the end of the 2010s wearing the white of Fylde, this midfielder/winger started off in the same colour shirt in much more illustrious surroundings. but he played far more first team football when loaned out to south coast birds, Witlshire reds, a stripey Roman town, cats having a tough time currently and future Premier League winners. Eventually signing for one of these teams (he scored the first competitive goal at their new stadium during his time with them), he did enough to persuade Middlesbrough to sign him, but his stay was a short one (although one the matches he did play for them was against City). After that, he played in red and white stripes, waspish yellow, claret and amber, blue, orange and black and white stripes in the Football League before dropping into the Conference, but can you name him?
10s. This midfielder, who won seventeen caps for his country, racked up a total of one hundred and twenty four yellow cards and fourteen red ones in his career – he was also twice in a winning Middlesbrough side at Cardiff City Stadium during this decade, do you know who he is?
20s. Which member of the current Middlesbrough squad has a brother who captains a team that have a date with a side which plays in all black and are coached by a former Dutch international next month?
Answers
60s. Starting with a 6-1 win at Ninian Park in January 1965, City's winning sequence read;-
November 65 4-3 (A), May 66 5-3 (H), Oct 67 3-0 (H), March 68 3-2 (A), Sep 68 2-0 (H),
So, it was a total of twenty three goals scored. Peter King, scorer of hat trick in the 6-1 win, and John Toshack, who scored twice in the 4-3 away win in his first start for the senior team, both scored a total of five goals in the six wins.
70s. Don Burleraux played five games on the wing for Middlesbrough after making his debut in 70/71 and then moved on to Darlington after a serious knee ligament injury which he never fully recovered from and he eventually retired in 1975 at the age of twenty four. Although he played non league football and managed Whitley Bay for a while, his CV since finishing with the game in 1980 is an unusual one for a former footballer.
80s. Heine Otto was in the Middlesbrough side beaten 2-0 by City at Ninian Park in February 1985.
90s. Phil Stamp.
00s. Mark Yeates played three times for Spurs in the Premier League and was loaned out to Brighton, Swindon, Colchester (for who he signed on his release by Spurs), Hull and Leicester. Middlesbrough signed him from Colchester for the 09/10 season and he was in the Boro side beaten 1-0 at home by City in December 2009, but he only played nineteen times for them before moving on to Sheffield United. Yeates then had a series of moves around the lower divisions which was interrupted by a spell at Watford – other teams he played for were Bradford City, Oldham, Blackpool and Notts County.
10s. Scotsman Barry Robson scored for Middlesbrough in their 3-0 win at Cardiff City Stadium in May 2011 and, seven months later, he was a starter in their team which won 3-2 here.
20s. Justin Tavernier's brother James is captain of Glasgow Rangers who will complete their UEFA Europa League last sixteen tie with Bayer Leverkusen, coached by former Netherlands international Peter Bosz, on August 6.