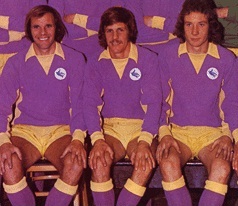 City responded well to playing in front of spectators for the first time in nine months at Watford a fortnight ago, will they do the same at league leaders Norwich tomorrow? Norfolk is still designated as being in tier two, so, presumably, there will be a couple of thousand home fans at Carrow Road. I would guess that the chances of any of them passing the time before kick off looking at this quiz are zero, so it'll just be down to the few hardy souls in our support who take the seven decades quiz on before most games we play! As usual, the answers will be posted on here shortly after the game has been played.
60s. In some ways, it could be said that this defender would have been more at home playing a couple of decades later than he actually did. Born in a town with a team that was beaten by us in a Welsh Cup Final once, he started off at a club situated in an area where one of the BBC's most successful dramas of recent years is set. His debut came in a goalless draw with Spurs and he only played twice more for his first club before he was sold to Norwich for £2,000. The Canaries certainly got their money's worth – he played more than two hundred times for them. He was hardly what you would call a regular goalscorer, but he did find the net in one of his four visits to Ninian Park, where he had a mixed record of two wins and two losses, although it made little difference to the final outcome. He left Norwich in 1968 and could be seen turning out at one of the Walks, Crown Meadows and the Wellesley Recreation Ground in the latter years of his career. Who am I describing?
70s. This alliterative defender only played three times for Norwich (one of his appearances coming at Ninian Park) and yet he holds a club record which can never be broken. His only career goal came at his first club where he played under a Knight of the future, before he moved north to go roving, but he did little of that because he headed back south very quickly to a venue that had long since been destroyed. His short stay at Norwich followed and his career petered out after that as he moved to Greeks in South Africa, got involved in a Shambles and then played for Floridian forwards – can you name him?
80s. What else links these two players? They were born eight miles apart within nine months of each other, they played in the same position and were at the same club as youngsters. One of them played all of his four hundred or so career games in the UK and was in the starting eleven in five Cup Finals, while the other was at two clubs in the UK and then went Dutch for the rest of his career – they were also on opposite sides in a City v Norwich match during this decade.
90s. Bit of a cruel thing to do to something which might be called a national treasure at this time of year! (4,6)
00s. Fairs arranged for Norwich?
10s. Kind of nearby timing device? (4,5)
20s. Which member of the current Norwich squad has won a combined total of 33 caps for England at Under 20 and Under 21 levels?
Answers:
60s. Halesowen born Joe Mullett played three games for Birmingham City (St. Andrews is in the Bordesley, Small Heath, area of Birmingham which is the setting for Peaky Blinders) before signing for Norwich in the late fifties. He was a regular selection in the Canaries team for much of his nine years at the club. He scored twice for Norwich during that time and also put through his own net at Ninian Park, but his own goal was little more than a consolation for City in a 3-1 defeat in December 1964. After leaving Norwich, Mullett played in East Anglian non league football for Kings Lynn, Lowestoft Town and Yarmouth Town.
70s. Crystal Palace centreback Bobby Bell became Norwich's first ever loan signing when he joined them as they closed in on promotion to the First Division in 1972. One of Bell's trio of games for the Canaries came in a 0-0 draw at Ninian Park the week before we played Leeds in front of a huge crowd in the Fifth Round of the FA Cup. Bell played under Sir Bobby Robson at Ipswich for three years, before having a very brief spell at Blackburn. A year after he had his temporary stay at Carrow Road, he moved to South Africa to play for Hellenic for three years before signing for York briefly and then heading to America to play for Fort Lauderdale Strikers.
80s. The name Dave Bennett. One of them was born in Manchester in 1959 and played for Manchester City, Cardiff, Coventry, Sheffield Wednesday, Swindon and Shrewsbury – he was in the Man City team for both matches of the replayed 1981 FA Cup Final with Spurs, played in both legs of the 81/82 Welsh Cup Final against Swansea and scored for Coventry in their win over Spurs in the 1987 FA Cup Final. The other one was born in Oldham in 1960s and left Man City for Norwich in 1978. He played seventy one times in the league for the Canaries before signing for Dutch side MVV in 1984 and then had a spell with Volendam. In November 1981, they were on opposite sides in a City v Norwich match at Ninian Park in which "our" Dave Bennett scored the goal which gave us a 1-0 win.
90s. Mark Robins.
00s. (Youseff) Safri.
10s. Timm Klose (sorry!).
20s. Keiran Dowell.