Before going on to the quiz, there's a couple of results I'd like to mention. Last Sunday, Cardiff City women's team maintained their superiority of the past eighteen months or so over the previously dominant Swansea City with a 1-0 away win – Molly Kehoe coming up with the deciding goal in the second half.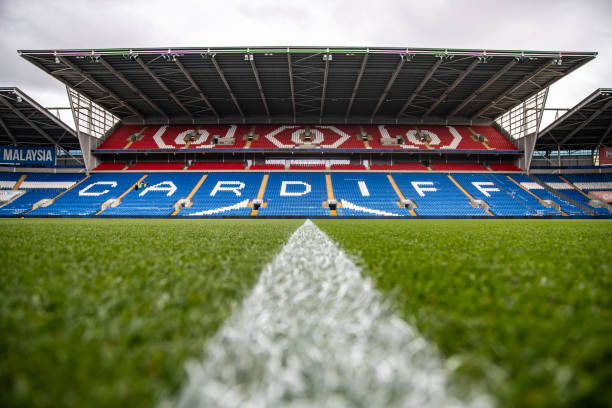 It's early days in the season still, but the Adran Premier Leagues table shows City opening up a handy lead as the only unbeaten side in the section.
By contrast, the men's under 21s have been struggling badly and are currently bottom of their table, but at least they have a win behind them now following a comprehensive 3-0 win over Bristol City at Leckwith on Tuesday afternoon. City were good value for their win with James Crole and the excellent Joel Colwill getting first half goals and Cian Ashford wrapping up the victory after the break. The three goalscorers all played well, but a mention too for right back Will Spiers who is making good progress in his first season at this level.
It's a novel experience after the troubles of recent years to say that City have to guard against complacency in their next game, but that's exactly what they have to do against a Norwich City side seemingly in disarray after four straight losses under a manager who appears to be clinging onto his job by his fingernails.
Norwich were taken apart at home by Blackburn in a televised game last weekend, but City only have to recall how poor they were in their last game straight before an international break when they gave what I consider to be their worst performance of the season in drawing 1-1 with Watford to realise that they can take nothing for granted tomorrow – for all that Norwich have the worst defensive record in the division, they also have the joint third best attack.
Here's the usual seven questions dating back to the sixties and I'll post the answers on here on Sunday.
60s. What happened for the first time in Norwich City's history in October 1965, stopped a year later, was restored in August 1967 for two years, was then reintroduced in 1971 and, apart from a two year break in the nineties, has been in place ever since?
70s. This defender appeared to be establishing himself with his home town club upon breaking into the first team as a teenager. However his impressive form saw him make what looked an attractive move a long way south to the capital some two years after making his debut. Within a few months, he was on the move again as he headed back close to home with rivals of his first club, only for him to go south again to Norwich as the sixties came to an end, having made just three league appearances for his third club. Norwich was the move than enabled his career to settle down for seven years as he became a regular starter at First and Second division levels before getting fruity at the seaside for six years and his long career ended with an up market season in the early eighties. His Wikipedia entry notes that in the nineties, the manager of an international side had passed our man's playing career off as his own, but who is he?
80s. Capped thirty five times for his country, this defender did not score many goals in his career, but I can remember one of them sparking celebrations in my house when I was in my early twenties. Norwich represented his only venture outside Lancashire as far as his UK career went (he had two spells playing for the same club in the USA). His first trip to America came after over a decade's service to his first club and the short spell he had at Norwich had something of the Godfrey Ingram's to it as he was headed back to the states almost before he'd settled back in the UK. Nevertheless, he did fit in a game against City in what was almost a flying visit and he came back permanently to play for a current Premier League side who were finding life a bit of a struggle at the time and then a club that was on a rise which would see them make the old First Division shortly after his retirement at not far short of forty, who am I describing?
90s. Nerd on tanker somehow becomes full back who ends up being a rhino! (6,6,)
00s. Soap opera professional by the sound of it!
10s. Arriving at Norwich via the Darts and the Stags, he didn't stay long, but he's since become a Championship footballer, and an international, through his contributions with, among others, the Iron, the Fleet and the Green, who is he?
20s. Aurally at least, the first of his kind is a certainty!
Answers:
60s. According to the excellent Historical Kits website , Norwich City, strangely, decided to make green shorts their first choice during the course of the 65/66 season. The change was made in October and a possible explanation might be revealed in the fact they went back to what was then their traditional black shorts in October 66 a year after the switch to green (maybe it was to celebrate some sort of anniversary in the City of Norwich's history?). Whatever the reason, they were back in green shorts for the 67/68 campaign, only for black to make a comeback in 1969. Green was back in vogue again from 71/72 and, apart from two seasons wearing yellow shorts between 1997 and 1999, it's been that way ever since.
70s. Geoff Butler played for Middlesbrough, Chelsea, Sunderland, Norwich, Bournemouth and Peterborough in a career which almost lasted two decades. In 1992 it was discovered that Butler's near namesake, Jeff Butler, who was manager of South Africa at the time, had been claiming Geoff's playing career as his own!
80s. Willie Donachie's late comedy own goal gave Wales a 1-1 draw at Hampden Park in their game with Scotland shortly before they departed for what was seemingly seen by their manager as an inevitable World Cup triumph in 1978. Despite this blunder, Donachie was a fine player, good enough to play over three hundred and fifty times in the First division for Manchester City between 1968 and 1980. Donachie interrupted his time in America representing Portland Timbers to play eleven matches for Norwich in 81/82 (one of them being a 1-0 loss at Cardiff). Upon returning to England in 1982, Donachje had a couple of seasons with Burnley and then five years at Oldham.
90s. Darren Kenton ended his career with American side the Rochester Rhinos.
00s. Korey Smith.
10s. City's Ebou Adams (capped thirteen times for Gambia) started his career with Dartford (the Darts) and was loaned to Walton Casuals (the Stags) before he was given a contract by Norwich. Released without appearing in the first team, Adams then played for the likes of Braintree (the Iron), Ebbsfleet (the Fleet) and Forest Green (the Green) before arriving at City.
20s. Adam Forshaw.