The regular Championship season enters its final stretch as Cardiff City entertain Nottingham Forest in the first of their eight remaining matches with the odds still against them being able to extend their campaign by, hopefully, three more games, but, maybe the Swansea win will act as real boost for the team over the next six weeks or so.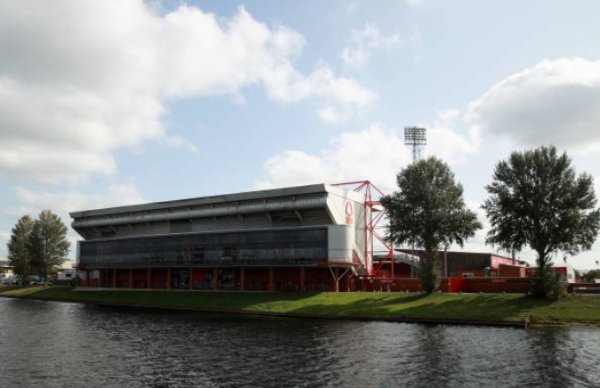 Anyway, here's seven questions on tomorrow's opponents dating back to the sixties.
60s. A wide player with an Anglicised surname, he had reason to remember an encounter with City with affection early on in his career. He started off by a river at the place of his birth, but only played six times for his first team before a transfer to what could be called a sleepy county in the middle of the decade. With an airport associated with a one time cast member of Emmerdale close by, the place he represented was making a footballing recovery from what was a rapid decline, but he left, briefly, for a team of Eulipotyphla before they reached a level where they would face City again. Next he wore stripes at something of a football outpost, before a modest playing career ended with a season at the largest city in East Anglia. Can you name him?
70s. Singular version of one time local holiday destination?
80s. Born in a city inhabited recently by funny, but barely understandable, young ladies, this defender started out at Forest and spent five years there more as a squad member than a regular starter. His next move took him to what sounded like a large thoroughfare to play for a team that were nowhere near as successful then as they are now. He couldn't establish himself at this club though and there was a loan move to the other side of the tracks so to speak in Nottingham terms, before he returned to wearing red with a move to a team with a nickname which once meant mongrel dogs or coarse, unpleasant men, but has now come to have more of a geographical meaning. It was here that he finally found regular first team football over a period of seven years before his career was ended by injury at the age of thirty without ever having scored a goal in his career, do you know who he is?
90s. Originally something of a terror, he captained items of horse riding equipment in a FA Cup Final in his one season with them before moving to a team that is only bettered by Al Ahly of Egypt. After a decade he moved on to become a Wizard, before a final season with the team he played over three hundred league matches for. He was working for the Clash when he was given the chance to play for Forest and did so for a short while as they battled, forlornly, against the drop. There were then a couple of years with a place that, seemingly, only taught Biology, Physics and Chemistry before retirement to the "Birthplace of California" – name him.
00s. Born in the place where they make pork pies, he was compared to Michael Owen as a youngster and his first competitive football was played in south Wales, but it was Forest who won the race for his signature when he became available for a permanent move. He faced City four times in his four years in Nottingham and, considering our domination of the fixture during this century, his record against us of a win, a draw and two defeats wasn't too bad. When he left Forest, it was to play with moderate impact in the same colours further south, before a move across country where he favoured blue. After that, his career reads like a bit of a roll call of lower league venues including two spells at a ground which could be called a sextet I suppose – when he was released at the end of last season when his second spell there ended, no one came in for him and he is currently without a club, do you know who he is?
10s. Sheepish red card victim in early Warnock game?
20s. Alternative name for a dancing Miss Piggy maybe?
Answers:
60s. David Pleat's father changed the family surname from the Jewish name Plotz and the Nottingham born winger scored his only goal from the six league appearances he made for them against City in a 2-1 win for his team at the City Ground in February 1962. Moving to Bedfordshire (Beds) to play for Luton in 1964, Pleat played more times for them that any other team over the next three years before signing for Exeter – he retired from full time football in 1971 after a season with Peterborough.
70s.Barry Butlin.
80s. Full back Gary Fleming was born in Londonderry, but he moved to Forest as a teenager and made his debut as an eighteen year in a game against Arsenal in April 1985. Fleming played seventy four league matches for Forest before leaving for Maine Road, Manchester at the end of the eighties only to move on within less than a year to the Tykes of Barnsley just after a short loan spell with Notts County. Fleming, who won thirty one caps for Northern Ireland, made more than two hundred and fifty appearances for Barnsley in all competitions before he was forced to retire with a cruciate ligament injury.
90s. Richard Gough started his career with Dundee United, then signed for Spurs for whom he tasted defeat in the 1987 FA Cup Final against Coventry. Moving on to Rangers, the club that have won the second highest number of trophies in world football, Gough had a very successful decade with them before spending a few months with Kansas City Wizards before one last season at Rangers. Gough was playing for San Jose Clash when he was loaned to Forest, but he was unable to prevent their relegation from the Premier League – his last club was Everton (known as the School of Science in the sixties) before he retired to live in San Diego.
00s. Paul Anderson signed for Liverpool from Hull as a youth and there were comparisons with Michael Owen for a while. There was plenty of interest in him when he became available on loan and it was Swansea who he signed for in 2007, With Liverpool looking to send him to a Championship club a year later, Forest got him on a year's loan and then, when it was decided not to renew Anderson's Anfield contract in 2009, Forest moved to bring him there permanently on a three year deal. Anderson's next club was Bristol City and then he did better at Ipswich where fans organised a petition demanding his resigning after he had been released at the end of the 14/15 campaign. Subsequent years have justified Ipswich's decision as spells with Mansfield, Plymouth and a couple at Northampton have seen unable to recapture the form which led to the bold predictions of more than a decade earlier.
10s. Thomas Lam was sent off in City's 2-1 win at the City Ground in October 2016.
20s. Samba Sow.,