http://mauveandyellowarmy.net/
60s. Who is this? Made just the one appearance for us against Preston during this decade. Other clubs he played for included a team which, literally speaking, would have required him to wear something that would have resulted in him being pushed around, the club which played at the ground where the first cantilever stand in a British football stadium was built and he spent a long time in non league at a place with a damaged entrance.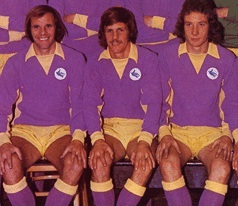 70s. Another guess the player;-
Born in a place which sounds a little like water transport solely for domestic use, he faced Preston for City plenty of times in this decade and was never on the losing side, but none of the sixteen goals he scored for us in all competitions came against them.
80s. Name our scorer(s) in the game played in front of the smallest ever crowd for a match between us and Preston.
90s. The end of this man's career read like a tour of coastal cities in the southern half of the UK where he performed to largely unfavourable reviews. For example, although he never played there as far as I know, he was at the location of a controversially named auditorium before moving on to a place with a ground which sounded like a much sought after type of rock. His next club had, and still has, a most unimaginatively named stadium and then he pitched up at Cardiff – like many of his matches for us, his one encounter with Preston was lost, who is he?
00s. This scorer for us against Preston during this decade also found the net, among others, for City in a Welsh derby, against a side with an alliterative name, two teams in red and white stripes and the Iron, name him.
10s. His goals for City came late on in games and won us points every time, one of them was in home game against Preston in this decade – who is he?
20. A match winner against one of the biggest sides in the country currently during his time with City, he has a connection with the current Preston squad, what is it and who is the player concerned?
Answers.
60's. Peter Donnelly's sole appearance for City against Preston came in a 2-0 win at Ninian Park in August 1960. Among Donelly's other clubs were Doncaster, Scunthorpe (the Old Show Ground was the home of Britain's first ever cantilever stand at a football ground) and Margate in a on/off relationship which lasted for nearly two decades.
70s. Briton Ferry born Leighton Phillips made seven appearances for City against Preston in the seventies with five of them being won and two drawn.
80s. Paul Wimbleton scored in a 1-1 draw between the clubs at Ninian Park in a match that attracted a crowd of just 2,528.
90s. Russell Osman's last four clubs were Bristol City, Brighton, Plymouth and us.
00s. Danny Gabbidon scored one of our goals in the 2-2 draw against Preston at Deepdale in April 2004 – among the other goals he scored for City were a goal of the season contender against Wrexham in 00/01, an overhead kick against Wycombe Wanderers in the same season, Ninian Park goals against Stoke and Sunderland in 03/04 and a couple against Scunthorpe.
10s. Andy Keogh only scored twice for us, but his goals came after the ninety minute mark against Millwall and Preston and secured a 2-1 in the former and a 1-1 draw in the latter.
20s. Paul Bodin scored both goals against Manchester City at Ninian Park to secure a 2-1 win in August 1983, his son Billy is a member of the current Preston squad.