A return to the ground where we began this awful year with an abysmal result. City are due a result at Loftus Road, but, even if it ends up as another 6-1 humiliation, there's still the seven decades quiz to enjoy! Seven QPR related questions with the answers to be posted on here over the weekend.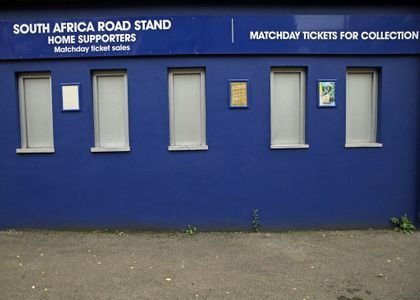 60s. He was a defender who won his only encounter with City while at QPR and stayed in London throughout his career in England before finishing it in a far off country on another continent. He died at the age of just fifty four and Terry Venables said the following about him after his death;-
"It's like being hit by a sledgehammer, I can't take it in, he was the greatest friend a man could have. Through all the times I've had when it was really bad, he would ring me every day. My thoughts are now with Jan, Nicola, Christian and Karl."
Jimmy Hill observed that;-
"He was a very unusual mix – tough on the field, an excellent, astute businessman and one of the boys at the same time, he was a very rounded character, as cheeky as they come."
It was rumoured that he joined QPR after the manager of his previous team attempted to instil a more professional attitude at the club, but who is he?
70s. Something of a utility player who is probably best remembered as a winger/midfielder, he started off at a club close to his birthplace and scored a historic, but ultimately insignificant, goal for them as a teenager. Moving on to another club close by, his most settled spell came over the next six years playing over two hundred and twenty league matches while wearing a unique kit for most of them. He next joined a Midlands giant in decline for a season before he arrived at QPR. He only scored twice during his three seasons in London, but one of those goals came against City towards the end of his time there. Next he played for gold newcomers and then went overseas to turn out for some pyramid builders before returning to the UK to play at a spotty stadium (he also had a later spell as manager here) and then finishing his playing days in Yorkshire at a ground named after a horse carriage – do you know who he is?
80s. Wear slices (3,6)?
90s. Ken leaving Liverpool initially to become QPR "legend" (5,6).
00s. He had a move to Darlington blocked by the Home Office, but a loan deal was later arranged to Yorkshire city gents and his form while with them persuaded QPR to sign him permanently. He became a solid and reliable member of their team in the next few years despite a couple of red cards in his second season (he also made a losing visit to Ninian Park that season) and it came as something of a surprise when they sold him to much loved songbirds where he also saw red on his league debut. Now getting to the veteran stage, he didn't make the expected impact at his new club and was loaned and then sold permanently to bigger, louder birds with criminal tendencies. After that, he paid a couple of visits to Malaysia and now can be found managing his first club looking out over all of the ships. Name him.
10s. He's played for AFC Wallingford, Windsor and Eton, Burnham, Hayes and Yeading, Reading Town and Marlow among others and featured twice in a season for QPR against us during this decade. He's now at MK Dons having arrived there from QPR via a couple of clubs in red to the west and Wild Rovers to the north, do you know who he is?
20s. Who played his last league game for us in the 6-1 defeat at Loftus Road on New Year's Day?
Answers:
60s. Bobby Keetch started his career with West Ham, but didn't play a first team game for them before signing for Fulham in 1959. It took him another three years to break into the first team, but he scored a couple of goals in his hundred or so appearances for them before moving on to QPR in 1966. One of his fifty odd league appearances for the Loftus Road side came in a 1-0 home win over City on Good Friday 1968 as they closed in on a promotion to the First division – four days later, the teams met again and it was City who scored the only goal of the match this time. Keetch ended his career in South Africa with Durban City and when he died of a stroke in 1996, Fulham's Chairman Jimmy Hill said that the club's financial situation was so grave that they would not be able to afford a wreath for his funeral – it's believed a supporter of the club came forward with the money to pay for one.
70s. Burnley born Mike Ferguson signed for Accrington Stanley as a youngster and scored their last goal before they dropped out of the Football League in 1962. Moving on to Blackburn, he was a regular with them before signing for Aston Villa in 1968 and then QPR a year later. He played nearly seventy league matches for them in the next three season with one of the two goals he managed coming in a season ending 3-0 win over us at Loftus Road in May 1972. Cambridge United were his next port of call before he moved to America to play for Los Angeles Aztecs. He was manager of Rochdale a couple of years after playing for them on his return to England and ended his playing career at the Shay (a name for a light horse drawn travel carriage) with Halifax.
80s. Don Shanks.
90s. Kevin Gallen.
00s. Damian Stewart was due to leave Jamaican club Harbour View for Darlington until the Home Office pulled the plug on the deal. Bradford City were able to take him on loan though and he then signed for QPR for whom he made getting on for two hundred appearances for between 2006 and 2010 (he was in the QPR side beaten 3-1 by City at Ninian Park in January 2008 in Aaron Ramsey's first league appearance for us). Moving on to Bristol City and then Notts County, Stewart played for a couple of clubs in Malaysia by returning to Jamaica where he currently manages Harbour View.
10s. Ben Gladwin played for a variety of non league sides before breaking through with some style into league football with Swindon. He signed for QPR in a joint deal which saw Massimo Luongo move from the County Ground and started in a 2-2 draw (he came on as a sub in the goalless draw in the return match between the sides some eight months later). Gladwin suffered injuries in recent years as he was loaned out to Swindon (twice) and Bristol City before signing permanently for Blackburn who released him this year and signed a deal for this season with MK Dons.
20s. Neil Etheridge.