Another Rotherham quiz to follow the one for the match which was postponed for some reason not long before kick off on 2 January.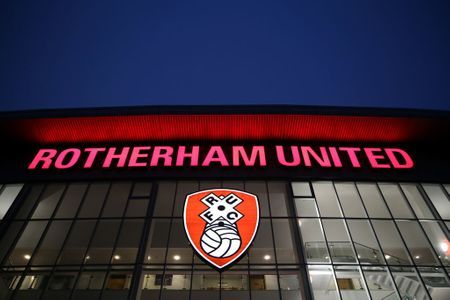 60s. A defender who won more than he lost when facing City while playing for his home town club Rotherham during this decade. A modest fee then saw him move to join a manger who probably saw quite a bit of him in his previous, Yorkshire based, job. Over the next seven years or so, he played all along the back for a team that was used to winning trophies on a regular basis at that time. The emergence of a locally born youngster saw our man lose his place and the rest of the career had him associated with the colour white to varying degrees, firstly while on loan in the old Third Division, then at the same level with a place that has a cider museum, before, finally, dropping into the basement where he ended up close to home wearing a chair fitting – who is he?
70s. Born in a place that has had two goes at having a team in senior domestic football only for financial problems to cause them to drop out of the league on both occasions, this man first turned up some way from home at a venue that has hosted internationals in two sports and also an FA Cup Final. He moved to Rotherham after four years and and stayed for that amount of time as a regular in the starting line up. Included in that time was a memorable performance at Ninian Park which marked him out as someone who should have been playing at a higher level. His next two clubs, one by the seaside and the other at a stadium perhaps associated with a posh set didn't provide that, but a loan to a club with a former name which would, almost certainly, cause them problems today (they played in all black with a yellow diagonal stripe across the shirt) did so and his form with them persuaded a London club that had just won a big trophy to make him a deputy for an England international. Over the next eight years he notched up nearly a hundred appearances, many of them in the top flight and there was a further loan to the oldest town in Britain before he retired from the game at the age of thirty seven, can you name him?
80s. Newt found in Troon at beginning of year? (4,6)
90s. Who is being described here? This midfielder was born a Londoner, but the fact that his first club had an archetypal English name, but were not based in that country offers the clue to his dual, or even triple, nationality. Signed by a First Division side that shared something in common with Abergavenny's football team, he was at that club for five years, but only just made it into double figures in terms of the number of First Division/Premier League appearances he made. Hardly surprisingly, he found himself being loaned out on a couple of occasions. first to a club who should be playing in south Wales this week and then to Rotherham, with one of his four appearances for them coming at Ninian Park. Freed in 1998, he next turned up at a team that Neil Warnock managed for four years, but he made little impact as his career in England came to a quiet end. Playing in the country he was capped for at under 20 level, he played for a while in an area City might feel some affinity with and then in our Monarch's area – by the end, it might be claimed that he had made something of a dog's breakfast of his career which it could be said was quite appropriate given his surname!
00s. He made something like two hundred and sixty appearances for City and two of his first six for us were against Rotherham – who?
10s. Can you identify the Rotherham/Cardiff match from this decade from this list of the current clubs of players in our starting eleven that day who are still in the game – two still at Cardiff, Charlton, Gillingham, Melbourne City and NAC Breda.
20s. Tease men of the cloth perhaps? (4,7)
Answers:
60s. Dave Carver won three and lost two of his encounters with City while at Rotherham. Signed by former Bradford Park Avenue manager Jimmy Scoular, Carver was mainly used as a right back by City, but also played sometimes on the left and more centrally (especially when he was given man marking jobs) in a team that were virtually unbeatable in the Welsh Cup at the time. The emergence of Phil Dwyer signaled the beginning of the end for Carver at Cardiff and he was loaned out to Swansea before joining Hereford for the 73/74 season – his final team was Doncaster.
70s. Tom McAllister was born in Clydebank, but spent all of his career with English clubs. First of all, he played some First Division football with Sheffield United before moving to Rotherham in 1975 and a year later he gave what I still say is the best performance I've seen from an opposing goalkeeper in a City game, when his heroics enabled his team to escape with a 1-1 draw from Ninian Park in Match 1976. McAllister had brief spells with Blackpool and Swindon where he only played one league game for them, but was loaned out to Bristol Rovers (formerly the Black Arabs) who were in the old Second Division at the time. McAllister was bought by West Ham as a back up to Phil Patkes, but got to play close to ninety league matches for the Hammers before another loan move, this time to Colchester, was a prelude to his retirement from the game in 1989.
80s. Tony Towner.
90s. Adem Poric was qualified to play for England by birth and Australia and Bosnia through family connections, but never made it further than a couple of Australian Under 20 appearances. Poric was signed by Sheffield Wednesday from St George Saints, a Sydney based club formed by Hungarians, in 1993, but only made thirteen league appearances in the five years he was with the club. Poric was loaned out to Southend and then Rotherham, for whom he played in a 2-2 draw at Ninian Park in February 1998. After a short spell at Notts County, Poric returned to Australia to play for two sides in New South Wales and one in Queensland.
00s. Joe Ledley made his first league appearance for City when he came on as a sub in a 2-0 win over Rotherham in October 2004 – five weeks later, he scored his first City goal in a 2-2 draw at Millmoor.
10s. Sean Morrison and Joe Ralls are the players still with City, Ben Amos is at Charlton, Stuart O'Keefe with Gillingham, Craig Noone is now with Melbourne City and Lex Immers plays for NAC Breda – they were all in the starting eleven for our 2-1 win at the New York Stadium in September 2016.
20s. Josh Vickers.