How long has it been since Cardiff City were so widely backed to win a home game as they are being for tomorrow's visit of a Rotherham United side without an away point so far (they were hammered 6-1 at Stoke in the League Cup as well)?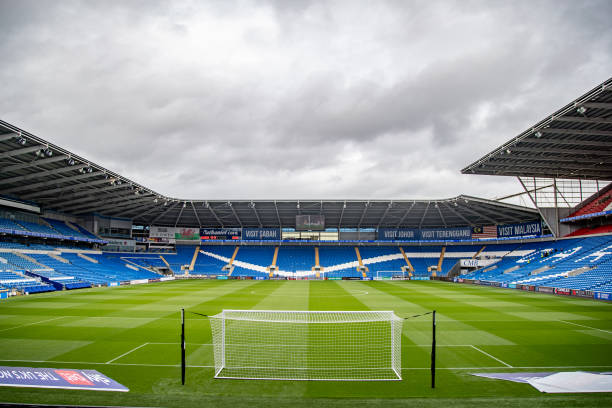 I think you probably have to go back to our Play Off season in 19/20 for the last time it happened and, possibly, it might be further still to our promotion season of 17/18. Therein lies the danger I suppose, City have been awful at home in recent years and so it's probably true to say that it's only Joe Ralls of the current squad who has experience of being in Cardiff sides that are expected to win on their home ground.
If Rotherham are able to get to about the hour mark with a level score or even a lead, the pressure will be very much on City. However, even with the loss of Aaron Ramsey for what many are fearing will be a lot longer than the three weeks mentioned by Erol Bulut in his press conference yesterday (City are waiting for the results of a scan on Ramseyy's knee injury) , it's a different, and better, sort of pressure than the sort we've become used to for at least two seasons.
Before we find out whether City can record a fourth straight home win though, here's the usual quiz on our upcoming opponents – I'll post the answers on here on Sunday.
60s. Remembered for his ability to ghost into scoring positions, the fact is that this Yorkshire born striker's goalscoring record was not quite as impressive as I remembered it being at the time. Don't get me wrong, just short of a hundred league goals in around three hundred and forty games is good going, but it shows that he wasn't really the consistent twenty goals a season man I thought he was. Rotherham were his first club and five years after making his debut for them early in this decade, he crossed the Pennines to play First Division football. The fee involved was £30,000 which was fairly modest by the standards of the top clubs at the time, but it represented his new team's first significant outlay on a player in eight years. After retirement, he would manage his second club and his son was also a professional footballer who will not remember Cardiff City with any affection, can you name father and son?
70s. What connected Liverpool, Spurs, Wolves, Southampton, Newport County and Rotherham United at the start of this decade?
80s. Peeling prep mess for midfielder. (5,6)
90s. Shelter for hand protection worker maybe?
00s. Great things were expected from this forward when he burst upon the scene while wearing hoops around the turn of the century. Capped by his country as a teenager, he was a target for top flight clubs almost from day one and his cause was helped by him scoring the fastest ever hat trick in UEFA club competitions. However, despite his dramatic entry into the game, he found it hard to break into the first team on a regular basis and he went out on loan to a couple of sides in blue. When he did leave permanently, he again wore blue at a club which was just about as far away geographically from his birthplace as any in the UK.
The truth was though that his career had already peaked and he was soon being loaned out again – as before, all of the teams he played for temporarilly wore blue. Apart from his first club, Rotherham were the first team he'd played for that did not wear blue, but his time at Millmoor was very much of the blink and you missed it variety – a strike rate of one in every three games is impressive, but it loses it's praiseworthiness when you find out that three matches is all he played for the Millers!
A move to a capital followed, but he was soon off again to play in black and white and his above par showings at this club persuaded Rotherham to give him another try. This time, he did better to the extent that he played a few more games and scored a few more goals, but it wasn't enough to prevent another move, this time to a ground not used for football by the sound of it, before dropping into non league football, who am I describing?
10s. Ancient beauty's home turns muddy?
20s. Initially at least, you might say it's an eel tripe portion for Leif Erikson! (3,7)
Answers:
60s. Frank Casper played just over a hundred league games for Rotherham before moving on to Burnley, the club he is more associated with, in 1967. Casper spent nine years at Turf Moor as a player and was Burnley manager between 1989 and 1991. While his son Chris started off at Manchester United only to receive an injury following a tackle by Richard Carpenter which ended his career on Boxing Day 1999 while playing for Reading in a game at Ninian Park – a subsequent law suit issued against Carpenter was settled out of court.
70s. The six clubs listed were the Finalists in a "Kop Choir" competition run by the Football League Review which was covered by the BBC's Sportnight with (David) Coleman programme in April 1970. A panel consisting of Dickensian referee Roger Kirkpatrick, Arsenal goalkeeper Bob Wilson and Football League misery guts Alan Hardaker decided that Rotherham were the team with the best Kop Choir out of the ninety two clubs!
80s. Nigel Pepper.
90s. Lee Glover.
00s. Mark Burchill started off with Celtic and was soon winning caps for Scotland and breaking records in European competitions. Loaned out to Birmingham and Ipswich, he eventually signed for Portsmouth, but was never a regular first choice and further loans followed to Dundee, Wigan and Sheffield Wednesday. Rotherham first signed him in 2004, but he was soon on his travels again, this time to Hearts and then Dunfermline where he enjoyed his best spell since his time with Celtic. Rotherham brought Burchill back, but, again, he didn't prosper in Yorkshire and so he returned to Scotland to play at Rugby Park for Kilmarnock.
10s. Troy Brown.
20s. Lee Peltier.