https://mauveandyellowarmy.net/
Seven questions about Stoke City for each decade back to the sixties.
60s. Who is this?
"Born in a place that has a cake named after it, this jack of all trades crossed county borders to sign for Stoke and was soon in the first team. He would play in every outfield position for the Potters, but most of his appearances were in the back four – something which partially explains why he fell into the very, very occasional goalscorer category. He could not point to many trophies won from his time at the club – a Second Division winner's medal being as good as it got for him as, having helped them get there, he missed what was, arguably, the greatest day in Stoke's history. He stayed for another four years and when he moved on it was by crossing plenty of time zones, not counties, to a club that a current City player was turning out for until recently. He did not stay long – the call of Stoke was too strong and he ended his career playing a few games, and scoring a goal, for a club as close to his old stamping ground as you could get.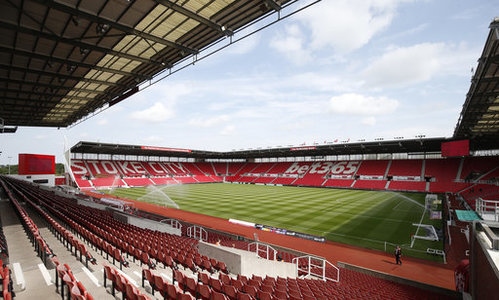 70s.A vegan who still runs marathons and attends heavy metal concerts, this defender started out by playing for the club he had supported as a kid and became a fixture in their team during this decade, winning Under 23 caps for his country. A run of over a hundred consecutive appearances was ended when a manager who City fans of a certain vintage remember with very little enthusiasm decided he was not physical enough for the Second Division following a relegation. He won the manager around eventually though and was a stalwart in a promotion team before he was sold to lupine rivals to the south. A brief return to Stoke did not go well and, after that, apart from loan spells with some bravehearts in white and in a city not far from where you might kiss a piece of rock, he spent the rest of his full time career in Scandinavia – can you name him?
80s. Confused mints donor is a one time Potter apparently.
90s. Not quite a case of nepotism rules because his father had left shortly before he made his three appearances for Stoke – who am I talking about?
00s. Is this what you do when you stain the character of a popular man? It sounds like!
10s. Two men appeared for Stoke at Cardiff City Stadium during this decade who have played first team football for Barcelona and won caps for Catalonia – who am I describing?
20s. Name two full internationals Stoke signed in the January transfer window.
Answers
60s. Eccles born Eric Skeels made more appearances for Stoke than anyone else in his seventeen years with them which began in 1959. He played five hundred two times in all competitions, but not in Stoke's 1972 League Cup Final win at Wembley. In 1976, he moved to Seattle Sounders, but it was only a few months before he returned to England to play for Port Vale.
70s. Stoke born Alan Dodd played just over four hundred games in all competitions for his local club, but requested a transfer after Alan Durban left him out of the team in 1978. He got his place back though and stayed with Stoke until 1982 when he joined Wolves. He returned home briefly before playing for three different Swedish clubs that also saw him turning out for Port Vale and Cork City on loan during the off season.
80s. Simon Stainrod.
90s. Lou Macari's second spell as Stoke manager was "stripped off his duties" at the end of the 96/97 season, his son Paul made his three first team appearances for the club during the following season.
00s. Mark Goodfellow.
10s. Marc Muniesa and Bojan.
20s. Wales' James Chester arrived from Villa on loan and Blackpool's Northern Ireland international Jordan Thompson was signed on a permanent deal.