With thirty points still to play for, it's a bit early to take about "must win" games yet, but City could really do with a victory over Stoke tomorrow night. With just three league wins in 2021, Stoke's Play Off hopes have taken a bit of a nose dive lately and, realistically, tomorrow night's match is a must win occasion for them. Here's seven Stoke related questions dating back to the sixties.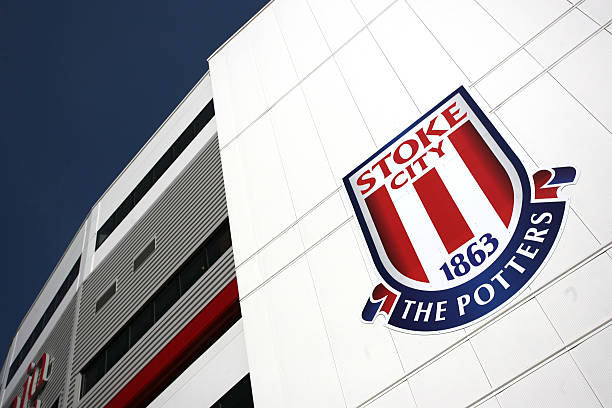 60s. Born in a place described as follows in an 1887 Gazetteer of the British Isles,
"It is a fairly prosperous town, with tanning and currying, mfrs. of boots and shoes, stays, brushes, agricultural implements, and some articles of clothing. It has a handsome town hall, a cattle market and a grammar school. Many Roman relics have been found in the vicinity."
this forward came to the attention of Stoke while playing for his local team when their manager at the time was involved in a telephone conversation about a fine forward he had found who his club had told him they couldn't afford. When the Stoke manager consulted colleagues about this player, he decided to buy him without having seen him play and the player signed despite having to take a pay cut. His one appearance for Stoke against City came shortly after signing for them and resulted in a narrow win for his team. Taking his chance when an injury to a first team regular got him a start, he never lost his place and was breaking club records within weeks. His subsequent sale to Yorkshire birds came as a shock and, although not matching his achievements at Stoke, he still had a decent record during his three years at his new club, but a new manager decided he was over the top at twenty eight and so Stoke resigned him at a cut price fee and he proceeded to prove his previous manager wrong over the next six years before a leg break signalled the end of his career – who is he?
70s. Starting off for his home town club, who had worn red and white striped shirts for a very short while in their dim and distant past, this full back made a reputation for himself after breaking into the first team and was eventually sold from one one word club to another for a biggish fee. It didn't take him too long to establish himself in the first team and was soon the established choice in his position. The next few years were successful ones for him, but a change of manager signalled a decline that his career never really recovered from. Finding his way into the team blocked, first by someone with a City connection and then by a Welshman, he was signed by Stoke, but, once again, a change of manager after a few months worked against him and he stomped off after a season, before later getting caught in blizzard prior to his retirement at just thirty one – internationally, he was a favourite of a caretaker, but can you name him?
80s. Pet grebe and I are forever cutting back on ourselves! (5,7)
90s. This defender is from the same place as one half of a combination that were voted as the ninth best comedy double act ever in a poll of fellow comedians and comedy insiders in 2005. He clocked up one short of a hundred league appearances for his home town club (there was also a loan move to seaside city to the south during this time) before an unsuccessful stay at a team which could be called tricksters I suppose. Next, he was one of a trio of players from that club (another one was a former City player and the other one was a particularly gangly striker) to be signed by someone, who has worked with the aforesaid comedian, for the team he was working for at that time. When he arrived at a march in a dip. our man was part of the first side from the club to appear at Wembley. Losing his place in the starting line up prompted a move to alliterative nomads and it was after clocking up close to sixty league appearances for them that he signed for Stoke with one of his ninety odd league games for them coming at Ninian Park – he also endeared himself to fans of his new club by scoring against Port Vale. His league career finished with a return to the place he had been on loan at almost a decade earlier – do you know who he is?
00s. He only won two out of his seven encounters with City during this decade while a Stoke player, with four of them ending in defeats – two of which came in a season where he was an ever present for the Potters. He returned to his first club after leaving Stoke and also played for two sides that begin with the letter P. Born in Mile End, he has a sister who has appeared on X Factor – name him.
10s. Name a City striker who made his last appearance for the club in a league game with Stoke during this decade.
20s. Stutter heard at border venue? Who and where?
Answers:
60s. Kettering born John Ritchie was signed by Stoke boss Tony Waddington from his home town club despite him never having seen his new centre forward play. Ritchie was a part timer at Kettering and quit his job in a shoe factory, taking a pay cut in the process to sign for the Potteries club. Ritchie played a small part in Stoke's promotion run in during 1962/63 and started in a 1-0 win over City in April 1963, but it was when an injury to Dennis Viollet gave him an opportunity in the First Division that Ritchie's career really took off. Scoring twice in a win at Bolton, scored fifteen times in his next nine matches breaking a club record in the process and his goals were instrumental in getting Stoke to their first ever Cup Final in 1964 when they were beaten by Leicester in the League Cup. With thirty goals in his first full season as a full time pro and twenty nine in the following one, it came as a real surprise to see him sold to Sheffield Wednesday in 1966 for £80,000. Stoke bought him back in 1969 for a bargain £28,000 and he top scored in three of his subsequent seasons with them before a broken leg in 1974 signaled an end to a career which had seen him score one hundred and seventy six goals in his three hundred and forty seven league appearances for them.
70s. Alec Lindsay started off with his home town club Bury, before signing for Liverpool for £67,000 in 1969. Rated highly by Bill Shankly, Lindsay was Liverpool's first choice left back through the early seventies, but, when the manager retired in the summer of 1974, his replacement, Bob Paisley, soon selected future City manager Phil Neal in front of him and, when Neal was moved to right back, Paisley preferred to sign Joey Jones as his left back, rather than reinstating Lindsay. Lindsay left Liverpool for Stoke in 1977 and was in their side which lost 2-0 at Ninian Park in November of that year, but when George Eastham was sacked as manager half way through the season and replaced by another future City boss in Alan Durban, Lindsay once again found himself surplus to requirements and left after less than a year seeing out the rest of his career in North America with the Oakland/Edmonton Stompers (they moved cities during Lindsay's time with them) and Toronto Blizzard. Lindsay won four caps for England all awarded him by Joe Mercer who was a temporary England manager after Alf Ramsey's resignation.
80s. Winger Peter Beagrie, apparently used to drive the strikers at the clubs he played for mad by beating his full back and then cutting back to try to do it again just as they were making their run for the cross they were expecting.
90s. Nicky Mohan, like Bob Mortimer of Reeves and Mortimer fame, hails from Middlesbrough and made ninety nine times for them (he was also loaned to Hull) before signing for Leicester City. Mohan, Gavin Ward and Ian Ormondroyd were all signed for Bradford City by Chris Kamara, before Mohan moved on to Wycombe Wanderers and then Stoke (he was in their team which won 2-1 in Cardiff in October 1999), before ending his league career with another spell at Hull.
00s. Darel Russell had two spells with Norwich City sandwiching his stay at Stoke – he was in the Stoke teams beaten 3-1 and 3-2 by City in 03/04 within the space of a month and played every game for them during that season. Russell also has Preston and Portsmouth among his former clubs and his sister, Sharlene was in the band Miss Frank, who, apparently, appeared in the sixth series of X Factor.
10s. Omar Bogle came on as a sub in City's 1-0 win over Stoke in November 2019 and never played again for us.
20s. James Chester – Stutter is James' first album.