Pre season predictions tended to pair the two relegated clubs from 21/22 that did not return to the Premier League last season in mid table for 23/24 with a minority suggesting that a Play Off challenge or a finish as low as the 14th to 18th area was possible for Norwich and Watford.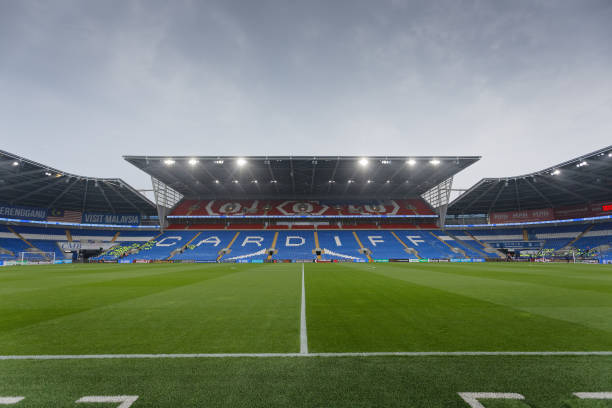 So far, the first named club are drifting towards that mid table position after a fast start to the campaign, but Watford find themselves with only the bottom three below them after a run of three straight defeats with less points (nine) than games played (ten).
For the last decade or so, such a record would mean that Valerin Ismael would have been given his P45 by now by Watford's notorious owners, but, instead, he was given an extended contract this week. With that security behind him, he kept the players locked in the dressing room for two hours apparently following the midweek 2-0 loss at Sunderland.
So, with that in mind, it's hard to know what to expect from Watford when they come to Cardiff City Stadium tomorrow, but, whatever the visitors' frame of mind is, they'll be facing a City team which has been hit hard by injuries.
Erol Bulut confirmed yesterday that Aaron Ramsey will be out for eight to ten weeks with his knee tendon rupture and that period could be more than doubled if he requires an operation. Callum O'Dowda will have an operation for a groin issue that has already kept him out for more than a month and he'll probably not be back before Christmas. It's no great surprise to learn that Yakou Meite is out for a month with the hamstring injury that forced him out of the Rotherham game and the same applies to Kion Etete after his withdrawal against Middlesbrough.
Better news is the Jamilu Collins should be able to return at left back and Josh Bowler is back in training, so I suppose it's possible he could be on the bench tomorrow.
I'm not going to make any predictions about the game because I honestly don't what is going to happen – Watford aren't as bad as their records suggests, but, all of a sudden, we have one of the best home records in the division and that's not something I thought I'd be saying when we were so feeble in losing down here to a QPR side that had been thrashed by Watford on the opening day of the season.
Here's the usual quiz with the answers to be posted on here on Sunday.
60s. The term "late developer" definitely applies to this defender who left his native north east to sign for what would have been the biggest, most successful side in the city when he was there – they would be overtaken by their neighbours about a decade later and that has, more or less remained the situation to this day.
Anyway, he was released without playing a senior game for his first club and dropped into part time football with non League birds from Canal Street. His displays were good enough to provide him with a way back into the professional game and he was a stalwart at a northern club, currently in the sixth tier of the English Pyramid structure, for nine years. He then played a leading role in steering another northern club, this one now in the seventh tier of the aforesaid Pyramid I believe, to what may well be the high point of their largely unsuccessful existence.
It must have been his work at this club which attracted Watford. By now at the veteran stage, his influence was essential to Watford 's promotion to the Second Division over fifty years ago, despite the fact that his playing days were now behind him, but who am I describing?
70s. Watford midfielder whose name maybe encapsulates one of their former Chairman's hits from this decade – on a weekend anyway!
80s. Boss initially made brave move for striker. (4,6) Apologies, I messed up on the original 80's question!
90s. Decline liver salts possibly?
00s. I watched an interview with Andy Legg on You Tube this week in which Leggy said a great mate of his who played for Watford during this decade was "one of the nastiest players I played with". This man was a winger/midfielder who played with Leggy at two Midlands clubs before he got to Watford and he went on to win ten international caps, can you name him?
10s. He scored for Watford against us during this decade and is currently playing under a former manager of ours, who is he?
20s. Captain of his current club, this recent Watford player has scored just twenty nine times in over four hundred league appearances over his career, yet he has fourteen goals from less than fifty games while playing for his country, who am I describing?
Answers
60s.Stockton born Ken Furphy was released by Everton in 1951 and joined Runcorn, but, within two years, he was back in the Football league with Darlington. Furphy accepted the Player Manager's job at Workington and led them to promotion to the Third Division in 1964 thereby attracting an offer from Waford to become their player-boss. Watford were promoted to the Second Division in 1969 (a year after Furphy played his last game) and he also led them to an FA Cup Semi Final in 1970. Jobs at Blackburn and Sheffield United (who he took to sixth in the First Division in 74/75, before a disastrous start to the following season saw him dismissed by the Blades) followed – Furphy worked as a coach in America for a long spell after that.
70s. Roger Joslin – Saturday night's alright for fighting.
80s. Dave Bamber.
90s. Wayne Andrews.
00s. Paul Devlin played with Andy Legg at Notts County and Birmingham.
10s. Tommie Hoban put Watford ahead in their 2-1 defeat here in October 2012 and in July he signed for Steve Morison's Hornchurch.
20s. Former City midfielder Leandro Bacuna has a scoring rate of around one in every fourteen games through his long club career, but his goals for Curacao come at a rate of just over one in three.