It started to go wrong for Mick McCarthy and his Cardiff City team two hours before the five thirty kick off time for tonight's game at Sheffield Wednesday, a team that had dropped to the bottom of the Championship after this afternoon's games.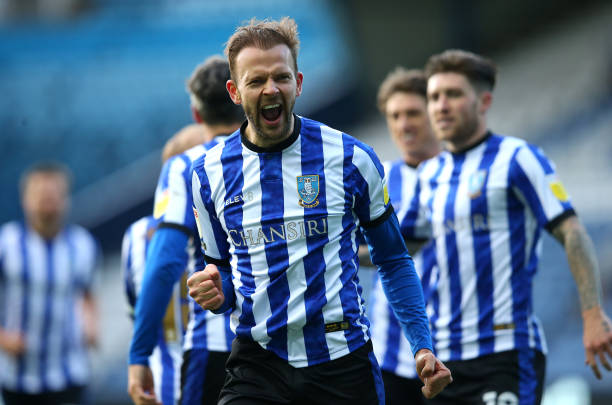 City's concerns were at the other end of the table and Bournemouth and Barnsley were leading by the time it was 3.30. By half time, Reading were ahead as well and I wonder if Mick McCarthy gave any thought to making changes to the starting line up he must have already decided on because all of our rivals for Play Off spots looked like winning – as, indeed, they did.
I say that because those three other sides picking up three points each meant that tonight's match became virtually a must win one for City as they dropped eight points off sixth place with only twenty one more of them to play for.
As it was, the selected side had a depressingly negative look to it. A natural footballer, Jonny Williams, came in as the only change from Saturday's mediocre, but slightly unlucky, loss at home to Nottingham Forest, but, being Cardiff City, a club which places so little store in something like footballing ability, another gifted footballer in Harry Wilson had to make way for him of course.
It's probably not a fair question to ask anyway because pre game work on our opponents would have involved personal instructions for all eleven players in our side and late changes would have probably thrown much of that into confusion, but it's also true to say it would have made no difference at all if McCarthy had packed his side with attacking players because Wednesday were so good and we were so abject that we probably would have got the same sort of stuffing anyway.
Last season it was a 6-1 defeat while wearing our cursed all orange strip that exposed the fundamental limitations within our squad which, all things considered, we do a pretty good job of hiding most of the time, this season it's tonight's 5-0 hammering at Sheffield Wednesday.
Thankfully, I've never watched the whole ninety minutes of the Loftus Road match, but as Rangers had plenty of attacking quality last season and Wednesday's goalscoring record this season is feeble, this feels worse than the New Years Day massacre in London.
Wednesday may not have the forward power, but, in Barry Bannan, they have someone who has been one of the Championship's best midfield playmakers in recent years. Tonight, while being given a pretty easy time of it by our almost non existent, and undermanned in the first half at least, pairing of Marlon Pack and Will Vaulks, Bannan picked us apart with a technical quality and range of passing we couldn't hope to match.
As I was watching Bannan shine against us, as he has done on many occasions in the past, I found myself wondering who out of our recent managers would have been interested in signing him for City if he had become available while they were in charge?
Given the type of football their sides played, I don't think Russell Slade, Neil Harris and Neil Warnock would have been. As for Paul Trollope, he wasn't here long enough to hazard a guess really though I suspect he might have done. I think Ole would have signed a Bannan type player, but my instinct is Malky Mackay might not have done – Dave Jones definitely would have.
My point in bringing that up is to try to illustrate how City have progressively become the sort of side where a midfield organiser who takes a lot of touches of the ball like Bannan does would not be wanted.
Back in January after Neil Harris left the club, there was talk about how we could now finally get an "identity". I was among those hoping for such a thing, but, as I've mentioned on here once or twice since then, I've reluctantly come round to thinking that we had an identity already and have had one for years.
Because our way of playing can be effective, our identity has seen some opposing teams selecting bigger sides than they would have done against most other clubs because they felt they had to try to match us physically (Derby and Luton are two recent examples of this, for all of the good it did them)..
The evidence of this season and other seasons is that this is the wrong approach. Tonight, we had nothing to offer in reply to a Wednesday side that had ex Owl Andy Hinchcliffe proclaiming their performance as the best he'd seen in the Championship this season – Wednesday were good, no doubt about, but they had nothing to beat because, increasingly it seems to me, if you pass the ball well, deal with the physical stuff and defend set pieces adequately against us, we have so little to offer aside from crash, bang, wallop football that we can hurt you with – there was plenty to be embarrassed about tonight, but worst for me, was that, until Harry Wilson came on and provided a small amount of movement and skill, all we had to offer in attacking sense were the old faithfuls, the Vaulks long throw and corners and free kicks against a struggling side (what is it about them this season? Our record against them is awful) who were running rings around us in terms of quality football – without Wilson we looked incapable of creating anything in open play.
It's funny, I read a few posts on City messageboards around the time that we sold Callum Paterson about how this was a sign of a ditching of the style (that hardly seems the right word mind) which we'd had used since Neil Warnock's time here – Paterson was all energy and no technique, a Jack of all trades positionally, but a master of none of them in terms of ability etc, etc. However, the superb volley he scored for Wednesday's second (which he didn't celebrate) and the perfectly weighted pass he provided as an assist for Jordan Rhodes' goal to make it 4-0, revealed a level of skill and touch that not too many of our current players can match.
Could any of our players have come up with anything to match Adam Reach's left footed strike which made it 3-0? Wilson, who eventually got on (more on McCarthy's substitutions later on) and hit the post after one of very few effective passing movements by us, possibly, but he's probably counting down the days until his loan ends at the moment, and Will Vaulks might on his right foot, but I'm struggling to think of anyone else.
Wilson hasn't been as good as hoped this season and I've found myself expressing frustration at his inability to grab games by the scruff of the neck, but it's instructive to have seen some of the things he does with better players around him in his appearances for Wales this season.
Wilson could have done more for us this season on a personal level, but, frankly, we haven't been good enough at getting quality balls played through to him in positions where he could inflict most damage. Nothing confirms this more than the exception which proves the rule – that lovely pass from Marlon Pack to Wilson for his goal against Birmingham stands out like a beacon as our pass of the season because it has so few, if any, genuine rivals.
I thought Wilson's attitude was pretty good after he was introduced along with Sheyi Ojo and Max Watters with only twenty minutes left and us trailing 5-0. I'd mentioned before that I found Mick McCarthy's team selection depressing, but maybe disappointing would be a better way of describing it actually. However, depressing or disappointing, it applied with bells on to his substitutions tonight.
I assumed we'd see at least two changes at half time, but no, as he's done a few times before he waited seventy minutes before doing anything and this with his team being humiliated.
As I mentioned before, Wilson did quite well when he came on, Watters again barely got a kick because he plays in a way that runs contrary to City's identity and as for Ojo, once again he did nothing worthy of note and yet he's always one of the subs McCarthy uses. I'm sure it's not the case, but it seems at times as if our manager has a note pad he consults during matches which includes the words "seventy minutes, bring on or take off Ojo".
Going back to that question about Barry Bannan, I didn't mention what I think Mick McCarthy would do if given the chance to sign him for the simple reason that I honestly don't know. On the one hand, he's signed Jonny Williams who I'd say is definitely not the sort of player we've made a habit of signing in recent years, but then I look at the sort of football we've been playing under him and I'm not hopeful that we will see a rebuilding job aimed at providing that new identity I believe we really do need now.
I'm not surprised that Mick McCarthy decided to play to the strengths of the squad he inherited. He said he was a pragmatist when he was first appointed and he's been proving that for close to three months now, but, despite his good record in terms of results, we've been pretty awful to watch much of the time – in fact I'd say we've been more Warnock like now than we were under the man himself.
So, I'm not hopeful of seeing what I believe is a much needed remodeling of our squad, particularly in central midfield, during the summer because I doubt our manager will be minded to do something like that and also because I see no evidence that the decision makers in the Boardroom are either. After all, their recent managerial appointments have all continued with what, sadly, has become the "Cardiff Way" in a manner totally contrary to what was talked about originally when that term first appeared.
Finally, while there's still a chance of a top six finish, after tonight's brutal exposure of our limitations, I'd rate it at five per cent at the very most, so, with the Daily Mail claiming we're one of ten Championship sides to be hit with a transfer embargo recently, how about giving some of our young players a real chance in the first team, as opposed to the odd few minutes here and there Rubin Colwill has been getting lately?
Clearly it's easier for them in the under 23s to look the sort of players I think we definitely need, but the likes of Sam Bowen, Keenan Patten, Kieron Evans and Isaak Davies are braver in possession than many of the current first teamers, while Tom Sang has shown a composure, mental bravery and eye for a pass while playing right wing back that our four senior central midfielders (all of whom started the game today, albeit two of them were out of position) lack. While the club have been quiet on the matter of our playing style, they have outlined that they want to see more opportunities given to youngsters, so let's do something about that in our final six matches – especially if we really are in a position where we're going to have to sell to get out of an embargo.