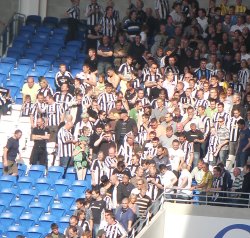 Unfortunatly Cardiff didn't come out with a more positive attitude and a game that was there for the taking was lost without either keeper having make a meaningful save to make.
Newcastle, solid in the opening 20 until they scored then soaked up and spoiled any City attacking threat and in fairness to them put their bodies on the line and protected their keeper so well.
Stats show City having 14 on target efforts but non of them beat the first man after the shot was struck.
City lost their imagination and their flair and ended up with too many sideays passes and long knocks to Bothroyd.
Chopra had to go looking for the ball such was the poor quailty from midfield. Defence is a worry with Hudson and Quinn failing to impress.
City had a decent shout for a penalty waved away and at the end Alan Smith got another Cardiff red card (remember him being sent off when he played for Leeds at Ninian Park in 2002), this time his last gasp tackle was cynical and fully intended to stop Bothroyd from scoring. It was a 2nd yellow and he was off. Chopra's effort from the free kick was once again blocked. The same story all game.
So that's two defeat on the bounce. Next up Reading away on Wednesday. They haven't won at home for ages. City need to pull their socks up and Dave Jones needs to out manage his opponents because in the last two games City have faced better organised teams who did a job on us.