60's. The man pictured had a career which almost exactly spanned the decade. Always employed by teams that wore red, he started off at Oakwell, making over one hundred and thirty appearances for Barnsley before moving twenty miles down the road to a club where, among others, he was managed by the man credited with first using the line that he'd had more clubs than Arnold Palmer. His performances for his new team attracted the attention of bigger clubs and, as the decade was ending, another short(ish) journey secured him a place in the top flight where he established himself as a first team regular for a season, before being forced to retire with an injury not normally associated with ending a football career – who is he?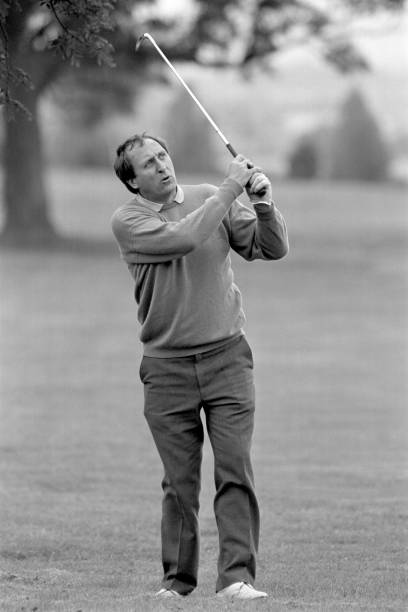 70s. Another player to identify from a picture and some clues. Given that he worked as a miner before his football career started, it was somehow appropriate that this striker should start off at Barnsley, but he was to leave them without scoring a goal. With his character, it was ironic that his career took off at a club whose nickname was suggestive of a Society of Friends with peaceful principles. He was signed by a Second Division team of old fogeys, but when they made it to the top flight, that was where he tended to stay while playing for a variety of clubs over the next decade or more. A scorer of a hat trick at Wembley, he ended his career playing for Rainworth Miners Welfare some twenty nine years after it started.
80s. Rated as a Barnsley great, the man pictured, who won a single cap for his country, was a scorer for them at Ninian Park during this decade, who is he and who were the three players making their City debuts in the game he scored in?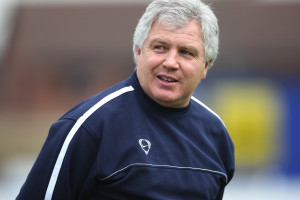 90s. Which member of the Barnsley squad which was promoted to the Premier League with a City connection manages one of the teams which actually got to play in the Football League on Saturday?
00s. A game between us and Barnsley from this decade featured a goal which won a Goal of the Season award, who scored it and name the player in the Barnsley team that day who is currently playing for Newport County?
10s. Which Barnsley player, who established a Football League record as soon as he stepped on to the pitch for his debut with the club in 2008, was in the Barnsley side on the day Liam Lawrence scored his only goal for us?
Answers.
60s. Former Barnsley, Rotherham and Forest keeper, Alan Hill – his career was ended by a broken arm.
70s. David Speedie played for nineteen different clubs including Darlington and Chelsea.
80s. Ronnie Glavin scored two of Barnsley's goals in a 3-0 win over City in October 1983 – Karl Elsey, Nigel Vaughan and Phil Walker all made their first appearances for us that afternoon.
90s. Former City coach Paul Wilkinson was caretaker manager of Grimsby for their 2-0 defeat at Carlisle on Saturday.
00s. Joe Ledley's goal in a 2-1 win at Oakwell on the opening day of the campaign in 06/07 was voted as best goal of the season – Paul Hayes is the current County player who was in the Barnsley side that day.
10s. Reuben Noble-Lazarus, who became the Football League's youngest ever player when he came off the bench for Barnsley in their 3-0 defeat at Ipswich in September 2008, was in their starting line up for a game at Oakwell in April 2012 which we won thanks to Liam Lawrence's goal.
http://mauveandyellowarmy.net/
Brentford quiz and answers
60s. Brentford won a Fourth Division league title in this decade with a team which featured three full internationals up front, can you name the trio who were capped nineteen times between them?
70s. Early in this decade, a future history maker made his first appearance in senior football in a match at Ninian Park – he was his club's youngest ever debutant. A year later, a London born midfielder became that club's second youngest player as he played a small part in their promotion to the First Division. However, a reputation for disruptive behaviour, which led to the FA taking the unusual step of asking the England Under 18s manager to leave him out of the squad for a tournament in Italy, combined with a lack of opportunities at the higher level were probably factors in the decision to sell him to some shoe makers. Despite unspectacular figures at his new club, Brentford were persuaded to sign him in 1977 and in his first full season at Griffin Park a move up front brought his team a promotion and him the Golden Boot award for the highest goalscorer in the country. His next move was back to his second club and then he went shrimping and ended up with a better goals per game record than he did at Brentford. His last permanent transfer took him to a Capital road, but there were also a couple of loan spells at an ordinary moor as well as temporary moves to the less famous St. James' Park and the home of a crooked spire – who am I describing?
80s. City had a good record against Brentford during this decade, losing just the one match in eight meetings between the teams, can you identify this man, who played a full part in maintaining that record in his only appearance against the Bees, from this description?
" A Wales youth international of whom great things were expected. He was a Tredegar born midfield player whose career was largely disrupted as a result of injury and illness. At one point, he actually gave up the game and worked for some time outside football, but eventually returned to the club to try a comeback. He was unsuccessful however, and on his release, joined Merthyr Tydfil. His stay there was short and he left the game again, this time for good."
90s. The member of a City side beaten by Brentford pictured below signed for two different clubs managed by Eddie May during his career, who is he?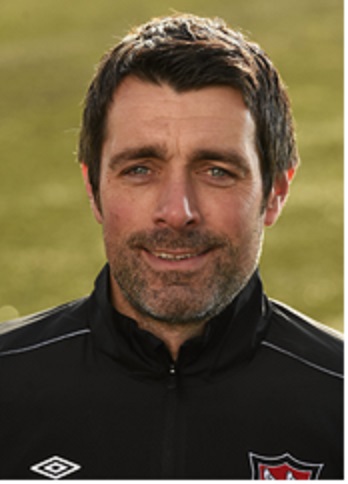 00s. Can you identify this player? A frequent opponent of City teams during this decade, this commanding centreback started off at the scene of a famous historical puzzle, before spending four years at Brentford where he was a stalwart in a good team which didn't have much luck in the Play Offs. These end of season mini competitions went better for him after he moved south of the river for a six figure fee as he scored in a Semi Final to help his side on the way to a promotion. His "reward" was a move to a team of Brentford lookalikes, where a series of injuries did not help his cause, his luck was no better when he joined up with some horned creatures and a return to Griffin Park was not a success. He played more often for a team of relative newbies who are not too popular, but left the full time game after one season with them.
10s. Who is the Brentford player pictured in a game at Cardiff City Stadium during this decade?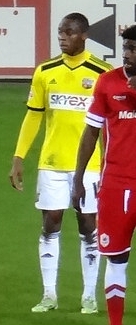 Answers.
60s. Johnny Brooks played three times for England, Billy McAdams won fifteen caps for Northern Ireland and John Dick was in the Scotland side beaten by England at Wembley in 1959 – all three were regulars in the Brentford title winning side of 1962/63.
70s. Steve Phillips became Brimingham's next youngest player after Trevor Francis and went on to have a couple of spells at Northampton, as well as stays at Brentford, Southend and Peterborough – he also played for Torquay, Exeter and Chesterfield on loan.
80s. Jason Gummer, who scored our goal in the 1-1 draw at Griffin Park in May 1989.
90s. Goalkeeper Steve Williams, who joined Dundalk when Eddie May was there.
00s. Former Hampton, Brentford, Crystal Palace, Southampton, Derby and MK Dons defender, Darren Powell.
10s. Moses Odubajo.