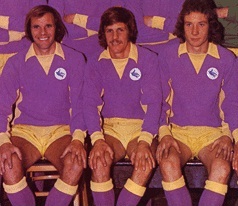 Six questions with a Cardiff City and/or Birmingham City connection, scroll down for answers.
60s. Can you identify this member of a City team which faced Birmingham during this decade from these excerpts from a non league club website?
"He began his career with junior club Cwymparc from where he was spotted by Cardiff City and signed for the "Bluebirds" in 1956 making his first team debut against Aston Villa.
He earned three Welsh international caps at Under-23 level and was a reserve for Wales at full international level in a game against England at Villa Park.
Bristol Rovers 1962-63; Apps 7.
He then moved on to Merthyr Tydfil from where he signed for ……… in the autumn of 1967 taking a job as a newsagent. He scored seven goals in his first two matches – three in his …… debut at Wisbech and four on his home debut against Stevenage on 28th October 1967 in the 4-1 Southern League win.
He went one better than that against Chatteris in the East Anglian Cup on 17th February 1971 with one of the five goals coming from the penalty spot.
He reached the 50 goal mark from eighty matches with the fifty milestone being reached in a 5-1 victory over Bedford Town on 15th January 1969 in a match where he scored four goals and was sent off.
His appearance and goal scoring whilst at …………… were as follows:
1967-68: Appearances 38, goals 25
1968-69: Appearances 64, goals 38
1969-70: Appearances 42, goals 24
1970-71: Appearances 30, goals 23
Total: 174 appearances, 110 goals.
On leaving ……. he went on to play in the North West Norfolk League for Hunstanton Town.
It was reported on a Merthyr forum that he moved to Treorchy in his native Wales in late 2010."
70s. Currently a member of the Board at the Blue Brazil. this midfielder spent most of the seventies at Birmingham, but the eighties saw him playing abroad for, among others, a bunch of Spartans and a ferry destination that we signed a player on loan from in 2007. His managerial career lasted eighteen years, but he was never employed in that capacity in England. Instead he took charge of clubs (including the ferry destination) in his adopted country and the land of his birth. He guided the Pars to a Cup Final, but his best moment in management probably came at his next club where his team secured a draw at home to Bayern Munich in the UEFA Cup, a game which brought back memories of a more famous occasion when the Germans were dumped out of the Cup Winners Cup at the Quarter Final by the same team when they were on their way to winning the competition – who am I describing?
80s. There was a rumour that this member of a City squad which faced Birmingham during this decade was going to sign for a side who were among the biggest spenders in the game at the time as they eventually bought their way to a Premier League title – needless to say, it never happened and he left City on a free in 1993, but do you recognise him?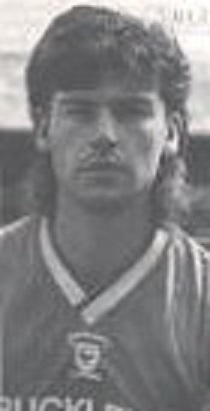 90s. Can you identify this member of a City team beaten by Birmingham during this decade by this list of shirt colours of the teams he played for before signing for City – blue and white hoops, black and white stripes, blue and white stripes and black and red stripes?
00s. Name a Birmingham player who appeared at Ninian Park against City during this decade who gained more than a hundred caps for his country.
10s. Three players to get in this questions, who were the two Welsh internationals and the current City player who turned out for Birmingham against us last season?
Answers.
60s. Brian Jenkins, who played for City, Exeter, Bristol Rovers and Merthyr before moving to Kings Lynn to become a newsagent.
70s. Jimmy Calderwood, who played for a variety of Dutch clubs (including Sparta Rotterdam and Willem II Tilburg, the club Iwan Redan was with when he had his never to be remembered loan spell with us). He started his managerial career at Tilburg, but his best period was probably the ten years he spent in charge of, first, Dunfermeline and then Aberdeen between 1999 and 2009. He returned to the Netherlands to take charge of Go Ahead Eagles in 2012, before leaving De Graafschap after just a month in charge in his final managerial job in 2014 – two years later, he became a Director at Cowdenbeath FC.
80s. Alan Lewis who was an alleged transfer target of Blackburn Rovers.
90s. Wayne Fereday.
00s. Radhi Jaidi, who won a hundred and five caps for Tunisia.
10s. David Cotterill, Neil Eardley and Greg Halford.