Scroll down for answers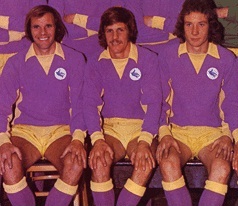 60s. Name the regular in City sides which faced Blackburn at this time who ran the club's lottery for a while during this decade.
70s. He was the manager of a team that got promoted to the old First Division during the eighties, but a decade earlier, he was a scorer for Blackburn at Ninian Park – who is he and why were the natives feeling restless at the match he scored in?
80s. Name the Welsh international who made a different type of City debut in a home game with Blackburn during this decade.
90s. Can you identify this Blackburn player from this decade from these clues? Capped twice by his country (who he represented in the 1992 Olympics), he interspersed spells with a team named after a dragon killer with ones with a wolf pack before arriving in this country at a seat of Fenland learning from where he progressed into the Premier League, first with a team that look certs for League Two next season, then with Blackburn. He played over sixty times for Rovers, but managed almost three times more than that with his next club, which had something of a Blackburn connection themselves, as he stayed with them during a climb from League One to the top flight. His only other games in the Football League after that came during a loan spell with the venue of the St. Leger and then it was home again to play for a team where he was watched by modern South Welsh men and women.
00s. Currently Royally employed, this member of a Blackburn squad which faced City during this decade began life with the team Mickey Pearce supports and was called up by his adopted country for the 2002 World Cup Finals. A fee approaching £2 million saw him leave for Blackburn where, after being sent off on his debut, he probably had the best spell of his career as he became an international captain for one game. Injuries disrupted his latter years at Ewood Park though and there were loan spells with some hoops and some stripes, before a permanent move to the latter in 2010 saw him make the switch from winger to full back. After four years at this highest of league teams, there was a last season with some Clarets before retirement, but who am I describing?
10s. Which member of the last Rovers squad to face us made his first ever senior appearance in 2013 while playing against City for the team that is geographically closest to Blackburn?
Answers.
60s. Colin Baker.
70s. Ken Knighton, he was Sunderland manager when they were promoted in 80/81 and score for Blackburn in the 4-1 defeat in Cardiff in November 1970 in the first game City played after the sale of John Toshack to Liverpool.
80s. Peter Sayer played the first of his four games on loan for us against Blackburn in September 1981some three and a half years after he left City for Brighton for a six figure fee.
90s. Australian goalkeeper John Filan.
00s. Stephen Reid of Millwall, Blackburn, West Brom and Burnley.
10s. Connor Mahoney came on as a sub for Accrington Stanley during our 2-0 League Cup win there in August 2013.