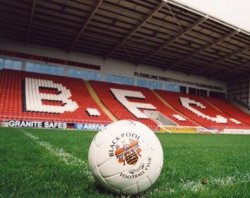 60's. City recorded a rare double over Blackpool in 68/69 with a locally born youngster playing alongside Don Murray at centreback in both games, can you name him?
70's. Blackpool beat us 3-0 at Bloomfield Road in August 1971 thanks largely to a Welsh International centre back who scored twice while playing up front as an emergency striker because of an injury crisis – who am I talking about?
80's. City's only win over Blackpool during this decade was by 1-0 in February 1986, can you name the centreback, whose transfer fee was partly raised by supporters' contributions, who played a part in getting us that clean sheet?
90's. Blackpool beat us twice in 1993/94, but can you name the Welsh born star who boasted two First Division winners medals, a European club tournament winners medal and forty six international caps who played in both matches?
00's. The Blackpool side beaten 1-0 by us in December 2007 included a current Newport County player, someone who shared their name with a, dead, superstar musician and a former City players brother, can you name the three of them?
10's. Who are the five members of the Blackpool side which beat us in the 2010 Play Off Final who are still members of their first team squad?