https://mauveandyellowarmy.net/
60s. As befits a Londoner born south of the river, this defender spent all of his career in this country playing for south London teams until a fleeting visit at the end of his time in the UK to a ground with a name that included the venue where a cricket test match is being played currently. Good enough to be selected at fly half for England Schools Under 15s and a proficient enough sprinter to represent a prominent Athletics club of the time, he signed for Charlton as a central defender, but broke into the first team as a full back after his National Service and was a regular choice for the next five seasons before a move to local rivals in 1963. His new club prospered during his time with them and his most memorable moment came late on in his spell there when a blunder by a Welshman who was a fairly regular purveyor of gifts allowed him to score an equaliser against one of the best teams in the land at the time with what was a very rare goal from open play from him.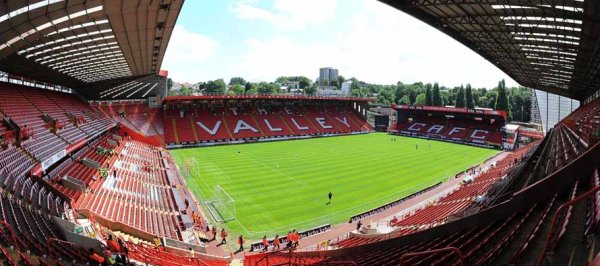 In 1971, he had his short sojourn north of the river and then went to America, never to return. He enjoyed a successful time as player and coach with a side from Missouri that, strangely for the time, relied heavily on American born players – indeed, he was chosen as NASL Coach of the year in 1975, but who am I describing?
70s. This man scored a hat trick against AS Roma while with a West Country side that play in red, played briefly for his home town club, was signed for a club record fee by two teams (including Charlton) and switched to playing centre half towards the end of his full time career while at Watford because " I was getting a bit fed up with being kicked up in the air all the time" (he picked up the only four bookings of his career after this change of position).His time at Charlton was notable because he managed to play all of his games for the club, during which time he scored more than fifty goals, consecutively – can you name him?
80s. Was that badge worn on shirts that needed one more iron?
90s. A member of the Charlton team for the "Back to the Valley" match when they played at that ground for the first time in seven years, this defender cum midfield man sounded like he was playing the wrong game, but he made almost two hundred appearances for them, who is he?
00s. Can you guess the identity of this member of a Charlton side beaten at Ninian Park during this decade from the following list of some of his former sides;-
Barnet, Southend, Middlesbrough, Millwall and Sutton – he currently plays for Havant and Waterlooville.
10s. A scorer for Charlton in a win against us during this decade, his subsequent meetings with City have not gone that that well as, despite a couple more goals, he has only been on the winning side once in eight games and he has also received a red card during that time, can you name him?
Answers
60s. John Sewell began his career at Charlton and played almost two hundred times for the before moving to Crystal Palace and was captain of the side which gained promotion to the old First Division in 1969. In 1970, Sewell scored a famous goal for Palace when Leeds' Gary Sprake dropped what seemed to be a harmless lob into the net to get Palace a 1-1 draw at Selhurst Park which greatly helped their, ultimately successful, effort to maintain their top flight status. Petchey played a few matches for Orient before signing for the St' Louis Stars and he has lived in the USA for the past forty seven years.
70s. Newcastle born Arthur Horsfield managed a scoring rate of almost a goal every other game at Middlesbrough and this earned him a move to his home town club where he could not break into the starting eleven. Moving on to Swindon for a club record fee, he scored a hat trick for them against Roma in the Anglo Italian Cup while again manging a very healthy scoring rate. Charlton signed him in 1972 and he left for Watford three years later having netted fifty three times for them. Sixteen goals in seventy eight matches for Watford represented a falling off from his normal potency in front of goal, but he was playing in defence for much of that time and he left the full time game in 1977 having scored one hundred and sixty seven times in four hundred and forty appearances.
80s. Cardiff and Charlton striker, Ronnie Moore.
90s. Darren Pitcher was credited with an assist for the goal which helped Charlton beat Portsmouth 1-0 on 5 December 1992 in their first match back at the Valley following the ground's closure for seven years. He later moved on to Crystal Palace, but his career at that club was ended when he suffered a serious injury inflicted by Huddersfield's Paul Reid – Pitcher lost a subsequent court action bought against Reid and died last year aged only forty nine.
00s. Nicky Bailey was a member of the Charlton side beaten 2-0 at Ninian Park on 18 October 2008.
10s. Dale Stephens.