https://mauveandyellowarmy.net/
60s. Named after a migrant, this midfielder started off with a people's popular front before making a relatively short journey north after being spotted and then signed by one of the "elite". Making his first team debut against Cardiff, he found things tough at the top and moved on to Derby without ever really establishing himself in such plush surroundings. He made over one hundred appearances during a five year stay at the Baseball Ground which extended into the early part of this decade. He was also good enough at another sport to make a name for himself, but whether he made a living out of it is not clear because we don't know which gate he came out of as he turned out for three years at a nearby Racecourse – he left this game in the same year as he finished his football career, having achieved what can only be described as a modest degree of success in both of them, but can you name him?
70s. Northern Ireland initially and then eclair will provide Scouser.
80s. Can you recognise this man who played for us against Derby during this decade from this list of the other clubs he turned out for – Northampton, Cambridge, Reading and Peterborough?
90s. This full back's career was over almost before it had started. He played less than ten times in full time football (all for Derby) before injury hit and he even had to give up on his attempt to play in the non league game for a Midlands Borough. He was far from finished with football though and, subsequently, he has been employed in a senior capacity for his country as well as by some of the biggest clubs in the country. Quite appropriately, his reappointment for a third spell with Derby for four months during the current decade meant that his career had followed a circular route – who is he?
00s. Once described as "the new Rio Ferdinand", this man was a member of a Derby side which suffered a right thrashing at Cardiff during this decade. He started with another team that plays in white and black, but he was never able to fulfil the high hopes there were for him because of a serious injury sustained in the pre match warm up for a game against Manchester United which his side won 3-1. He recovered to play over a hundred times for Derby before going to an Australian Road, then another black and white side before he became a bit creepy. His first acquaintance with non League football came with albino Accipitridae and, according to Wikipedia at least, he is still playing for Lowestoft. Who am I describing?
10s. Name this member of the last Derby squad to face us.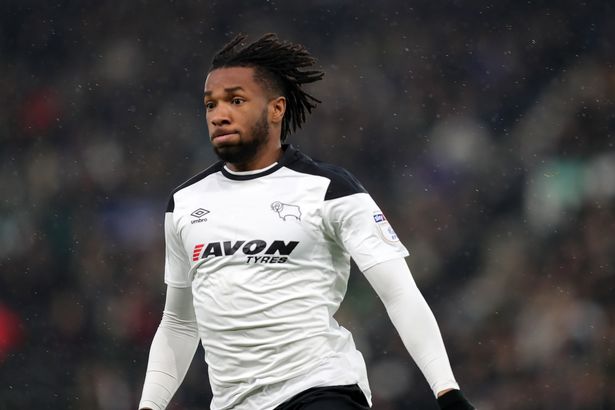 Answers:
60s. Tom Swallow played for Tooting and Mitcham United before joining Arsenal as a trainee. He broke into the first team at Highbury in April 1955 in 2-0 away defeat at Cardiff and scored four times in his thirteen games for the Gunners before signing for Derby in September 1958 where he played nearly one hundred and twenty times, scoring twenty one goals in the league, before leaving the game in 1963. From 1960, Swallow also played county cricket for Derbyshire (whose headquarters and ground in Derby were at the city's old racecourse), but it is not clear if he was a "Gentleman" amateur or a professional "Player". Either way, his figures during his thirty eight match career as an opening batsman were not great – he scored just one hundred, against Oxford University, in a career which saw him average just over 20 with the bat.
70s. Willie Carlin.
80s. Derrick Christie.
90s. Steve Round played nine games for Derby in the 90s before injury, effectively, ended his playing career. When an attempted comeback with Nuneaton Borough failed, he turned to coaching and went on to be employed by, among others, Derby (twice), Middlesbrough, England, Everton and Manchester United (both as Assistant Manager) and Aston Villa as Director of Football.
00s. Dean Leacock began his career at Fulham, before signing for Derby in 2006 and three years later he was in the side beaten 6-1 in one of the first games played at Cardiff City Stadium. In 2012 he moved on to Leyton Orient and then to Notts County for two years. Crawley were his last Football League side as he moved on to Whitehawk, Welling, Billericay and Lowestoft.
10s. Kasey Palmer was an unused substitute for Derby's 3-1 win over us at a snow free Pride Park in April 2018.