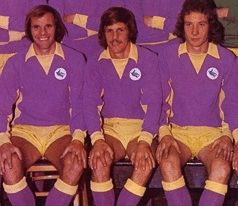 Answers below
60s. Cousin of someone who never got the chance to fulfill his tremendous potential, this scorer against City for Everton during this decade played for four clubs, but was always based in the red rose county. He played most games for a club that, apparently, played their football at something a bit quicker than walking pace, but slower than a sprint before moving on to Goodison Park where he won the highest honour of his career. From there, he moved on to a ground nicknamed "Ice Station Zebra" by another ex Evertonian, before finishing his career with Rovers across the water from Goodison, but who is he?
70s. This England Under 23 defender played most of his football as a full back and began at Everton during this decade. Although he had quite long spells in the first team, he never really nailed down a permanent place and so left for an elevated pasture in the Midlands where he again struggled to establish himself, but this time the cause was injury. You could be forgiven for thinking he moved into horology after that, but he was still playing football and, indeed, won a league title while he was at his next club. He then returned to Lancashire to play at a profound dell for a couple of seasons and there were two appearances for a club at the centre of Lancashire's "golf coast" before he retired – who am I describing?
80s. This son of a centre half who played for Bolton and Wigan Athletic was at Everton for the best part of a decade before announcing his retirement through injury in 1984 at the age of twenty six, but within eighteen months he was back playing for a team that had handed his old side a devastating defeat while he was away. However, he only played eight times for his new club and was loaned out to a team that was all of a quiver before joining them permanently in 1987. The following year he got a move out of Lancashire for the first time as he teamed up with red and white City dwellers from Staffordshire, but there was no comeback this time for him after a back injury which restricted him to less than forty appearances at his new club and his second retirement in 1990 was for keeps – can you name him?
90s. Can you identify this player? A regular in Everton's side during this decade, he was one third of a group given a name which was spoken by Mark Anthony while stood next to a dead Julius Caesar. However, he was to miss out on their greatest triumph – something which almost seemed predictable when you consider his somewhat understated and unlucky career. He was bought by former Everton manager Howard Kendall for a seven figure fee, but only ever got to play forty five minutes for his new club as he was withdrawn at half time on his debut against Reading as an injury originally picked up at Everton deteriorated to such an extent that he had retired within two years at the age of only twenty nine.
00s. A scorer against us in recent years for his current club, who is this?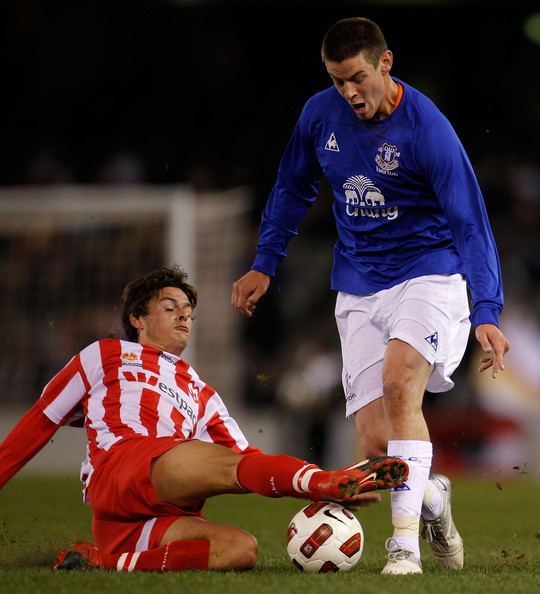 10s. The player in the photo below was a member of the last Everton squad to face us and has played age group football for England at every level between Under 16s and Under 21s – he is currently at the fifth club he has played for on loan from Everton, who is he?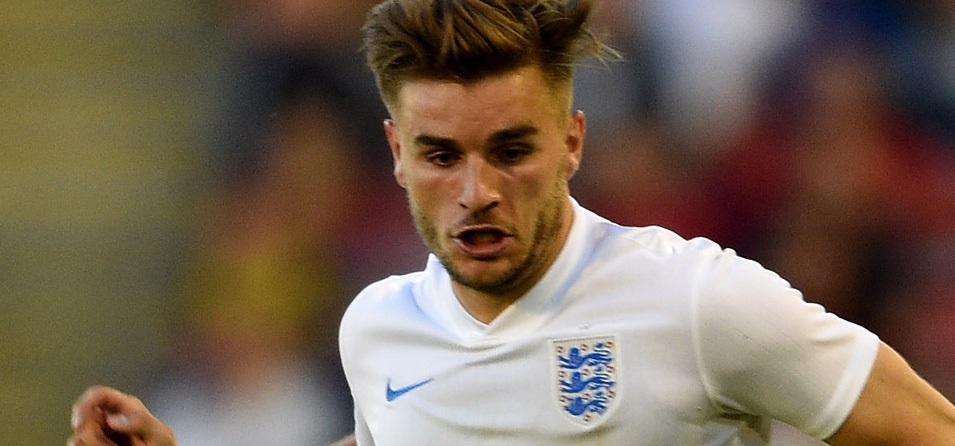 Answers.
60s. Dennis Edwards, a cousin of Duncan Edwards, was one of the scorers in Everton's 8-3 win over City in April 1962. He started his career at Bolton and joined Oldham after three years with Everton before returning to Liverpool to play for Tranmere.
70s. Former City manager Dave Jones played nearly one hundred games for Everton between 1974 and 1979 before being transferred to Coventry. In 1981, he joined Seiko of Hong Kong on loan and then signed for them permanently after his release from Coventry before returning to his home county to play for Preston and Southport.
80s. Centre half Mark Higgins played around one hundred and fifty times for Everton before his first retirement, but then returned eighteen months later as a Manchester United player, before signing for Bury and ending his career with Stoke City.
90s. John Ebbrell was a member of the "dogs of war" midfield trio, which also included Barry Horne and Joe Parkinson, who missed out on Everton's FA Cup win in 1995 after being suspended for the Semi Final. In 1997, he moved to Sheffield United, but only ever played one half of football for them – he is currently Assistant Manager of Everton's Under 23 side.
00s. Lukas Jutkiewicz of Birmingham City.
10s. Luke Garbutt was an unused substitute for Everton in our 2-1 defeat at Goodison Park in March 2014 – he has played Cheltenham, Colchester, Fulham, Wigan and Oxford on loan from his parent club.