Six questions on our next opponents going back to the sixties.
https://mauveandyellowarmy.net/
60s. Northern leader on tan horse turns up by the Thames.
70s. Before he became a player, he watched his football at Aldershot, after he finished with the game he could sometimes be found at Wandsworth or Spring Hill. An international for his country and a medal winner with the club he spent the vast majority of his career with, his relationship with them had broken down irretrievably when he arrived at Fulham and although he did not stay long there, it could be said that the object of the exercise when he signed had been achieved – retirement saw him enter into a relationship with a Jolly Farmer and that was when his troubles really began, but who am I describing?
80s. The players at third and fourth left in the back row and first and second left and first right in the front row all played in at least one of our games with Fulham during the season this photo was taken, can you identify them?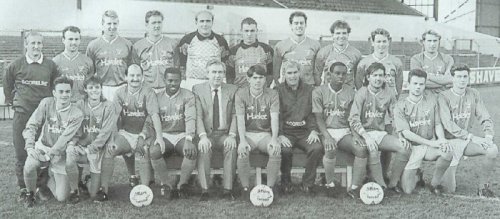 90s. Can you identify this man who played for us against Fulham during this decade from this list of teams he played for besides us;-
Queens Park, Motherwell, St Mirren, Scarborough, Exeter, Stirling Albion, Arbroath and Shettleston.
00s. The man in this picture made his debut for Fulham against Everton in the Premier League in 2003 and, apparently, played twice more for them in the same competition, yet I'd never heard of him before today, so an absolute useless bonus point, as well as my admiration, will go to whoever tells me his name first!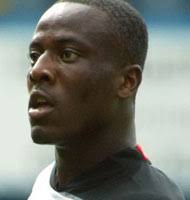 10s. Why was the City goal being celebrated against Fulham in this picture a historic one and what almost prevented the game from going ahead?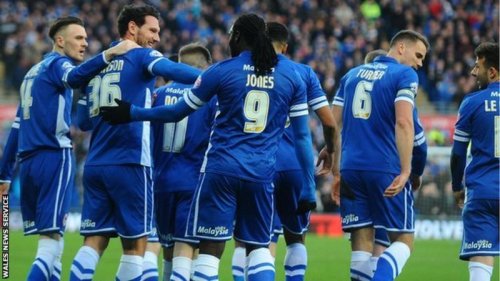 Answers
60s. Stan Horne.
70s. Peter Storey played for the Arsenal double winning side of 1970/71 and won the first of nineteen caps for England shortly before both trophies were won. His time at Arsenal ended when he refused to play for their reserve team and then missed training, so, late in the 76/77 season he signed for a star studded Fulham side that were struggling near the foot of the Second Division.
After Storey helped his new side to safety, he did not feature much in 1977/78 and his contract with Fulham was eventually cancelled. His retirement saw him become landlord of a pub called the Jolly Farmer a mile away from Arsenal's old Highbury Stadium and it was during this time that he became friendly with local gangsters the Barry brothers and became involved in a counterfeit racket. When he was arrested for that, he decided to open a brothel to raise the money he needed to flea to Spain before he stood trial.
Eventually sentenced to three years gaol time, served at Wandsworth and Spring Hill prisons. After that there was a conviction for car theft and further time in jail after he was caught trying to import twenty pornographic videos from Europe that he had hidden in a spare tyre.
80s. Gareth Abraham (third left) was in the City side that won 5-2 at Craven Cottage during the 1989/90 season, Morrys Scott (fourth left) came on as a sub, Jon Morgan (first left in the front row), started in that match, Chris Fry (second left) came on as a sub in that match and also in the 3-3 draw between the sides at Ninian Park later in the season and Jason Perry (first right in the front row) started in the second game.
90s. Jimmy Gardner.
00s. Malik Buara was born in Ghana and made five appearances in all competitions for Fulham in 2005 before joining Woking on a free transfer – he also played for New Zealand Knights in the Australian League.
10s. Sean Morrison scored the only goal of the game against Fulham in January 2015 in what was the first match back in blue following Vincent Tan's rebrand – there was a crowd of 22,500 present, but they almost didn't have a match to watch because strong winds damaged sections of the Ninian Stand roof a few hours before kick off.