http://mauveandyellowarmy.net/
60s. Born in a place which houses one of the seven wonders of the country of his birth, this forward went to the same school as someone who would play for City in the 70s. A trial with a team of half and halfs did not go well, but he impressed at his first club whose ground would be literally on the border in future years. Luton came calling in 1962, but his stay at Kenilworth Road was a short one as he looked east. Unusually for him, he did not find the net for either of his last two clubs in this country – he died in a place where City played recently, but who is he?
70s. A solid presence at the back for Luton, he earned the right to claim to be their best ever during a long association with the club. He played in claret and amber for his first club, but did not stay long before he became a Hatter. He wasn't a one club man, but he might as well have been, because he played more than twelve times as many matches for Luton as he did for his other three teams combined, as a loan spell by the sea in blue and white was followed up by some time playing for another team of clothing manufacturers. His association with Luton continued after he retired and it only ended on his sixtieth birthday in 2003, can you name him?
80s. Giles, share my transformation into a left back.
90s. Name this member of a Luton team that played against us during this decade.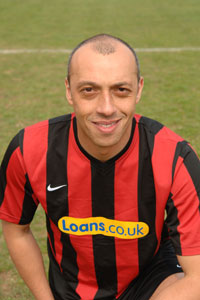 00s. A regular in Luton sides that faced us during this decade, the man pictured below is, apparently, still playing at the age of forty, do you recognise him?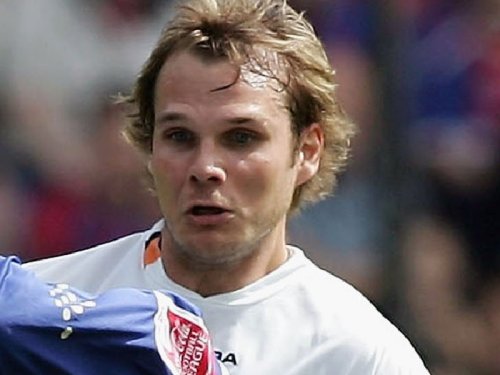 10s. Currently playing in the Premier League, he was in the Luton side that conceded five on a visit to south Wales earlier in this decade = who is he?
Answers.
60s. Holywell born Ron Davies went to the same school as Mike England and started his career at Chester after an unsuccessful trial at Blackburn. He scored twenty one times in thirty two matches for Luton in 62/63, before moving on to Norwich and then Southampton. Next he made the short move to Portsmouth, but his best days were behind him then and his signing by Manchester United must have been inspired by the four goals he scored there for Southampton in 1969. Davies was loaned to Millwall while at Old Trafford and moved to America in 1976, where he played for Los Angeles Aztecs, Tulsa Roughnecks and Seattle Sounders – he died in Albuquerque in 2013 at the age of 70.
70s. John Moore played three times for Motherwell before signing for Luton in 1965. He played for them almost three hundred times in the eight years he was at Luton and his playing career ended with a loan move to Brighton and a couple of years at Northampton. Moore was taken on as a coach by Luton under David Pleat and took over as manager, steering them to their best ever league finish in 86/87 only to resign at the end of the season because he didn't think management was for him – Moore then had another spell as a coach between 1991 and 2003.
80s. Ashley Grimes.
90s. Des Linton played at right back for Luton in the FA Cuo Fifth Round tie between the teams in 1994/95.
00s. Although born in Sweden, Markus Heikkenen won sixty one caps for Finland – it seems he is still playing for AC Oulu.
10s. Watford's Andre Grey scored for Luton in a 5-2 National League defeat at Newport in December 2012.