http://mauveandyellowarmy.net/
Answers on Saturday
60s. Who or what links City's 2-1 home defeat by Middlesbrough in September 1962 with Aberdeen and Wrexham FC?
70s. Dab sleeve (3,4).
80s. The man in the picture won a fans poll for best Middlesbrough player from the period 1966 to 1986, who is he?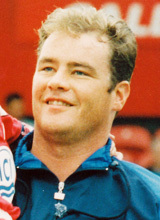 90s. Which Middlesbrough scorer against City during this decade was once described as the "Ryan Giggs of the North East"?
00s. Two players to identify in this question. The first one was a mainstay of the Middlesbrough team that won the FA Youth Cup early in this decade and, before it ended, he would play for Boro against us. Released by Middlesbrough in 2012 after playing nearly one hundred and twenty games, he moved to a team which currently is above them in the Championship table and has gone on to play for a couple of sides beginning with B in rival northern counties – he has scored for one of them this season. The second player was also a member of that Youth Cup winning team and has played for City.
10s. Which member of the last Middlesbrough squad to play at Cardiff City Stadium has been a regular selection for a Premier League side located hundreds of miles away from Teesside throughout 2017?
Answers.
60s. Alistair Brack, a full back born in Aberdeen, played his only league game for us in that loss to Middlesbrough – his only other first team appearance came in a 3-0 defeat in a League Cup Second Round Second Replay by Wrexham in October 1963.
70s. Pat Cuff.
80s. Scotsman Gary Hamilton played his first game for Boro at 17 and his last six years later in 1989 – injuries meant that, a brief spell at Darlington in 1993 apart, he never played again.
90s. Republic of Ireland left winger, Alan Moore.
00s. Anthony McMahon captained Middlesbrough to an FA Youth Cup win in 03/04 and was in their team when we beat them 1-0 at the Riverside in December 2009 – he has played for Sheffield United and Blackpool since leaving his first club and is currently at Bradford City. Andrew Taylor was also in that Youth Cup winning team.
10s. Southampton's Jack Stephens was on loan at Middlesbrough during 15/16 and was an unused sub in their 1-0 defeat here in October 2015.