This weeks quiz from http://mauveandyellowarmy.net/
Six Middlesbrough related questions dating back to the 60s
60s. Snob and I gain a legend.
70s. This locally born striker made his first appearance for Middlesbrough at the start of this decade and stayed at the club for more than half of it without ever becoming an established starter for them. Apart from a loan spell across the pond, he played exclusively for teams in the north of England. There were other loans to a team no longer with us (for a season at least) and a town with a bright, metallic kilometre and a half, before a permanent move to a grassy dock where he made around a half of his two hundred or so career appearances. That career stretched into the next decade when he spent two seasons with a side who are currently some way off regaining their Football League status following a second relegation from it a few years ago and he left the game in 1982 having scored just short of a half century of goals, can you name the player I'm describing?
80s. Who is the player jumping for the ball in this picture?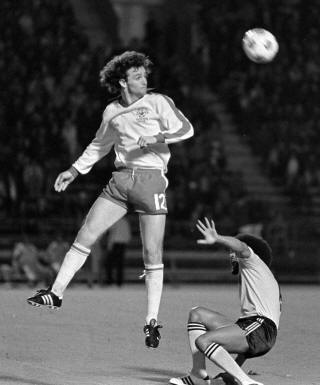 90s. Although he only played less than forty times for Middlesbrough, this defender, who played international football for two countries, helped them get to three Cup Finals as well as a promotion to the Premier League – apart from a spell in Austria, the rest of his career was spent with clubs in the countries he had played his international football for, but can you name him?
00s. He was in a Middlesbrough side that played against us during this decade and on Tuesday turned out for the fifth different club he has played for besides them – he was once called into a full England squad without earning a cap, but who is he?
10s. Apparently a fan of Mr Bean, this defender has played for eighteen different clubs (including four from India) in a total of eight different countries. Middlesbrough is one of six English clubs he has played for, Port Vale being the last, and he was in their side when they were beaten at Cardiff City Stadium during this decade in a game decided by a goal from an unusual source. Although he has not played club football in his homeland, he did win twenty five caps for them and has a red card for pushing over a stretcher bearer in a major semi final on his CV – he celebrates any goals he scores with a hat trick of somersaults, but do you know who he is?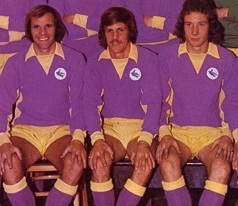 Answers
60s. Ian Gibson.
70s. Malcolm Smith played fifty six times and scored eleven goals for Middlesbrough in a stay which lasted from 1970 to 1976. During that time, he was loaned out to Bury and Blackpool before a longer loan to the Portland Timbers. He signed for Burnley for £20,000 and spent four years there and managing a scoring rate of exactly one in every five matches in his eighty five appearances for the Turf Moor club. He ended his career at York City and retired from the game when he was released by them 0m 1982.
80s. Billy Woof made his debut for Middlesbrough in 1974 and made just short of fifty appearances for them, scoring five goals, in the next eight years. Having been released in the summer of 1982, he next showed up at Cardiff City and was given a first start for the club in a home game against Wigan on 11 September where he scored a very late winner to secure a 3-2 win for his new team. However, that was the beginning and end of his Cardiff career because, with manager Len Ashurst away on a scouting mission, his assistant, Jimmy Goodfellow, took charge and did not recommend he be given a contract on the basis of his display against Wigan. This led to a big row with the club management and the player walking away.
90s. Vladimir Kinder played once for Czechoslovakia and thirty eight times for Slovakia, he made thirty seven appearances for Boro between 1997 and 1999.
00s. David Wheater was in the Middlesbrough side beaten 1-0 at home by City in December 2009 and he played for Oldham in their 2-2 draw at Scunthorpe on Tuesday. 10s. André Bikey-Amougou was in the Middlesbrough side beaten here in November 2012 by a single goal scored by Matt Connolly. He has won twenty five caps for Cameroon and in the 2008 Africa Cup of Nations was sent off in a semi final win over Ghana for pushing over a stretcher bearer