http://mauveandyellowarmy.net/
60s. There were only four matches, played early on in the decade, between the sides in the sixties, can you name the two Cardiffians who started each of those games for City?
70s. The player in stripes in this picture was a frequent opponent of ours during this decade, as he was a regular selection for three different teams against us at Division Two level in that time. Forest were the middle one of these sides, but the photo shows him scoring, he broke his leg in the process of doing so, for the third of them – can you name the Scottish midfield player I'm referring to and also do you recognise the two opposing players in the picture?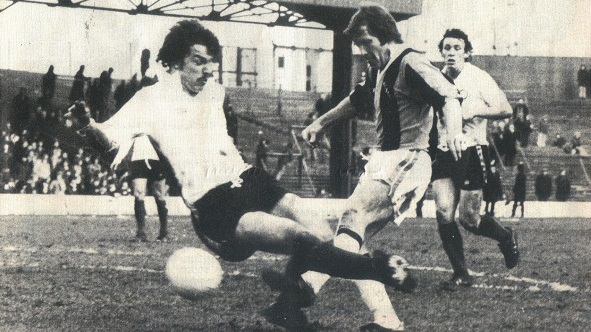 80s. A former Forest player from this decade to identify from this description.
This centreback supplemented his wages from his first club by working on an oil rig, but he was able to pack that job in when he secured a move to one half of traditional rivals in a capital city who met each other recently – his next move took him to the other party in this rivalry (the ones who won the game I mentioned above). Forest were his next destination and, after playing sixty times for them, his career wound down with short lived spells near some Broads, a visit to the seaside to play in stripes and a team of north eastern whites who have fallen on hard times – he never played for his country, I suppose a life time international ban after an incident with a lightbulb in Denmark when he was twenty four didn't help his cause!
90s. Born on the German side of the border with France, he was one of those players who it was hard to define a position for because he was so versatile. His goals had a tendency to be spectacular ones during a career which saw him reach an FA Cup Semi Final as a Third Division player with his first club. Although his second club were not the power in the land that they are now, his move there still represented a definite step up, as did his third, at that time anyway.It was while with this Midlands club that he became an FA Cup winner and it was something of a surprise to see him move east to some yellow birds at the height of his powers. He was thirty by the time he moved to Forest in 1993, but he gave them four years good service which included a club Player of the Year award as he helped them to promotion to the Premier League in his first season. From Forest he moved to his second team to play in blue and white stripes (this one being Yorkshire), before behaving impishly for a while and then finishing up at Lewis Hamilton's birthplace. He won sixty six international caps between 1984 and 1996, but who am I describing?
00s. They appeared against us for Forest in a losing cause nine years ago, but which two players were also in a side beaten by City within the last month?
10s. Name this member of the last Forest team to play us.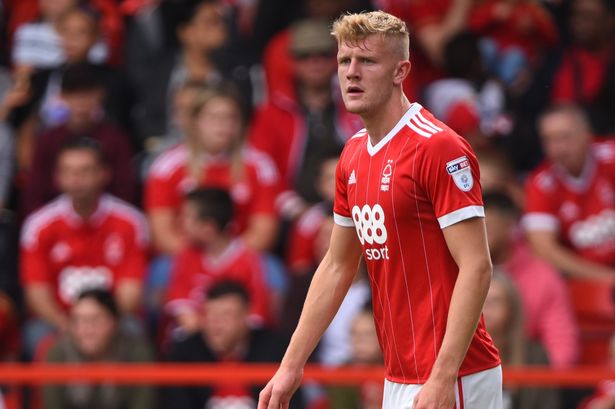 Answers.
60s. Alan Harrington and Colin Baker.
70s. George Lyall (the other players in the picture are Sam Allardyce and Peter Reid).
80s. Willie Young.
90s. David Phillips.
00s. Luke Chambers and Joe Garner who were both in the Ipswich team beaten at Cardiff City Stadium last month.
10s. Joe Worrall.