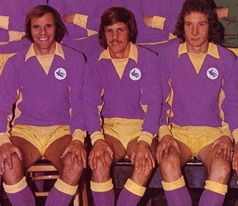 60s. Can you name this player? Signed his first professional contract just after the end of the Second World War for some West London stripes, but this full international was soon back playing non league football until a team of peacocks became his only playing home outside the south east corner of England. He never bettered his one in three scoring rate for this club, but he was soon on the move again to a team at the end of the A23. This move signaled an upturn in his fortunes and he played a combined total of over five hundred and thirty matches for this team and the one by a riverbank that he next represented. His time at QPR was relatively short compared to this, but it was certainly successful as he picked up the only silverware of his playing career. He did well in management as well as he took the non league team he was in charge of to a second Wembley final of his career - having experienced what it was like to be a winner on such an occasion four years earlier, this time he sampled life as a big match loser.
70s. Another player to identify. A true cockney by birth, this midfielder played relatively few games for City, but he did see action for them in one of our matches against QPR during this decade. Two of the sides he played for before us wore white and black, with the other one going for something far more garish. Originally reported as having retired as a consequence of the injuries that dogged him at Cardiff, it later emerged that he had sued City after they had cancelled his contract on medical grounds. He had not retired at all and went on to play non league football with a spa City before returning to his roots with some daggers.
80s. Despite being an attacking player, this member of a Cardiff side heavily beaten by QPR during this decade only scored once for us in his fifty plus City appearances . He enjoyed more scoring success in his subsequent Football League career which saw him turning out for some borderers, a stripey team from Essex and a club which shares it's ground name with a side from the other end of the country, but can you name him?
90s. Which member of QPR teams which played City during this decade is currently an Elder and Pastor at Calvary Grace Church in Calgary, having recently co written a book about "biblical manhood and womanhood"?
00s. This man featured for a winning QPR side against City during this decade, but it was while at his first team that he set a club record in a match against us which cannot be broken. He never played a League game for his first club, but made an impact in loan spells at two London clubs (being voted League One Player of the season at one of them) and a Midland club whose shorts are too big for them. A seven figure move to Kingston didn't really work out as he was released after three seasons there, he next moved a long way east, before heading home while, nominally at least, staying where he was! In January he moved to a team based in Chester who are going to be playing the Whitecaps in their next game – who is he?
10s. Another player to identify – this one was in the last QPR squad to play us. Currently on loan to a team who are friends with the jacks, this winger signed for a club that attracted a ground record crowd for their game this season against Derby County from a team called Kozakken Boys, before following his manager to QPR – his only goal for his parent club all but relegated a team who have been managed by a former City boss this season.
http://mauveandyellowarmy.net/
Answers.
60s. Former Brentford, Leeds, Brighton and Fulham left back Jim Langley (who also won three caps for England in 1958) – he was a member of the QPR team which beat West Brom as a Third Division side in the League Cup Final fifty years ago today and he also took Hillingdon Borough to the 1971 FA Trophy Final where they were beaten 3-2 by Telford.
70s. Roger Hoy.
80s. Former Hereford, Colchester and Exeter winger Chris Fry.
90s. Gavin Peacock.
00s. Jay Simpson, who scored the first ever hat trick at the Emirates Stadium in a Youth Cup Quarter between Arsenal and City ten years ago. He played for Millwall (twice), QPR and West Brom in loan spells, before moving to Hull City and then to Leyton Orient, via Thailand's Buriram United – he's now with MLS team Philadelphia Union, who play in the Chester district of that city.
10s. Abdenasser El Khayati, currently playing for ADO Den Haag