http://mauveandyellowarmy.net/
60s.
The name of the Welshman pictured is revered by Southampton fans who are old enough to have watched their team during this decade. Starting off with a couple of matches against Bolton either side of a notorious heavy home defeat for his first club, his goals during his third season with them may have played a part in Southampton signing him. He won a title with the Saints in his second season at the club, but was eventually replaced by a fellow countryman and moved to another Hampshire side six years after he arrived at the Dell – his final match for Southampton was against Manchester United. In later life, he managed a snooker club before moving back to Wales in 1997 when he retired – who is he?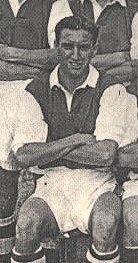 70s.
Who is this member of a Southampton side which beat City during this decade?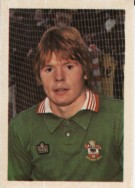 80s.
They featured heavily in the 1990 World Cup Finals, but which three players were in the Southampton side which suffered their heaviest defeat of this decade?
90s.
Born at the opposite end of the country, he signed for Southampton at the age of 15 and spent more than a decade at the club during which time he clocked up almost one hundred and seventy appearances (two of which were against City) for the club , primarily in midfield. When he did move on, it was close to home, before finishing with his home town club nineteen years after his first Southampton match – he's had three spells as joint caretaker manager for his final club, but can you name him?
00s.
The Southampton player in the foreground of this picture was in a side of theirs beaten by us during this decade, who is he?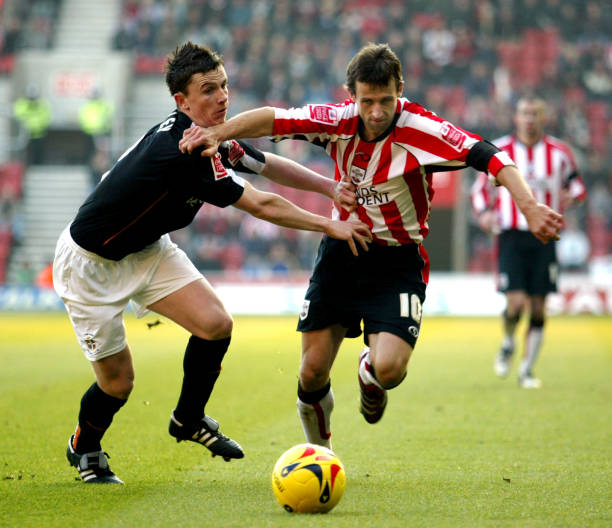 00s.
Which member of the Southampton squad beaten here in December was making a return to the ground having been on a losing side against us twelve months earlier?
Answers.
60s. Merthyr born full back Ron Davies made his debut for
Cardiff City in a 1-0 home win over Bolton in August 1955 and was back in the
side a week later for the return fixture between the teams which ended in a 4-0
defeat for us. In between those games, Davies was not selected for the 9-1 loss
to Wolves at Ninian Park. He did a bit of a Callum Paterson at the beginning of
the 57/58 campaign as he was switched up front and enjoyed some success,
scoring three times including the only goal of the game in wins over
Huddersfield and Doncaster. Signing for Southampton in March 1958, Davies was a
regular in the side which won promotion to the old Second Division in 1960,
but, eventually lost his place to Wales international Stuart Williams. He
signed for Aldershot in 1964, spending three years there before going into
management when he took charge of the Winchester snooker club.
70s. Peter Wells was in goal for Southampton when they beat
us 3-2 at the Dell in April 1977.
80s. Peter Shilton, Mark Wright and Andy Townsend were in
the Southampton team beaten 7-0 at Luton in October 1985.
90s. Darlington born Neil Maddison played in both legs of
Southampton's League Cup tie with City in 95/96. He moved on to Middlesbrough
in 1997 and finished up at Darlo in 2001 – he was joint caretaker manager there
on three occasions between 2006 and 2010.
00s. Neil McCann was in the Southampton team beaten 2-1 at
Ninian Park in December 2005.
10s. Angus Gunn saved a penalty in Norwich's 3-1 defeat here
in December 2017 while on loan to them from Manchester City and, having signed
a permanent deal with Southampton in the summer, was their substitute keeper
for their 1-0 loss here a couple of months ago.