https://mauveandyellowarmy.net/
60s. Sharing his name with a Cardiff player from twenty years ago, this full back's Swansea career just about stretched into this decade. He only played for one club in the Football League in a full time career which began in the forties and moved into the non league game upon leaving the jacks to play for another team of whites whose best days were still in front of them. He played twice for Wales, both times against countries that no longer exist, but can you name him?
70s. He did play as a striker for Swansea, but did not score ten in New York initially.
80s. What was the lowest ever crowd for a first team game between Cardiff and Swansea?
90s. Given the stat about neither side recording a league double over the other and the even distribution of results in cup matches between the two sides, it's rare to come across a player who featured in more than, say, two of these games who enjoyed an unbeaten record in them. However, who is the City player, and scorer in the derby, from this decade who never lost in his four appearances in the fixture?
00s. What surname links a footballer who appeared for Swansea against us in this decade with a Grammy and Brit award winning band that includes a member who was born in Cardiff?
10s. Can you identify this Scarborough born member of the last Swansea side to play at Cardiff City Stadium from this list of some of his former clubs – Mallorca, Carpi and Chievo?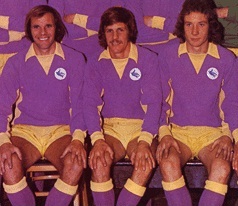 Answers
60s. Sharing his name with the City and Swansea striker of the nineties, Dai Thomas played for the jacks throughout the fifties before leaving to join Hereford in 1960, his two Welsh caps came in 1957 against Czechoslovakia and East Germany.
70s. Tony Screen (anagram of score ten and NY).
80s. Only 1,006 turned up at Ninian Park to watch Swansea beat City 2-0 on 28 January 1986 in the First Round of the Associate Members Cup.
90s. Garry Thompson was in the City starting line up for four games against Swansea – he scored the only goal of the game at Ninian Park in December 1993, played in both legs of the Welsh Cup Semi Final win over Swansea, by an aggregate score of 6-2, in April 1994 and in the 1-1 draw at Ninian Park in September 1994.
00s. Andrew Mumford was in the Swansea side beaten 1-0 at Ninian Park in the Final of the FAW Cup in May 2002, Cardiff born Ben Lovett plays keyboards for Mumford & Sons who won a Brit award in 2013 for best British group.
10s. Netherlands international midfielder Jonathan de Guzmán, who was born in Scarborough, Ontario in Canada.