http://mauveandyellowarmy.net/
Scroll down for answers
60s.
Can you name this Watford player from this decade?
Born in Bath, this forward scored goals at a very healthy rate for all of his six Football League clubs, but his goals per game record was best at Watford, his fifth club, who he represented at the start of the 60s. He started off on a High Road, before dropping a few divisions to represent makers of confections, a team that were once Bantams and Nottinghamshire wild animals. After Watford, he turned out for a team of glass cutters, but he returned to the town following his retirement from the game to work as, first, a bookmaker and then in the removal trade – he also stood as a Conservative candidate for a place on the local council.
70s.
Who is this?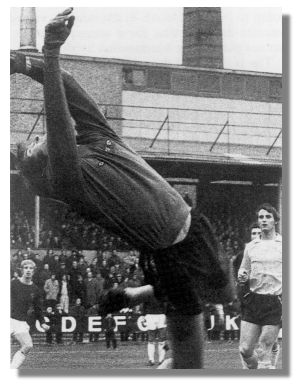 80s.
Can you recognise this player from these clues?
A north eastener, he didn't have to move far to play for his first club. His one and only taste of top flight football came while with them when he came on as a sub in a fierce local derby to make his first team debut. He moved a long way south after four years and nearly forty appearances for his first club, but returned home after a couple of seasons to see out his football career with a religious society. He also played in a winning City team against Watford in this decade and his son won Under 21 caps for Wales during a ten year career which saw him playing in the same position as his father.
90s.
Another player to identify from the description below.
This hard working midfielder had to wait a long time for his first taste of the Football League. In fact it came some seven years after he failed to earn a pro contract at Charlton as a teenager and he had to accept a drop in wages to do so as he had previously combined playing part time, non league football with work in the building trade. Within a month or so of signing for Watford, he was making his first appearance for them at Ewood Park. Once selected, he became a fixture in the team and was a perpetual runner up when it came to Player of the Year selections by the club's supporters. At the age of thirty one, he moved on to a club from the county of his birth and ended up working with an ex England international who had been his manager in non league football some ten years earlier – he was still turning out for them a decade later.
00s. Name the player who was in a Watford side beaten by us during this decade less than six months after he had suffered an extra time Play Off Final defeat in Cardiff.
10s. Name the Watford scorer at Cardiff City Stadium during this decade who has just had his season long loan to another club cancelled after suffering a second anterior cruciate ligament injury of his career.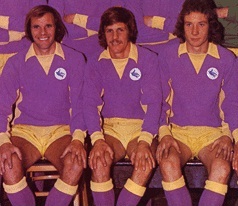 Answers.
60s. Dennis Uphill began his career at Spurs, before going
on to play for Reading, Coventry, Mansfield, Watford and Crystal Palace – he scored
thirty times in fifty one matches for the Hornets between 1959 and 1960.
70s. Andy Rankin.
80s. Tim Gilbert made his debut for Sunderland in a local derby versus Newcastle and signed for City in 1980. He was in the Cardiff team which beat Watford 2-0 in April 1982 before signing for Darlington later that year – his son Peter played left back for a number of Football League teams with the large majority of his ten Wales Under 21 caps coming while he was at Plymouth.
90s. Andy Hesenthaler played his first game of league football at the age of twenty six and went on to represent Watford more than two hundred times before signing for Gillingham where he worked with his former manager at Dartford, Peter Taylor. Hensenthaler was appointed player manager of Gillingham on Taylor's departure and in 2005 became the oldest player to turn out in a first team match for the club at the age of forty years and four months – in 2007, he was named as Gillingham's best ever player by the PFA.
00s. Steven Kelly was in the QPR side beaten 1-0 by City at
the Millennium Stadium in the 2003 third tier promotion play off Final and then
in the Watford team beaten 3-0 at Ninian Park by us in October of the same
year.
10s. Tommie Hoban scored Watford's goal in their 2-1 defeat
here in October 2012 and is still contracted to the club – his loan stay at
Aberdeen was ended early this week following an injury sustained in last
Saturday's match with St. Mirren