60's. City played West Brom twice in two days over Christmas in 1960, winning 3-1 at Ninian Park on Boxing Day and drawing 1-1 at the Hawthorns twenty four hours later. Can you name the two Welsh internationals who scored our four goals between them and also, name the two keepers who featured for City in these matches.
70's. Name the former Manchester United winger who was manager of West Brom during this decade.
80's. The person modelling the Baggies kit for this season with Jonas Olsson made over 500 appearances for West Brom during the 70's and 80's, who is he?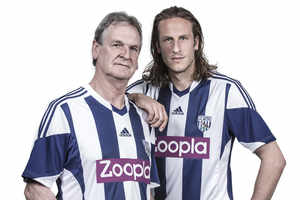 90's. The person on the right in this picture scored a famous hat trick against West Brom during this decade, who is he and, for a bonus which will enable you to act very conceited over the weekend, can you name the country he represented?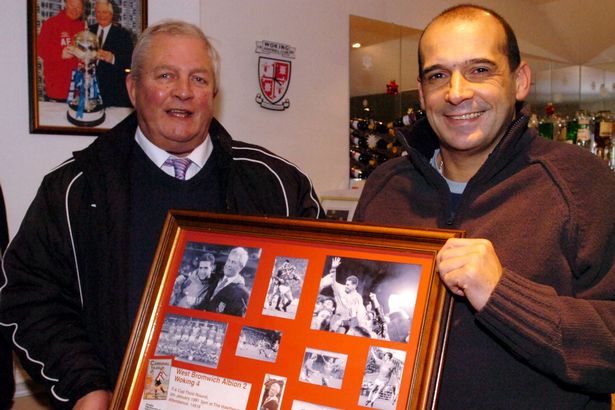 00's. This defender was a regular in the West Brom team for much of this decade and often played against City during that time – can you name him and also do you know the sport he received a fifteen year ban from in 2013?
10's. If you exclude players currently at other clubs on loan, who is the only player still currently at Cardiff who took part in the 4-2 defeat FA Cup by West Brom in 2012?
Scroll down for thre answers:
|
|
|
|
|
|
|
|
|
|
|
|
|
|
|
Answers.
60's. Derek Tapscott scored a hat trick in the Boxing Day win and Colin Baker's goal got us a point on the 27th – Graham Vearnacombe was in goals for the first match and Maurice Swan took over for the second one.
70's. Johnny Giles.
80's. Ally Robertson.
90's. Tim Buzaglo who scored three for Woking in their 4-2 FA Cup win at the Hawthorns in 1991 – he played cricket for Gibralter.
00's. Neil Clement was banned for fifteen years from horse racing for "conspiring to commit a corrupt or fraudulent practice".
10's. Theo Wharton.