http://mauveandyellowarmy.net/
60s. What West Ham related claim to fame could R Collins and T Greenhough boast after the events of May 1962 at Aigburth, Liverpool?
70s. Another "what links" question – what happened over the course of just over a year during this decade to link West Ham United, Llanelli, Wrexham and Brighton and Hove Albion?
80s. Who is this?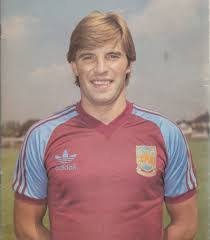 90s. Can you identify this player from these clues?
Starting out with some Greeks in his home city, he moved across country to play at a higher standard for more Greeks. It was while here that he first played for his country (he won sixty caps, but never scored a goal) and came to the attention of West Ham. He had a mixed time of it during his four years in London which ended in 1999, but fared better at his second English club as he scored during a successful penalty shoot out in a Play Off Final and made himself even more popular by scoring in a first home victory against bitter local rivals in nearly twenty years. His time ended at this club just as they were being relegated back to the Championship and, upon his release, he finished his career back in the city of his birth. It was not a happy homecoming though because he was banned for a year following a positive drugs test – it turned out the failure was down to an anti alopecia drug he had been taking and it was taken off the banned list as a result of the embarrassment he suffered following the disclosure of the reason for his suspension.
00s. Can you recognise this international midfield player who turned out for West Ham against City during this decade from this list of some of his former clubs?
Swindon Town, Ipswich Town, Doncaster Rovers, Scunthorpe United, Mansfield Town and Needham Market.
10s. A winner at Cardiff City Stadium while on loan at West Ham during this decade, this midfielder was serenaded with choruses of "England's number one" when he took over in goal after Rob Green had been sent off in a match with Blackpool – West Ham were 2-1 up at the time and went on to win 4-1 (he has also been an emergency keeper for England Under 21s). He played for England nearly fifty times at various age group levels, but has never won a full cap in a career that has never really hit the heights predicted when he was scoring for his first club against Spurs in a local derby, but who is he?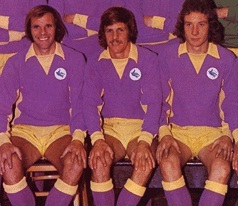 Answers:
60s. Roy Collins and Tommy Greenhough are the only players to have ever lost their wickets in a first class cricket match by being caught by someone who scored a hat trick in a World Cup Final. Geoff Hurst's only first class cricket match was for Essex against Lancashire at Aigburth in May 1962 and it's a fairly well known fact that he scored 0 not out in his first innings and was out for a duck in his second one – he also did not bowl. However, he contributed to a narrow Essex win by catching Collins and Greenhough (who won four England caps during a long career).
70s. They were the only sides Alan Foggon manage to score for us against during his dismal spell with City after he signed from Newcastle in the summer of 1971. Foggon scored for us in a 1-1 draw at Upton Park in the League Cup in September1971 (we lost the replay 2-1), he got the only goal of a Welsh Cup tie at Llanelli five months later and got another one in that competition as in a 1-1 draw at Ninian Park in the Final against Wrexham as City failed to turn around a 1-2 deficit from
the First Leg at the Racecourse. His last goal for us came in a 1-1 draw with Brighton in September 1972 in what turned out to be his final home game for City – a few days later he marked his farewell at Cardiff by being sent off in Phil Dwyer's debut match at Orient.
80s. Forward Nicky Morgan was West Ham's substitute for both of their matches against us during the 80/81 season.
90s. Stan Lazaridis played first for Floreat Athena FC of Perth before moving on to West Adelaide Hellas. He signed for West Ham in 1995 and then moved on to Birmingham where he stayed for seven years before returning to Perth Glory.
00s. Kevin Horlock.
10s. Henri Lansbury.