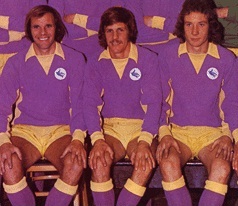 The embargo scuppered the permanent move for Tony Watt which Russell Slade had said could be completed later in the day during Friday's pre match press conference and the player, whose loan from Charlton was due to expire after yesterday's game, was missing completely from the City squad as his club refused City's request for a further loan.
I'm not going to go into any really detailed analysis of the rights and wrongs of the decision to impose the embargo (City claim to have done nothing wrong and that their "breach" of the regulations is down to a technical interpretation of the rules rather than any financial failings on their part) because I do not have the level of expertise to do that effectively, but I will offer some general observations/comments on it.
First, my understanding is that the decision arises from analysis of the clubs accounts for the financial year ending 31/5/15. Second, hopefully someone will correct me here if I'm wrong, but, basically, I see the FFP rules as being a measurement of a club's wage bill against it's turnover – wages should not be above a certain percentage of turnover.
This leads to a potentially serious problem for clubs relegated from the Premier League because wages paid in that league have to be reduced significantly in the Championship where, very generous parachute payments notwithstanding, turnover is bound to drop sharply due to the loss of the huge payments received by television companies.
This would explain why so much emphasis was placed on reducing the wage bill last season and, despite all of those newspaper claims from last year about £12 million having been shaved off it, the authorities have, seemingly, decided that this was not enough.
To be honest, I was always dubious of any claim that could not be backed up by the club's accounts and, as the ones for the period we're talking about here have not been made available to the general public yet, I remain dubious.
Around February of last year our then new manager Russell Slade was being credited with having wiped that £12 million off the club's wage bill. Maybe that was true, but had that wage bill really dropped to £18 million per annum from £30 million as was claimed, when the accounts for the period ending 31/5/14 had recorded the total wage bill for the club as being over £53 million?
My suspicion has been that the club have had to make contributions to teams buying or loaning some of the big wage earners who have left the club since we got relegated and so it's never been as simple as just wiping their wage from our debit column the moment they left us – maybe the disagreement between City and the authorities about how the rules are interpreted stems from this?
So, despite their appointment of a manager well used to doing his job on a financial shoestring and the loaning out of established first team players for the closing weeks of last season for "business reasons", the club have been deemed to have failed to have kept their finances in the order required.
Now, speaking as a non expert admittedly, I have to wonder about the signings we made in the summer of 2014 when the context of needing to reduce footballing expenses in relation to turnover is applied. It seems to me that we went from spending millions on two centrebacks to looking to sell anything that wasn't nailed down in about a month.
Also, there's the very curious case of the loan signing of Ravel Morrison to consider. From memory, this deal was completed in the period between Ole leaving and Russell Slade arriving – Ole may have been the person who first mooted the idea of bringing the former Manchester United man in, but someone else at the club completed the deal after he left and I dread to think how much the non event which was Morrison's Cardiff City career cost us.
Anyone who has read this blog over the past year or so will know that it doesn't take much for me to start becoming critical of Russell Slade, but I cannot see how he can be held responsible for the imposition of the embargo. Yes, his signings have been uninspired and poor in the main, but the fees spent on them have been relatively low and I cannot imagine that any of them are on wages which have been on the same level as others still at the club – no, if blame is to be applied for the imposition of this embargo, it has to be applied elsewhere.
That's one of the reasons why I thought it was something of a cheap shot from Chairman Mehmet Dalman to come out with his "jury still out" remarks about our manager in the hours after the embargo was announced.
Yes, I know I'm saying this against a background where supporters, including myself, have been lining up to take potshots at our manager, but that's a fan's prerogative and the same shouldn't apply to the Chairman of the club. Mr Dalman can claim that he qualified what he said be adding that the jury was still out on all of us, but, surely, he would have been better off saying nothing. As it is, he came across as someone who was trying to pull our manager overboard, so he could clamber onto the lifeboat in his place.
Notwithstanding that, both Chairman and manager have made cryptic remarks in the last twenty four hours which have left me scratching my head in puzzlement. Mr Dalman remarked that "whether we make the play offs or not was not to do with signing one or two players, we've got bigger issues than that." in a radio interview and Russell Slade said "When you walk into this job you are always under pressure. I do think when a club gets in this situation, you have to look at the whole club not just what is going on on the pitch. It's the whole club where there needs to be scrutiny." in his post match interview yesterday – evidence of a Chairman and manager at odds with each other, or a sign of further problems to be revealed soon? I suppose all will become clearer eventually.
Just before leaving off field matters for today, I should just mention that former City player and joint caretaker manager Danny Gabbidon was talking about his second spell with the club on the television a few hours after the embargo was announced – this shows some of the things he had to say (the video makes for very interesting, funny and scary viewing!) and acts as a reminder as to the sort of background any Cardiff manager has to do his job under.
Anyway, let's finally talk about yesterday's very good 3-1 win at Wolves! Early last week I posted something on a City messageboard saying that while I could perhaps envisage us going to Hull and Wolves in our upcoming away games and getting draws in both of them through some grim and dogged defending, I was not optimistic about the outcomes and, anyway, given the growing gap between us and the last Play Off place, two points from these games were not good enough – we really needed to win at least one of them.
With something of a lynch mob mentality (which I'll fully admit to playing a part in) growing against the team and, in particular, our manager even before the embargo announcement, expectation and faith in Cardiff City was probably as low as it has been in some time as we faced a Wolves team that had won it's last four Championship matches and, let's face it, with four defeats in our last five matches, much of that criticism was justified.
Besides Watt, City were without the presumably injured Aron Gunnarsson and so the assumption was that someone like Peter Whittingham or Kagisho Dikgacoi would come into central midfield, with Alex Revell or Federico Macheda partnering Joe Mason up front in the usual 4-4-2 team line up.
The announcement of the starting eleven about an hour before kick off brought the first hint that this was to be an afternoon which would not turn out as many City fans thought it would. Whittingham was in the midfield, but so also was Stuart O'Keefe and there was speculation that there would be a move away from our manager's favourite formation to the 4-5-1 that had been advocated by many supporters (myself included) for virtually the whole of his time at the club.
In the event, what we played was probably more of a 4-4-2 than a 4-5-1, but, with Anthony Pilkington given a central number ten type role behind Mason, there was at least a flexibility in the system that has been absent from so many of the teams Russell Slade has sent out.
Critics will say that Slade's hand was forced by the absence of Watt, but I still found it heartening that our manager tried something different rather than just return to what seems to be his default setting of including a big man as one of his front pair.
Instead, we looked to score by using guile and craft rather than power and heading ability and with Mason running unselfishly, Craig Noone scoring two spectacular goals as well as providing an assist, Pilkington to the fore and Joe Ralls showing the sort of finishing ability which means that yesterday's fine effort shouldn't have been just his first goal of the campaign, it worked.
Again, I daresay the critics will be out claiming that yesterday was just one of those days when everything we hit from distance flew into the net, but, with O'Keefe also hitting the bar when the score was 0-0, City's total goal attempts figure of seventeen, with seven of them on target, suggested a cutting edge of a type that, the win at bottom of the table Bolton apart, we've not seen in an away match for months.
Now, with our manager often saying in recent weeks that we needed more pace in the squad, it may well be that we will not find the attacking personnel and formation used yesterday to be as productive every week. However, despite the embargo, something can still be done through the loan market to address this weakness. The "fine print" that comes with the embargo (no loan fees to be paid and any signing can only earn below a certain figure per annum) means that it won't be easy, but there is provision for us still to bring another three players in if needed.
If the attacking side of the game went well for us, apart from David Marshall not dealing adequately enough with a shot that was awkward, but no more than that, in the build up to the host's goal, the same could be said of our defending with Bruno Manga looking more like his old self after struggling somewhat since his return to the team.
As news of the embargo became available, optimistic City fans talked of the opportunity to build up the sort of everyone's against us, siege mentality beloved of managers the world over. One game, no matter how impressively it was won, is not enough to justify any claim that we are seeing something like that at Cardiff yet though.
However, our team and manager did everything they could within the parameters of just that one match to send out a positive signal that the transfer embargo does not have to mean the end of our promotion hopes. They should all be applauded for that and if the next couple of games offer more evidence that they're all pulling together for the cause, then they deserve to have the club's supporters there doing their bit as well.
*pictures courtesy of http://www.walesonline.co.uk/