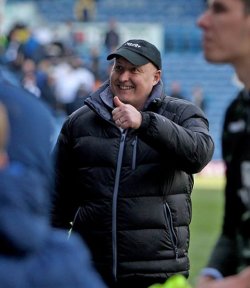 Leeds head coach Neil Redfearn was unhappy with his sides performance as they lost (again) to Cardiff: "That was a poor performance" he said.
"At half-time they needed a rocket from me and they got one. It is nothing personal, but it is important that they understand when I am not happy.
"The thing that was missing more than anything was a desire and the effort needed to get us back in the game. It was a strange performance from us because all the things we stood for during the run that got us out of trouble were missing today.
"They were two poor sides, to be honest, in a game that was strewn with bad decisions and mistakes. I was more unhappy with the senior players than anything.
"The kids give you effort and endeavour. They will make mistakes but you expect others to help them and that wasn't there today."
Cardiff manager Russell Slade (pictured) was a much happier man and said: "We wanted a response after the defeat to Bolton because until then we were making progress and were in decent form. Monday was a bit of a blip and today we got the response we wanted.
"Our away form has been pleasing and if we can match that in our remaining home games it would be a good end to the season."
Slade added: "It was unfortunate that we had no supporters at the game. That's a first for me - usually there are at least two men and a dog!
"I was disappointed for our fans because they would have witnessed a really strong, aggressive performance and a good three points.
"We set up some clear opportunities from open play and if we had taken those it would have been easier, but Peter Whittingham is a great threat with his delivery and we made good use of that."