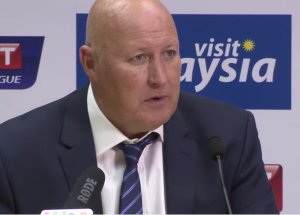 Russell Slade has told the media that Joe Mason's sale to Wolves was a financial decision and not a football one.
Speaking at his weekly pre match press conference Slade admitted what fans had expected that the club needed the cash.
"Joe was not sold for football reasons but financial reasons," said Slade.
"When we submit our accounts on Financial Fair play this will give us a much better chance of coming out of embargo in summer. It goes a long way to that. It did get to a level with the situation the club is now in that it was difficult to turn down.
"I did not want to lose Joe. You look where goals come from and you don't want to lose goals because it's detrimental.
"We don't need a fire sale but we have to address some of the detail. It might be enough with Joe going, that could address the embargo immediately. It's an accounting thing, but that will go a long way to addressing it. We need to help them address it because the accounts have to be submitted at some stage and we have to show we're coming into line."
Cardiff are still in touching distance of the play offs depite only winning two of the last seven League games.