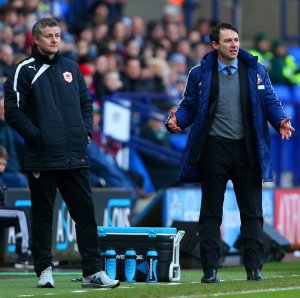 Ole Gunnar Solskjaer praised Craig Noone and Fraizer Campbell for their impact on a wet and windy day in the North West.
A poor first half in bitterly cold conditions forced Solskjaer to bring on Noone and Campbell for the second half and they made the difference.
When it was put to him that it had been an inspired substitution, Solskjaer said: "Good players!
"Good players make an impact and the two of them are good players.
"It was a great finish by Fraizer and another one of those runs by Nooney.
"It was probably our best move of the day and it was an instinctive finish by Fraizer, so I'm very happy with that."
Solskjaer made five changes for the cup tie as he kept the league games coming up against Manchester United and Norwich in mind.
"It is obviously an important part of the job to pick the right team from the start and think what you are going to do with your subs," he said.
"We have a game on Tuesday and on Saturday, and obviously they were in the back of my mind.
"That is why I picked the team I did today, and we gave those two lads (Noone and Campbell) half a game's rest.
"I thought it was the right time to put them on because I thought Fraizer would be able to run down the channels, and we just needed a change.
"In the first half we did well in terms of possession, but I don't think we had many shots on goal. We didn't really threaten them in behind, so something had to happen."
Bolton boss Dougie Freedman was pleased with his players' efforts overall and emphasised with regard to Lonergan's mistake that the Trotters do not have a "blame culture".
"I thought in the first half we were defensively very strong and compact, moved the ball well and created some half-chances," he said.
"When you are playing against this kind of level, you have to take them, so not going in at half-time a goal up was a bit disappointing.
"I felt it was because of our performance in the first half that they changed it and brought on two high-quality players.
"They got a little bit of momentum from that, unfortunately we made an error and that was the only thing we did wrong today.
"Overall I'm very pleased with the spirit and the performance, particularly given what happened last week - it was a good response.
"Andy Lonergan is experienced enough. He has made an error, but he has been fantastic for us.
"We don't have a blame culture at this football club.
"I felt the difference today was that when we got in and around the box, we just didn't have the quality to get that goal."